---
JAF / VHAY / VHAF - Soda Ash Transport
---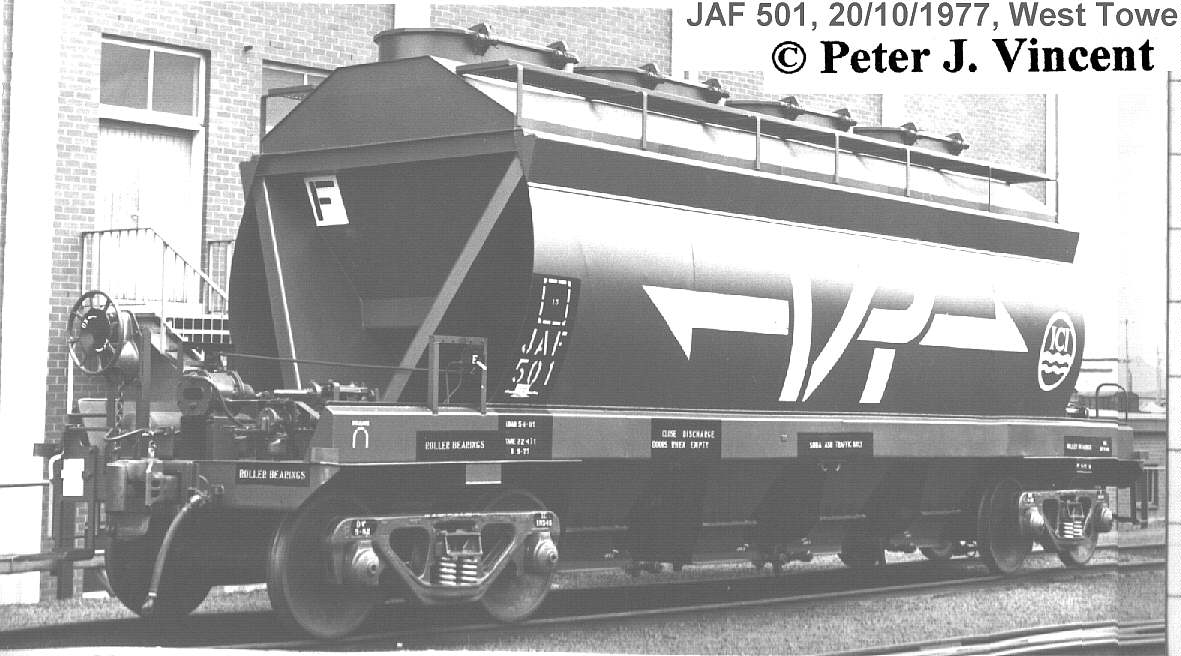 JAF
The JAF class was built in late 1977. They were gravity discharge hoppers for the transport of soda ash used in the manufacture of glass. They were unloaded at the ICI glass plant at Yarraville.
The wagons were numbered 501 - 510. The class was going to be 'JAX' but intersystem operations caused the final designation to be 'JAF'.
In the 1979 recoding the class became VHAY.
VHAY
The class was relettered from JAF between 1979 and 1981.
In 1987/1988, the most of the class was relettered to VHAF when the letter 'Y' was dropped from the coding system.
The last VHAY in service was VHAY 507. This was modified and reclassed to VHFX in about 1991.
VHAF
VHAF 505, 506, 509 were modified and and reclassed to VHFX in 1991.
VHAF 50 - 504, 508, 510 were modified and reclassed to VHFF during 1993.
Modifications to both classes enabled the wagons to carry either cement or fertiliser.
   Photos   for  'JAF  '

   FileID  Description................................................



   AM071   JAF    501, [oPJV]

   AK466   JAF    501 - e1p, West Tower, 20/10/1977, [oPJV]

   AK467   JAF    501 - e1q, West Tower, 20/10/1977, [oPJV]

   AK469   JAF    501 - e2p, West Tower, 20/10/1977, [oPJV]

   AK478   JAF    501 - e2q, West Tower, 20/10/1977, [oPJV]

   AK468   JAF    501 - number stamp  JAX 501 , West Tower, 20/10/1977, [oPJV]

   AK421   JAF    501 - pl/e1, West Tower, 20/10/1977, [oPJV]

   AK419   JAF    501 - pr/e2/ICI logo, West Tower, 20/10/1977, [oPJV]

   AK427   JAF    501 - s2e1c, West Tower, 20/10/1977, [oPJV]

   AK418   JAF    501 - s2e2c, for inspection, West Tower, 20/10/1977, [oPJV]

   AK479   JAF    501 - top lids, West Tower, 20/10/1977, [oPJV]

   CN067   JAF    502 - s1e2, 1970s, [oBAU]

   CG136   JAF    504, North Melbourne, 24/4/1978, [oPJV]

   CU682   JAF    505 - s1e1, Dandenong, 10/1/1979, [oPJV]

   CN068   JAF    505 - s1e2, 1970s, [oBAU]

   AW774   JAF    508, East Yard, 20/4/1979, [oPJV]

 
   Diagrams   for  'JAF  '

   FileID  Description................................................



   AS695   JAF        -  diagram J-11, 18/4/1978, [oPTC]

 
   Photos   for  'VHAY  '

   FileID  Description................................................



   BR033   VHAY    501 - VR, ICI, Dandenong, 14/12/1980, [oPJV]

   BL816   VHAY    502 - s1e2, ICI, Flinders Street Yard, 14/4/1980, [oPJV]

   BK357   VHAY    507 - s2e1c, Dandenong, 16/3/1980, [oPJV]

   BA306   VHAY    507J- ICI logo only, North Melbourne, 7/1987, [oNXB]

   BP381   VHAY    508 - s1e2c, ICI, Dandenong, 5/4/1982, [oPJV]

   BR034   VHAY    509 - VR, ICI, Dandenong, 14/12/1980, [oPJV]

   BQ582   VHAY    509E- L7, no VR, ICI, s1e2, Dandenong, 10/10/1984, [oPJV]

   BQ757   VHAY    510, Flinders Street, 5/2/1980, [oPJV]

   BL622   VHAY    510 - s2, ICI, Dandenong, 12/4/1980, [oPJV]

 
   No diagrams found for VHAY   
   Photos   for  'VHAF  '

   FileID  Description................................................



   AZ842   VHAF    398 - pneumatic hopper doors, Cootamundra, 28/11/2002, [oPJV]

   CY878   VHAF    398A- pneumatic discharge door detail, FA, Cootamundra, 27/11/2002, [oPJV]

   DG464   VHAF    510Q- Vline, 1980s, [oDVC]

   CR327   VHAF    564A- green, FA, 7/2002, [sPJV]

   DE080   VHAF    613E- s1e2c, pneumatic roof hatches, Kensington, 9/4/2003, [oPJV]

 
   No diagrams found for VHAF   
---
File c154m compiled by Peter J. Vincent, updated 3/7/2007