---
1966 Display Car
---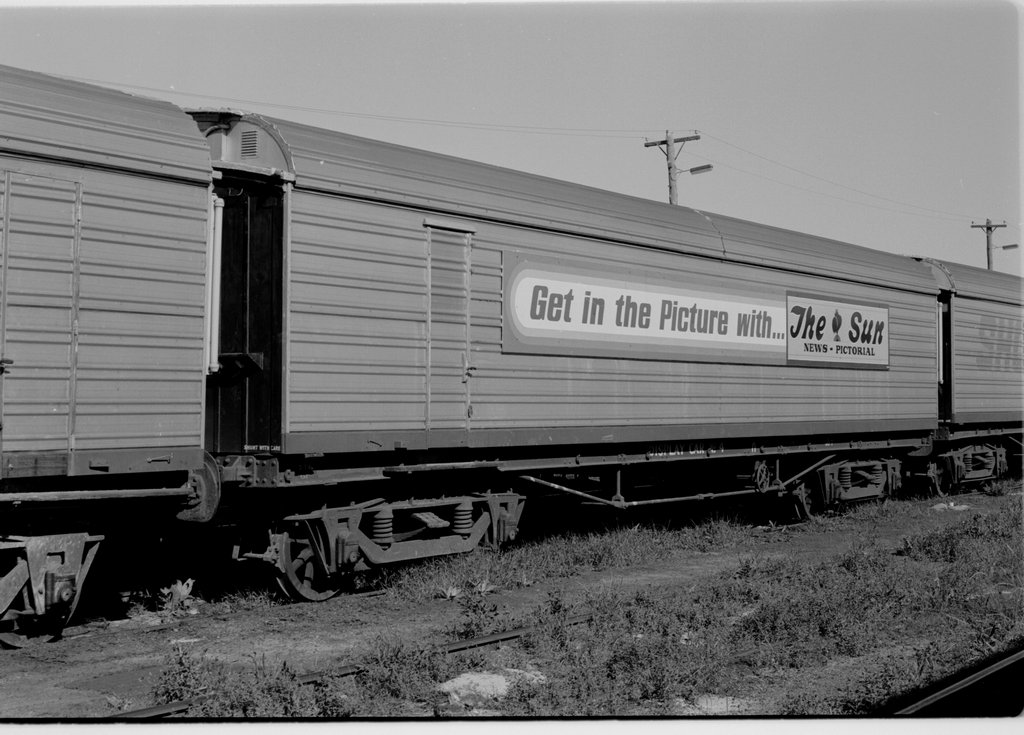 In 1966 some surplus _AV_ cars were converted for exhibition and trade trains. The interiors were gutted and the outsides of the car covered with aluminium cladding.
Four AV cars were converted in 1966 and two _BV_ cars done in 1968. The car numbers were 1 - 6.
When not in use the cars were stored at Newport Workshops. Exhibition trains were generally run about every two years for different groups. By the late 1980's the cars were not used at all and were scrapped or sold.
_CV_ 2 was modified in later years as a power generator car for the train set.
   Photos

   FileID  Description................................................



   DK664   DISPLAY     CAR- 2 Aets Train, s1e2, Newport Workshops, 24/11/1981, [oPJV]

   BM166   Display 1 - eXa p, Newport Workshops, 9/6/1980, [oPJV]

   BM165   Display 1 - eXa q, Newport Workshops, 9/6/1980, [oPJV]

   BM164   Display 1 - sX, auto end, Newport Workshops, 9/6/1980, [oPJV]

   BM189   Display 4 - s1@e1(r), left Display 5, Newport Workshops, 2/6/1980, [oPJV]

   BM188   Display 4 - s1e1, Newport Workshops, 2/6/1980, [oPJV]

   BM190   Display 5 - sX, Council Adult Education lettering, Newport Workshops, 2/6/1980, [oPJV]

   BM189   Display 5 - sX@eX(l), rhs Display 4, Newport Workshops, 2/6/1980, [oPJV]

   CN217   Display Car 2 - CAE Arts Train, 1970s, [oBAU]

   CB631   Display Car 3, Newport Workshops, 2/4/1979, [oPJV]

   CB625   Display Car 6, Newport Workshops, 2/4/1979, [oPJV]

   AL670   Display cars - on Showmobile train, Spencer Street, 9/1968, [oPJV]

 
   No diagrams found for  
---
File c137m compiled by Peter J. Vincent, updated 26/6/2007