---
BV / OB - Second Class Bogie Car
---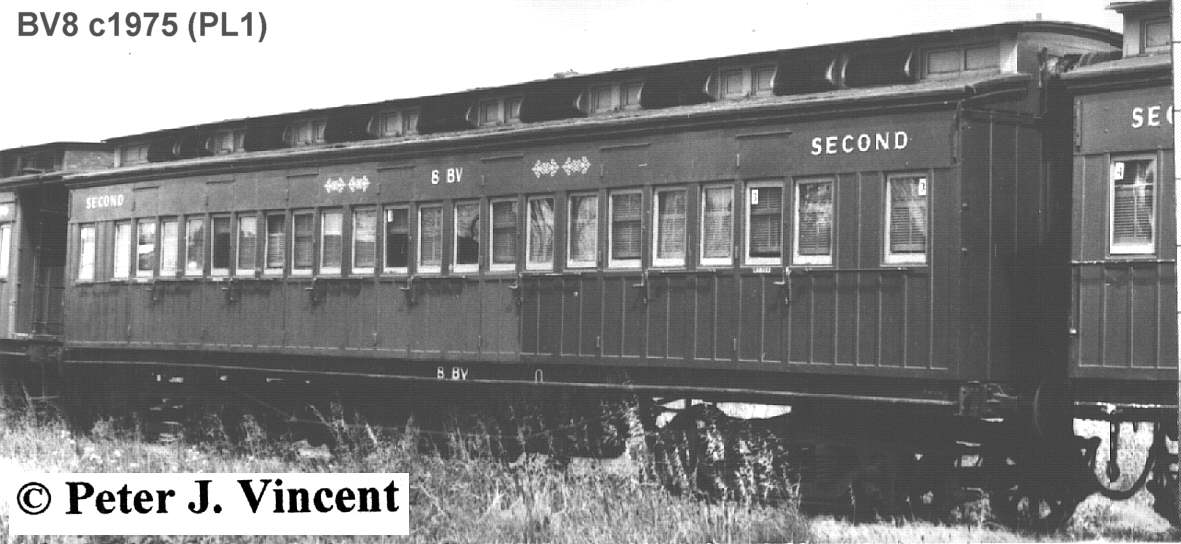 BV
These Second Class cars were issued to service as BV, between 1898 and 1900. The "V" indicates stock fitted with end vestibule connections for communication between similar cars.
There are published histories which show the cars issued to service as "BVBV". This is inaccurate and not a reflection of official records.
OB
Two cars in the class were temporarily used in Joint Stock traffic between Melbourne and Adelaide. They were coded OB and numbered 33 and 36. These numbers were part of the Joint Stock "O" number group. Cars 33 and 36 were from BV 23 and 6 respecively. They ran in service between 1898/99 and 1907.
Whilst they were in traffic coded OB they were never officially recorded as such.
   Photos   for  'BV  '

   FileID  Description................................................



   CP859   BV        -  eXq, [oPHD]

   CP860   BV        -  part view, side, [oPHD]

   BL064   BV      1, Newport Goods Yard, 19/9/1975, [oPJV]

   BL297   BV      3, Newport Goods Yard, 19/9/1975, [oPJV]

   CP858   BV      7, Flinders Street, 1970s, [oPHD]

   BL087   BV      7, Newport Goods Yard, 19/9/1975, [oPJV]

   CP862   BV      7 - eXq, Newport Workshops, 1980s, [oPHD]

   BU395   BV      7 - primer pink, c1990, [oSXH]

   CP861   BV      7 - stored, windows boarded, Newport Workshoops, 1980s, [oPHD]

   BL298   BV      8, Newport Goods Yard, 19/9/1975, [oPJV]

   BL086   BV     18, Newport Goods Yard, 19/9/1975, [oPJV]

   CB362   BV     18, Bendigo, 8/4/1979, [oPJV]

   CB363   BV     18 - 1 lettering bogie, Bendigo, 8/4/1979, [oPJV]

   CB364   BV     18 - 2 lettering/centre uf, Bendigo, 8/4/1979, [oPJV]

   CB365   BV     18 - 3 lettering/bogie/LPNP 7.60 LPSPCC 1.78, Bendigo, 8/4/1979, [oPJV]

   AQ739   BV     19, Spencer Street, 5/10/1968, [oPJV]

   BL088   BV     19, Newport Goods Yard, 19/9/1975, [oPJV]
   Diagrams   for  'BV  '

   FileID  Description................................................



   BF635   BV        -  1-25, 1908, [sPJV]

 
---
File c145m compiled by Peter J. Vincent, updated 30/6/2007