---
T - Insulated Van
---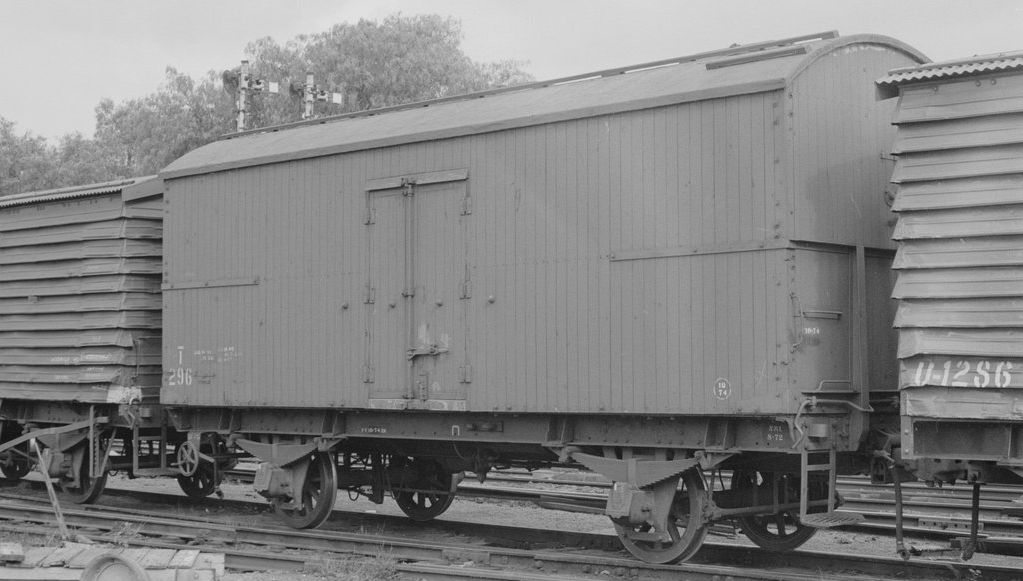 T ice vans were built from 1893.
A group of boxvans were already in service coded _T__ were recoded to _TH_.
The first of the T vans were short wheel base with six wheel vans being built from the early 1900's. The six wheelers were converted to four wheels when autocoupled in the mid 1930's. The original proposal for the vans had then fitted with 'Mansard' style roofs. However this was altered to the design of constant radius curve.
The short wheelbase vans were numbered 1 - 91. The long wheelbase vans were numbered 92 - 417.
Two groups of vans, short and long wheelbase were in traffic with the code TFM_. The vans were not fitted with ice bunkers but had meat hooks fitted.
In the early 1950's a group of steel icevans were built numbered 420 - 469.
T 421 had the door widened for palletisation and T 422 featured pressed sides with 'X' pressings. Whether this was experimental or a material shortage required thinner sheet metal sides is not known.
From the early 1970's many vans were scrapped with the underframes being used for KAB_ and KMQ_ wagons. The remainder of the class were scrapped or sold by the mid 1980's.
   Photos   for  'T  '

   FileID  Description................................................



   CQ743   T        -  10t, roof / hatch view, Freezers Siding, 1970s, [oPHD]

   CQ744   T        -  16t roof / hatches, Williamstown Pier, 1970s, [oPHD]

   CS090   T        -  details: end/axleboxes, 1980s, [oPHD]

   DF018   T        -  door detail/silver, 1960s, [sPHD]

   CS087   T        -  door details, 1950s, [oPTC]

   DF013   T        -  door hinge closeup, 1980s, [oPHD]

   DF011   T        -  e2p, bottom obsured/coupled, 1980s, [oPHD]

   CQ730   T        -  eXp, part obscured, North Melbourne C&W Shops, 1970s, [sPHD]

   DF012   T        -  handbrake wheel/lever/s2, 1980s, [oPHD]

   CS091   T        -  icing up: chute and forklift methods, 1950s, [oPTC]

   DF015   T        -  roof detail: 3 hatches closed, 1980s, [oPHD]

   DF016   T        -  roof hatch/detail, Williamstown Pier, 1980s, [oPHD]

   BE761   T        -  stored vans, distant, Newport Workshops, 20/9/1975, [oPJV]

   DJ755   T        -  vans at goods shed for loading, Cobden, 9/8/1976, [oPJV]

   BS020   T        - ice troughs stored, North Melbourne C&W, 7/1/1981, [oPJV]

   BW278   T        - row of T vans, North Geelong Yard, 9/5/1979, [oPJV]

   BC625   T      1 - s2p, East Yard, c1977, [oRXO]

   CS090   T      2 - Off Reg, s1e2, 1980s, [oPHD]

   BC636   T      9 - s1e2, North Melbourne C&W Shops, 17/10/1976, [oRXO]

   BC647   T     11 - s1e2, East Yard, 12/1976, [oRXO]

   BC658   T     12 - s2, Spencer Street, 15/10/1976, [oRXO]

   CS091   T     15 - s1, Off Reg, 1980s, [oPHD]

   CU329   T     15 - s1e2, L7, Wallan, 28/3/1976, [oPJV]

   BC669   T     17 - s1e2, Dandenong, 14/11/1976, [oRXO]

   BC680   T     22 - s1e2, East Yard, 12/11/1976, [oRXO]

   BC691   T     25 - s2e1, Camberwell, 15/11/1976, [oRXO]

   BC702   T     28 - s1p, Camberwell, 17/10/1976, [oRXO]

   BC713   T     31 - s2, East Yard, 12/11/1976, [oRXO]

   BC724   T     35 - s2, East Yard, 12/1976, [oRXO]

   BC736   T     38 - s2, L4, Camberwell, 15/11/1976, [oRXO]

   BC747   T     40 - s2e1, East Yard, 12/1976, [oRXO]

   BC758   T     41 - s1e2, L4, Camberwell, 21/11/1976, [oRXO]

   CS086   T     44 - cream, 1890s, [oPTC]

   AK481   T     46 - s1e2, Off Reg, North Melbourne C&W Shops, 20/10/1977, [oPJV]

   BC769   T     50 - s1p, East Yard, 18/11/1976, [oRXO]

   BC780   T     64 - s2e1, Camberwell, 16/10/1976, [oRXO]

   BC791   T     82 - s1e2, Dandenong, 14/11/1976, [oRXO]

   BC802   T     82 - s1e2, East Yard, 12/1976, [oRXO]

   CU326   T     84 - s2e1, L7, Wallan, 28/3/1976, [oPJV]

   BC813   T     89 - s1, East Yard, 12/1976, [oRXO]

   CU327   T     91 - s2, Wallan, 28/3/1976, [oPJV]

   BC824   T     93 - part view, Spencer Street, 27/10/1976, [oRXO]

   CU325   T     95 - s2e1, L5, Wallan, 28/3/1976, [oPJV]

   BC835   T     99 - s1, East Yard, 12/11/1976, [oRXO]

   BC847   T    101 - s2, Camberwell, 10/11/1976, [oRXO]

   BC858   T    101 - s2, East Yard, 12/11/1976, [oRXO]

   CS091   T    115 - s1, Off Reg, 1980s, [oPHD]

   BC869   T    117 - s1e2, East Yard, 12/1976, [oRXO]

   BC880   T    120 - s1e2, East Yard, 12/1976, [oRXO]

   AT544   T    121 - body, 6/1983, [oPJV]

   AT545   T    121 - number stamp on body, 6/1983, [oPJV]

   BC891   T    125 - part view, East Yard, 12/1976, [oRXO]

   BC902   T    127 - s1p, East Yard, 18/11/1976, [oRXO]

   BC913   T    128 - s2e1, East Yard, 19/11/1976, [oRXO]

   CN227   T    133 - s2e2c, Off Reg, Williamstown Pier, 1970s, [oBAU]

   CS086   T    134, 1900s, [oPTC]

   BD696   T    137, Wodonga, 17/1/1974, [oPJV]

   CN228   T    151 - s2, Off Reg, door open, Williamstown Pier, 1970s, [oBAU]

   BC924   T    155 - s1e2, East Yard, 12/11/1976, [oRXO]

   BC935   T    158 - s1e2, East Yard, 12/11/1976, [oRXO]

   BC946   T    160 - s2e1, East Yard, 12/1976, [oRXO]

   BC958   T    171 - s2, L4, East Yard, 16/11/1976, [oRXO]

   CU328   T    187 - s2, Wallan, 28/3/1976, [oPJV]

   CU324   T    188 - s1e2, Wallan, 28/3/1976, [oPJV]

   BC966   T    191 - s1e2c, Camberwell, 24/11/1976, [oRXO]

   DF003   T    194 - part view e1, no strengthening, L4, c1960, [sPHD]

   BC967   T    200 - s2e1, Cobden, 28/11/1976, [oRXO]

   B2916   T    212 - OR, Bendigo Workshops, 15/3/1978, [oPJV]

   DU504   T    213 -  body, corrugated iron roof, Judd s yard, Wangaratta, 29/6/2001, [oDMG]

   DU506   T    213 - body in Judds yard, Wangaratta, 29/6/2001, [oDMG]

   BF055   T    248 - part view, Newport Workshops, 20/9/1975, [oPJV]

   DE993   T    251 - e2q, buffers, dual coupled, c1934, [oPTC]

   CQ713   T    251 - e2q, original drips, 1950s, [oPTC]

   CS087   T    251 - part view/no end stren gthening/AC, 1950s, [oPTC]

   DE992   T    251 - s1e2c, buffers, dual coupled, 4 wheels, c1934, [oPTC]

   CQ712   T    251 - s1e2c, original drips, 1950s, [oPTC]

   BC968   T    255 - s2e1, Camberwell, 24/11/1976, [oRXO]

   BC969   T    282 - s2e1c, L4, Cobden, 28/11/1976, [oRXO]

   BC970   T    285 - s2e1, Cobden, 28/11/1976, [oRXO]

   BC971   T    286 - s1e2, East Yard, 12/1976, [oRXO]

   BE939   T    293 - e2q, Castlemaine, 29/6/1975, [oPJV]

   AU114   T    293 - L4, e2p, Castlemaine, 29/6/1975, [oPJV]

   BK954   T    293 - L4, e2q, Castlemaine, 29/6/1975, [oPJV]

   BE937   T    293 - s1e2c, L4, Castlemaine, 29/6/1975, [oPJV]

   BC972   T    298 - s2p, Castlemaine, 13/11/1976, [oRXO]

   BR854   T    306 - hold KMQ, Port Melbourne, 7/12/1980, [oPJV]

   DT353   T    306 - s2, BN 12.78 Body lift, North Geelong Yard, 9/5/1979, [oPJV]

   BM647   T    306 - s2, Hold KMQ, Port Melbourne, 30/1/1980, [oPJV]

   BW295   T    312 - part view, North Geelong Yard, 9/5/1979, [oPJV]

   CQ718   T    312 - s2e1, 1970s, [sPHD]

   DE999   T    312 - s2e1, Melbourne Yard, 1980s, [oPHD]

   BC973   T    327 - s1p, East Yard, 18/11/1976, [oRXO]

   BC974   T    329 - part view, East Yard, 12/1976, [oRXO]

   CT652   T    336 - s2p, South Dynon, 11/2/1979, [oPJV]

   AK480   T    349 - s1, North Melbourne C&W Shops, 20/10/1977, [oPJV]

   BC976   T    353 - s2e1, Cobden, 28/11/1976, [oRXO]

   CQ417   T    353 - Up freight, Timboon, [oDAC]

   BC977   T    362 - s2e1, Cobden, 28/11/1976, [oRXO]

   DE995   T    362 - s2e1c, buffers/dual coupled, no end drain, 4 whls, c1934, [oPTC]

   CQ715   T    362 - s2e1c, no external drip, 1950s, [oPTC]

   DE996   T    371 - s1e2, Angliss advert:  Imperial , c1947, [oPTC]

   CQ716   T    371 - s1e2, W.Angliss/Imperial, c1950, [oPTC]

   BW316   T    374, North Geelong Yard, 9/5/1979, [oPJV]

   CQ723   T    374 -  axlebox and spring, 1970s, [sPHD]

   CQ725   T    374 -  Bonn door fastener, 1970s, [sPHD]

   CQ724   T    374 - axlebox/class lettering, Rangelea, 1970s, [sPHD]

   DF004   T    374 - axlebox/W guard, 1980s, [oPHD]

   CQ753   T    374 - Bohn door fastener, top latch, 1974, [oPHD]

   DF007   T    374 - Bohn Door faster, bottom latching/door secure, 1980s, [oPHD]

   DF006   T    374 - Bonn door fastener, lever, 1980s, [oPHD]

   CQ726   T    374 - bottom of door fasteners, 1970s, [sPHD]

   BV000   T    374 - corner post showing ID stamp/code lettering, Bendigo, 23/11/1980, [oPJV]

   DF023   T    374 - detail: Bohn door fastener/top of door catch, 1980s, [oPHD]

   DF008   T    374 - detail: doors closed, 1980s, [oPHD]

   DF009   T    374 - detail: end drain/top view, 1980s, [oPHD]

   CQ740   T    374 - door hinge, 1970s, [sPHD]

   CQ727   T    374 - double door p, 1970s, [sPHD]

   CQ728   T    374 - end drain, part view, 1970s, [sPHD]

   DF005   T    374 - lettering/axlebox, s2, 1980s, [oPHD]

   DF010   T    374 - part view e1q@s2, 1980s, [oPHD]

   CQ729   T    374 - part view s1q, end drip, Rangelea, 1970s, [sPHD]

   DF014   T    374 - roof detail, Freezers Siding, 1980s, [oPHD]

   CQ742   T    374 - roof profile, Freezers Siding, 1970s, [oPHD]

   BY573   T    374 - s2, North Geelong Yard, 29/4/1979, [oPJV]

   CQ739   T    374 - s2 side handbrake wheel/lever, 1970s, [sPHD]

   DE997   T    374 - s2e1, Off Reg, Freezers Siding, 1990s, [oPHD]

   DF000   T    374 - s2e1, Off Reg, Freezers Siding, 1990s, [oPHD]

   CQ719   T    374 - s2e1, Off Reg, stored, Rangelea, 1970s, [oPHD]

   BW278   T    378 - part view, North Geelong Yard, 9/5/1979, [oPJV]

   AV685   T    380, Ballarat Workshops, 18/2/1977, [oPJV]

   BI734   T    382 - body, 7/11/1982, [oPJV]

   CU684   T    386 - lettering: repainted class/number, Dandenong, 10/1/1979, [oPJV]

   CU697   T    386 - s1, Dandenong, 10/1/1979, [oPJV]

   CU683   T    386 - s2e1, Dandenong, 10/1/1979, [oPJV]

   BC978   T    391 - s2e1, East Yard, 19/11/1976, [oRXO]

   CQ720   T    401 - s1p VIMA advert, Newport Workshops, 1950s, [sPHD]

   DF001   T    401 - s1p, VIMA, Newport Workshops, 1950s, [oPTC]

   BC979   T    402 - s2e1, East Yard, 12/11/1976, [oRXO]

   DQ790   T    402 - VIMA, c1960, [sRXO]

   CQ721   T    404 - s1e2, end drips, Tancred Bros advert, Albury, NSW, 1960s, [sPHD]

   DF002   T    404 - s1e2, Tancred Bros, strengthened ends, AC, Albury, NSW, 1950s, [sPHD]

   BC980   T    410 - body, Harcourt, 13/11/1976, [oRXO]

   BC981   T    415 - s1p, Camberwell, 16/10/1976, [oRXO]

   CN233   T    417 - s1, Off Reg, Woodend, 1970s, [oBAU]

   BW278   T    420 - row of T vans, North Geelong Yard, 9/5/1979, [oPJV]

   BC982   T    420 - s2e1c, Cobden, 28/11/1976, [oRXO]

   DA615   T    423 - s2, Dandenong, 17/7/1976, [oPJV]

   BC983   T    424 - s1e2, East Yard, 19/11/1976, [oRXO]

   BC984   T    425 - s2e1, East Yard, 25/11/1976, [oRXO]

   BF055   T    427 - part view, Newport Workshops, 20/9/1975, [oPJV]

   CN157   T    429 - part view, Off Reg, Rangelea, 1970s, [oBAU]

   CB063   T    430 - part view, Dandenong, 19/4/1979, [oPJV]

   CN235   T    431 - e2p, Oakleigh, 1970s, [oBAU]

   CN234   T    431 - s1e2c, Oakleigh, 1970s, [oBAU]

   BC985   T    432 - s1e2, East Yard, 18/11/1976, [oRXO]

   CA967   T    434 - s2e2, North Melbourne C&W Shops, 16/4/1979, [oPJV]

   BR874   T    439 - hold KMQ, Williamstown Pier, 7/12/1980, [oPJV]

   BA457   T    439 - part view, Castlemaine, 22/4/1979, [oPJV]

   BC987   T    439 - s2e1, Spencer Street, 18/10/1976, [oRXO]

   DA631   T    440 - s1e1, L4,  Leongatha  load chalk, Dandenong, 17/7/1976, [oPJV]

   BC988   T    444 - s2e1, East Yard, 19/11/1976, [oRXO]

   BC989   T    445 - s1e2, East Yard, 12/11/1976, [oRXO]

   BK149   T    447 - part view, Woodend, 23/11/1980, [oPJV]

   BW278   T    447 - part view, North Geelong Yard, 9/5/1979, [oPJV]

   AX259   T    447F- lettering only, North Melbourne C&W, 18/11/1983, [oPJV]

   AX258   T    447F- s1e2, North Melbourne C&W, 18/11/1983, [oPJV]

   CN236   T    448 - s2e1, Off Reg, CONDEMN, Freezers Siding, 1970s, [oBAU]

   BC990   T    449 - s1e2, Cobden, 28/11/1976, [oRXO]

   DA613   T    449 - s2e2, Dandenong, 17/7/1976, [oPJV]

   CQ747   T    450 - doors, 1960s, [sPHD]

   BC991   T    450 - part view, East Yard, 18/11/1976, [oRXO]

   CQ746   T    450 - s2e1, silver, 1960s, [sPHD]

   DF017   T    450 - s2e1, silver, 1960s, [sPHD]

   B3325   T    451 - part view, North Geelong Yard, 25/3/1979, [oPJV]

   BJ031   T    451 - s1, Dandenong, 16/1/1982, [oPJV]

   CU435   T    455 - body, Spotswood Rec Depot, 11/1/1979, [oPJV]

   CC216   T    455 - OR body ldd on tray truck, Spotswood Rec Depot, 2/4/1979, [oPJV]

   BC992   T    458 - s1e2, East Yard, 12/1976, [oRXO]

   CQ722   T    459 - s2, light colour paint/aluminium, 1960s, [sPHD]

   DF003   T    459 - s2p, silver, c1960, [sPHD]

   CN237   T    462 - s1e2, Off Reg CONDEMN, Freezers Siding, 1970s, [oBAU]

   CN238   T    465 - s2, Spencer Street, 1970s, [oBAU]

   BC993   T    467 - s1e2, East Yard, 12/11/1976, [oRXO]

   BC994   T    468 - s2e1, Cobden, 28/11/1976, [oRXO]

 
   Diagrams   for  'T  '

   FileID  Description................................................



   CS213   T        -  15, small details, 4/1996, [oPTC]

   CS088   T        -  part GA/left, 1890s, [oPTC]

   CS089   T        -  part GA/right, 1890s, [oPTC]

   11844   T        -  part views, 15t wood type, [sPJV]

   CP835   T        -  Refrigerator wagon / chilled meat, GA 2962, 1894, [oPTC]

   BF550   T        -  short wb, 1904, [oD04]

   BF723   T       /- TFM, [sPJV]

 
---
File: c080m compiled by Peter J. Vincent, updated 19/4/2007