---
X / XH - Fixed Wheel First Class Carriage
---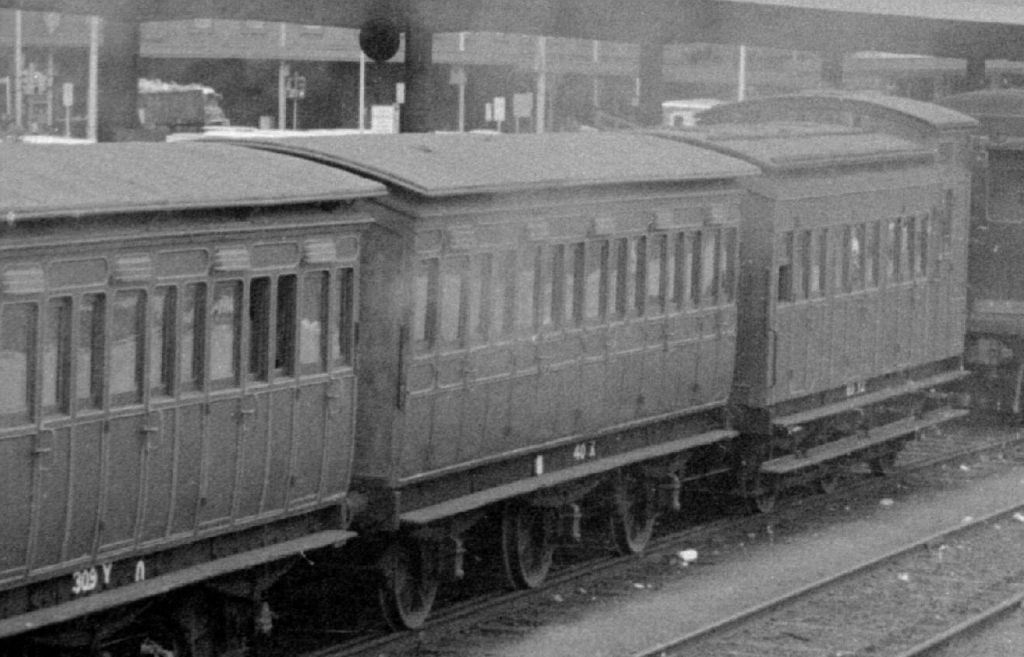 X
In the 1910 recoding, fixed wheel carriages coded _A__ were recoded to X and the numbers made consecutive. X numbers were 1 - 43, 45 to 82. The railways took the opportunity to consolidate the carriage stock as follows:
X numbers 1 to 41 were filled by Second Class carriages coded _B__ which were originally 1st class cars when built in the 1880's. Cars A 1 and the Vision Test Car A 4 were the exception. Car A 1 was built in 1889 as an "Exhibition car". It still survives as a body in a paddock at Raywood, near the 25km post north of Bendigo. The car A 4 was used as a Vision Test Car and the writer can only summise the number was retained to assist in tracking the car.
Numbers 43 and 44 were cars classed as XH. As these cars were out of service by 1913, the number '43' was re-used in 1925 when a Deniliquin & Moama Railway car was renumbered.
Remaining A class fixed wheel cars were recoded and renumbered to X 45 - 82
Some survived to the 1940's in works car service before being coded to _W__ and then being placed onto bogie underframes as class _WW_
XH
Car XH 43 was recoded from _A__ 54 and XH 44 from A 61. Both cars being relettered in the the 1910 recoding. The 'A' codes for these numbers show no use of the suffix 'H' until the recoding.
XH 43 became _W__ 146 in 1913 and scrapped in 1931. XH 44 became _YH_ 382 in Oct 1910 and was scrapped in 1929.
   Photos   for  'X  '

   FileID  Description................................................



   CQ836   X        -  4wh car on breakdown train, distant, Ballarat East, 1950s, [sPHD]

   CK520   X     40, Spencer Street, 1968, [oPJV]

   AQ689   X     40 - part view, Spencer Street, 5/10/1968, [oPJV]
   Diagrams   for  'X  '

   FileID  Description................................................



   BF682   X        -  (A) 3 dia, [sPJV]

   BF681   X        -  (A) 4 dia, [sPJV]

 
   No photos found for XH   
   No diagrams found for XH   
---
File c048m compiled by Peter J. Vincent, updated 2/4/2007