RTL - Rail Transferable Locomotive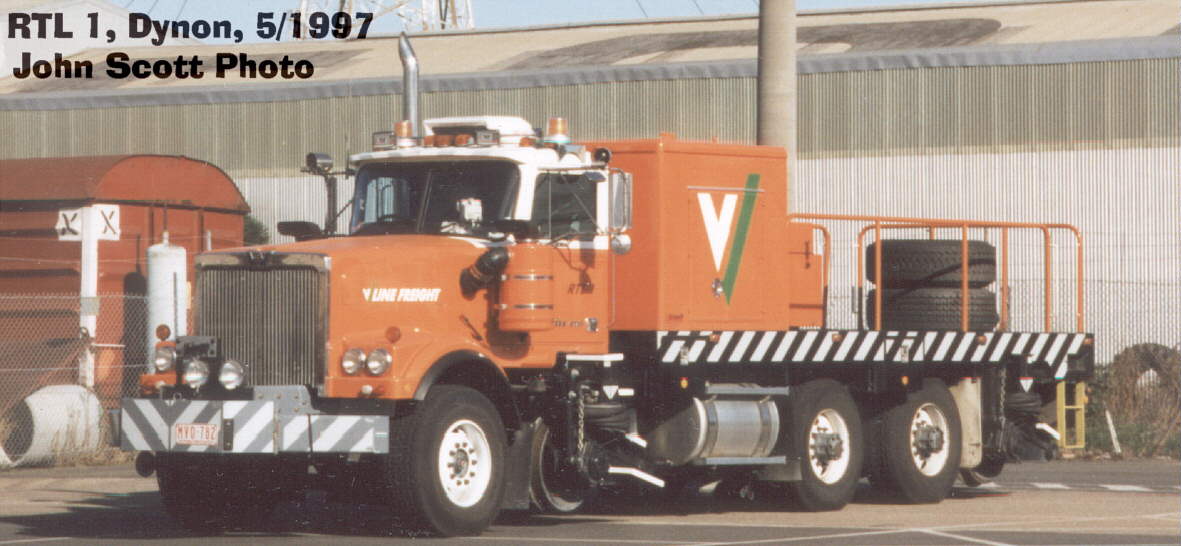 In about 1991 the head of Freight Marketing, Marinus van Onselin outlined to a lecture group the potential of running motor transports on rail. These trucks would tow two to three trailers as required to service major towns and freight centres. The vision portrayed small units on the Ballarat and Warragul tracks.
Main advantages given were relatively light used tracks and the lack of severe grades. The impression gained was that trucks could haul trailers/wagons to main centres then transfer to road to continue the journey.
At about this time, a company in Canada had succeeded in building a prime mover vehicle that could run on the road and transfer to rail for towing wagons. The company was Brandt Industries. The main truck components were from Western Star.
The concept for this vehicle came from the traffic problems associated with grain lines in Canada. To reduce train costs, empty wagons were to be left at major sidings and the line shut off from trains for a nominated period. The prime mover would then hook onto several grain wagons and tow them to the nearest level crossing or to a location to facilitate direct loading from the field being harvested. The loaded grain hoppers would then be returned to the sidings. This would be repeated until all wagons were full. A train would then return to the branchline and remove the loaded hopper wagons. However its use in North America has expanded to maintenance of way service with some companies and for emergency breakdown services on transit lines.
An order was placed for three vehicles.
No.1 began tests December 1995 and was tested north of Bendigo. It was able to haul up to seven loaded bogie grain hopper wagons.
At 2008 RTL was was in storage in a Pacific National compound at South Dynon painted in Freight Australia colours.
   Photos   for  'RTL  '

   FileID  Description................................................



   B5200   RTL        -  hauling train of logs, FA scheme, Stratford, [oDAH]

   B5203   RTL        -  train of grain wagons, [sDAH]

   B5201   RTL        -  train of logs / VFTX, Stratford, [oDAH]

   B5202   RTL        -  train of VOFX/logs, Stratford, [oDAH]

   CZ050   RTL      1 - empty log train, Stratford, 6/2003, [sPJV]
   Diagrams   for  'RTL  '

   FileID  Description................................................



   BU760   RTL        -  schematic, [sPJV]

 
---
File c561m compiled by Peter J. Vincent, updated 22/8/2008