---
BH - Interurban Car ex ANR 600 Class
---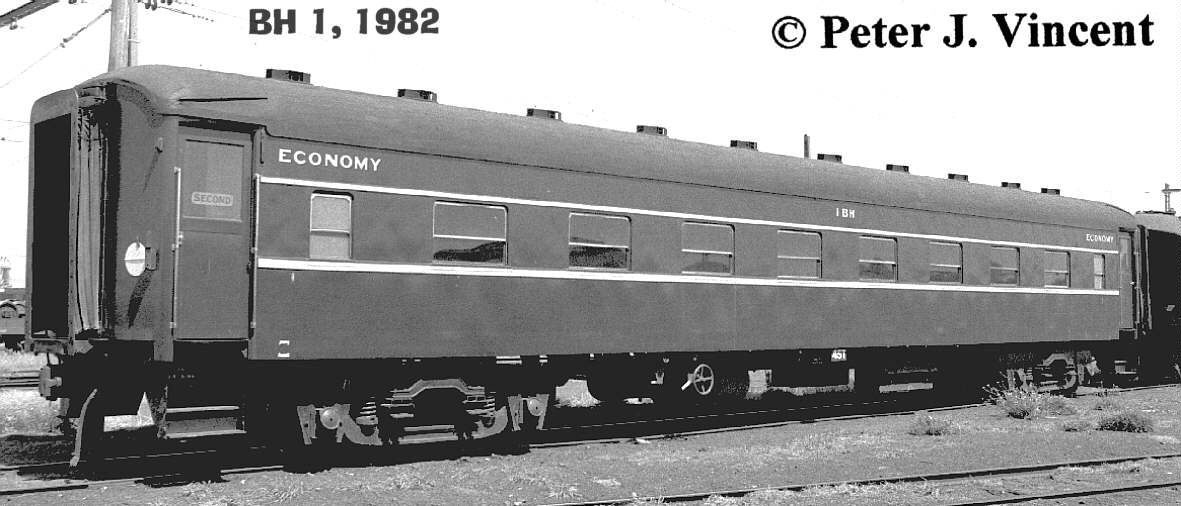 About 1982/83, some ANR cars were leased/purchased by Vicrail for short term interurban use.
ANR car 607 became BH 1 and was painted VR blue/gold. Seating capacity was 64 passengers.
In 1987, the car was removed from service and was passed to a private train operator. It is believed the car became 607 again. The train was the 'Southern Cross Express'. On this train the car was painted a dark olive green colour with gold striping.
   Photos   for  'BH  '

   FileID  Description................................................



   AI220   

BH      1

, Newport Workshops, 1982, [oPJV]

   BL305   BH      1 - bogie, Spotswood Workshops, 12/9/1982, [oPJV]

   BL309   BH      1 - bogie date 7/8/79, Spotswood Workshops, 12/9/1982, [oPJV]

   BL307   BH      1 - door, e1@s2, Spotswood Workshops, 12/9/1982, [oPJV]

   BL303   BH      1 - e2@s1 / bogie, Spotswood Workshops, 12/9/1982, [oPJV]

   BI755   BH      1 - ex SAR, into Npt by mistake?, Newport Workshops, 11/11/1982, [oPJV]

   BL306   BH      1 - lettering, Spotswood Workshops, 12/9/1982, [oPJV]

   BL310   BH      1 - lift date BNL DW 8.86, Spotswood Workshops, 12/9/1982, [oPJV]

   BL308   BH      1 - s1e1, Spotswood Workshops, 12/9/1982, [oPJV]

   BL302   BH      1 - s1e2, Spotswood Workshops, 12/9/1982, [oPJV]

   BL304   BH      1 - Waybill card for transfer Npt-Spots, Spotswood Workshops, 12/9/1982, [oPJV]

   BB064   BH    141 - Vline, Newport Workshops, 18/6/1984, [oPJV]

   DH646   BH    143 - VLP, Spencer Street, 28/7/2003, [oPJV]

   AT876   BH    144 - Vline, Spencer Street, 9/1992, [oPJV]

   BB062   BH    146 - 3 car set transfer, Newport Workshops, 18/6/1984, [oPJV]

   BB061   BH    146 - part view, Vline, transfer coupler, Newport Workshops, 18/6/1984, [oPJV]

   AT846   BH    146 - Vline, Spencer Street, 9/1992, [oPJV]

   BB063   BH    146 - Vline, Newport Workshops, 18/6/1984, [oPJV]

   DE498   BH    148 - VLP, Bacchus Marsh, 21/4/2003, [oPJV]

   AT849   BH    150 - Vline, Spencer Street, 9/1992, [oPJV]

   DJ628   BH    150 - Vline, Newport Workshops, 25/8/1984, [oPJV]

   DJ630   BH    153 - Socimi bogie, Newport Workshops, 11/10/1985, [oPJV]

   DJ629   BH    153 - Socimi bogies, long car, Newport Workshops, 11/10/1985, [oPJV]

 
   Diagrams   for  'BH  '

   FileID  Description................................................



   BF519   BH        -  6 x dia, [oDO4]

   BF520   BH        -  6 x dia/2, [oD04]

   BF521   BH        -  6 x dia/3, [oD04]

   BF522   BH        -  6 x dia/4, [oD04]

   BF523   BH    114, [oD04]

 
---
File c556m compiled by Peter J. Vincent, updated 18/3/2008