---
RMS - Joint Stock Dining Car
---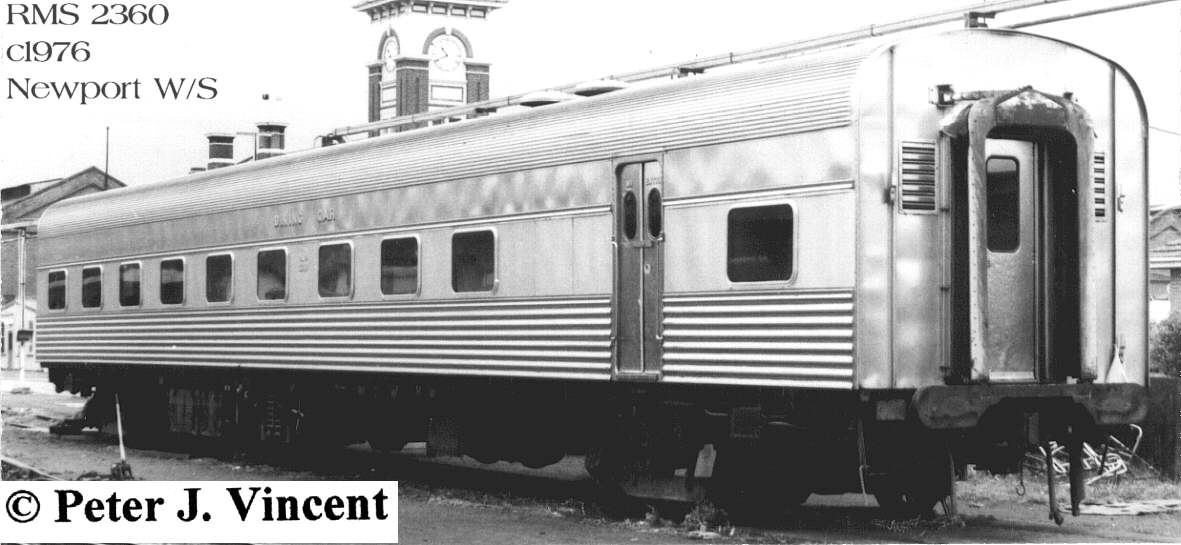 For the 'Southern Aurora' service three Dining Cars were provided. These were jointly paid for and maintained by Victoria and New South Wales. The cars were classed RMS and were numbered 2358, 2359, 2360. They were placed into service in 1962.
In 1983 RMS 2359 was damaged by fire. It was transferred to Thirlmere, the Rail Transport Museum site, during 1994.
RMS 2360 was transferred to West Coast Rail during 1994 after being placed into storage in 1991.
Disposition of RMS 2358 is not known by the author.
   Photos   for  'RMS  '

   FileID  Description................................................



   BL902   RMS   2356*- chalk load, bogies in HD 200, Newport Workshops, 17/4/1980, [oPJV]

   BL903   RMS   2356*- Lounge car, Aurora Lettering, Newport Workshops, 17/4/1980, [oPJV]

   BB258   RMS   2358, c1988, [oPJV]

   DJ469   RMS   2360 - s1e2, Dining Car, Spencer Street, 17/1/1986, [oPJV]

 
   No diagrams found for RMS   
---
File c464m compiled by Peter J. Vincent, updated 22/11/2007