---
NMM / NM - Narrow Guage Cattle Van
---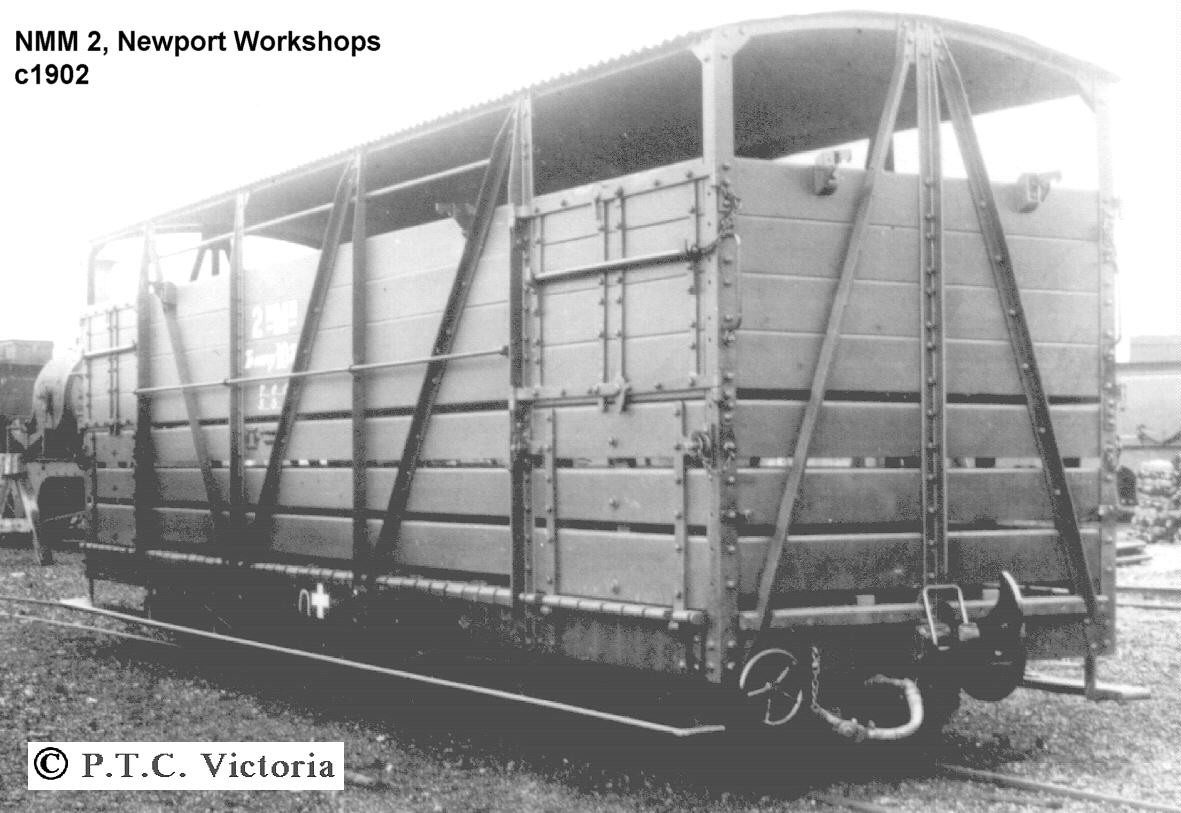 NMM
There were fifteen vehicles with this class, numbered 1 to 15. As built they looked like minature _MM_ cattle vans. However, these vehicles predated MM wagons by some 25 years.
No. 1 was built partly completed in 1899 and did not enter service until 1903. Nos 2, 3 and 4 were built in 1901 but did not enter service until 1902/1903. Nos 5, 6 and 7 were built in 1909. Nos 8 and 9 were built 1914. Nos 10 to 17 were built in 1917.
From 1926 the class was altered to NM.
NM
Two events occurred in the mid 1920's that occurred in parallel to the recoding.
Autocouplers were fitted to the vehicles from 1926. The rest were done in 1928. NM 1 was not autocoupled until 1941.
In the mid 1920's there was a derailment on the Moe - Whalhalla line. In the consist were NM vehicles. It was determined that the derailment was caused by 'spooked' horses in an NM vehicle. The vehicle was coupled next to an NA tank engine which was running bunker first. The smoke from the funnel apparently was the reason for the distress. After this investigation, the ends of all the NM class were progressively boarded up.
The NM class were scrapped or sold in the 1950's as the lines closed down. NM 13 was sold to the Puffing Billy group at Belgrave.
   Photos   for  'NMM  '

   FileID  Description................................................



   BT735   NMM        - at stockyard, Whitfield, 1945, [oAED]

   AE694   

NMM      2

, 1900, [oPTC]

   AU422   

NMM      2

, Newport Workshops, [oPTC]

 
   Diagrams   for  'NMM  '

   FileID  Description................................................



   11835   NMM        -  cattle van, [sPJV]

 
   No photos found for NM   
   No diagrams found for NM   
---
File c444m compiled by Peter J. Vincent, updated 18/11/2007