---
NABAB / NAB - Narrow Guage 1st/2nd Class Car
---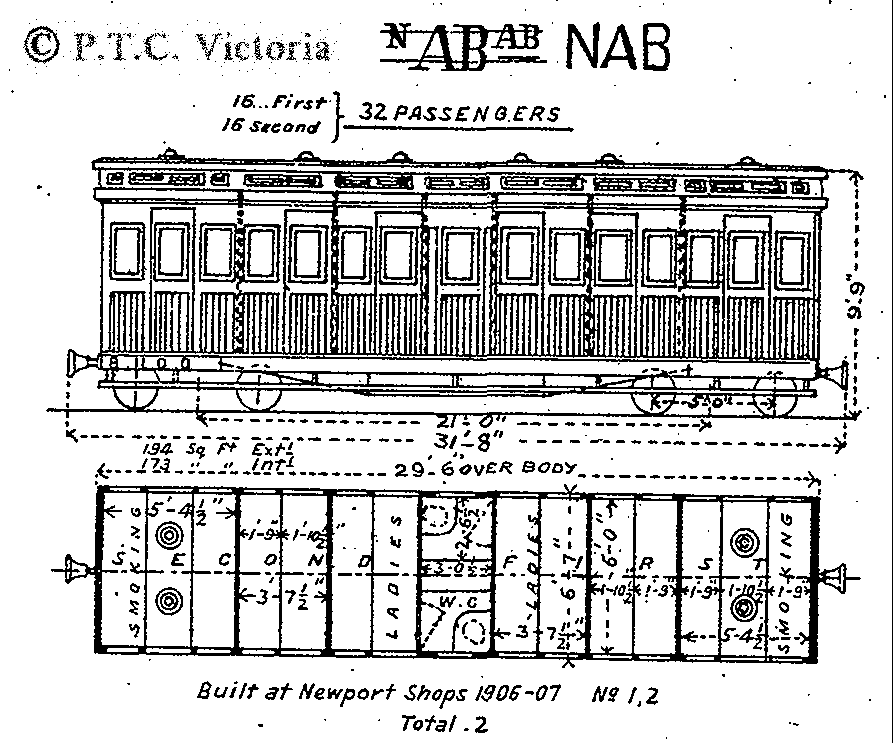 NABAB
To provide rail access cheaply to some remote areas in Victoria, four 2'6" guage lines were built. These lines provided a feeder service to existing broad guage ( 5'3" ) services.
NABAB 1 was built in 1906. This was followed by No.2 in 1907 and No.3 and 4 in 1909. The class is derived from an equivalent bogie lettering scheme in use at the time with a prefix 'N' to denote 'Narrow Guage'.
NAB
When the broad guage rolling stock codes were altered in the 1910 recoding some of the narrow guage codes were altered as well. The class NABAB was relettered to NAB. Numbers were retained.
In 1917, NAB 4 was altered to a Second Class Car, NB 25. NAB 1, 2 and 3 were altered to NB 25, 26 and 27 respectively in 1923.
Between 1926 and 1928 the cars were altered from 'chopper' couplers to autocouplers.
The prefix 'N' is currently a subject of interest as it appears from data available the prefix was adopted about 1899.
   No photos found for NABAB   
   No diagrams found for NABAB   
   No photos found for NAB   
   Diagrams   for  'NAB  '

   FileID  Description................................................



   BF727   NAB        -  (NABAB), [sPJV]

 
---
File c435m compiled by Peter J. Vincent, updated 15/11/2007