---
LAN - 'Southern Aurora' Roomette Car
---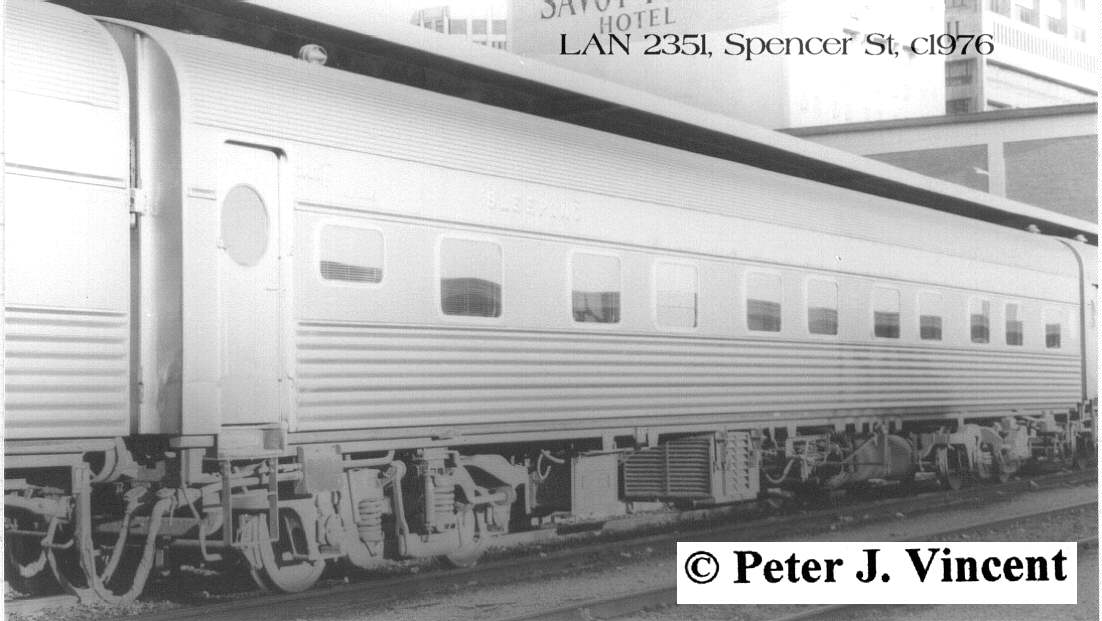 For the new passenger train 'Southern Aurora' that began service in 1962, Roomette sleeper cars were built. The cars were purchased and maintained as a Joint Stock operation between the Victorian Railways and the New South Wales Railways.
The car class was given as LAN, from the NSWR coding system. Car numbers were: 2344 to 2354, 2372, 2376 to 2378.
The original cars for the service were 2344 to 2354. Car LAN 2372 entered service in 1963.
In 1969 a disastrous collision between the 'Southern Aurora' and a freight train destroyed two locomotives and several cars in the consist. Among the cars 'written off' were LAN 2345, 2346 and 2350.
These thre cars were replaced in 1970/1971 by LAN 2376, 2377 and 2378.
   Photos   for  'LAN  '

   FileID  Description................................................



   CB796   LAN   2354 - on BG, Steamrail preserved, Leitpar, 8/8/1998, [oJAB]

   AB121   LAN   2368*- wrecked Aurora, Violet Town, 1969, [oAGE]

 
   No diagrams found for LAN   
---
File c422m compiled by Peter J. Vincent, updated 11/11/2007