---
BTH - Interurban Terminal Car
---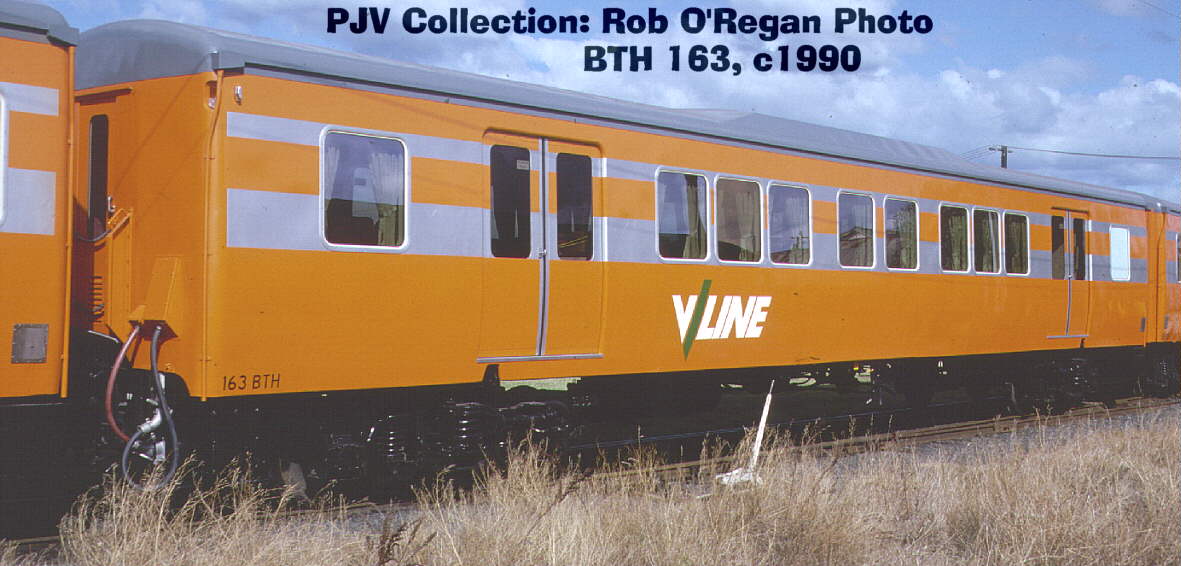 For the makeup of interurban car sets, the BTH car was introduced. This was a standard trailer car but fitted with Head end end power connections for coupling to the locomotive.
The cars were placed into service 1983/1984 with some extra cars added in about 1989.
The car numbers were 161 to 175.
The cars were converted from: _BT_ and _T__ Harris electric trailer cars.
Cars 174 and 175 were converted from _BH_ 150, 151 respectively in about 1989.
   Photos   for  'BTH  '

   FileID  Description................................................



   BT047   BTH    151 - eXp, Newport Workshops, 12/1984, [oPJV]

   BT052   BTH    151 - eXq, Newport Workshops, 12/1984, [oPJV]

   AI386   BTH    151 - regal, Kyneton, 25/3/2000, [oPJV]

   AU608   BTH    151 - solid drawbar/Schaffenburg, Vline, Newport Workshops, 12/1984, [oPJV]

   BB065   BTH    161 - Vline, Newport Workshops, 18/6/1984, [oPJV]

   BB066   BTH    161 - Vline (2), Newport Workshops, 18/6/1984, [oPJV]

   DJ582   BTH    162 - Vline, s1e2, Sunbury, 25/10/1985, [oPJV]

   AT862   BTH    163, Spencer Street, 9/1992, [oPJV]

   DJ583   BTH    163 - Vline, new, Newport Workshops, 12/4/1984, [oRXO]

   DH647   BTH    163 - VLP, Spencer Street, 28/7/2003, [oPJV]

   AT903   BTH    164 - part view, end, cables, Spencer Street, 9/1992, [oPJV]

   AT902   BTH    164 - Vline, roof detail, Spencer Street, 9/1992, [oPJV]

   AT847   BTH    166 - Vline, Spencer Street, 9/1992, [oPJV]

   AT856   BTH    167 - Vline, Spencer Street, 9/1992, [oPJV]

   DE699   BTH    168 - VLP, Bacchus Marsh, 21/4/2003, [oPJV]

   BB126   BTH    169, Newport Workshops, 18/7/1984, [oPJV]

   BE743   BTH    170 - eX / bogie, Newport Workshops, 1/10/1984, [oPJV]

   BE742   BTH    170 - eXp, Newport Workshops, 1/10/1984, [oPJV]

   BE745   BTH    170 - Vline, Newport Workshops, 1/10/1984, [oPJV]

   AT850   BTH    170 - Vline, Spencer Street, 9/1992, [oPJV]

   DE696   BTH    174 - end, coupled to P 17, Bacchus Marsh, 21/4/2003, [oPJV]

   DH106   BTH    174 - VLP, Spencer Street, 29/6/2003, [oPJV]

   DE695   BTH    174 - VLP scheme, Bacchus Marsh, 21/4/2003, [oPJV]

   DH046   BTH    175 - VLP, overpainted graffitti, Newport, 27/6/2003, [oPJV]

   DE697   BTH    194 - VLP, Bacchus Marsh, 21/4/2003, [oPJV]

 
   No diagrams found for BTH   
---
File c401m compiled by Peter J. Vincent, updated 2/11/2007