---
BK / BKL - Economy 'K' Sitting Car
---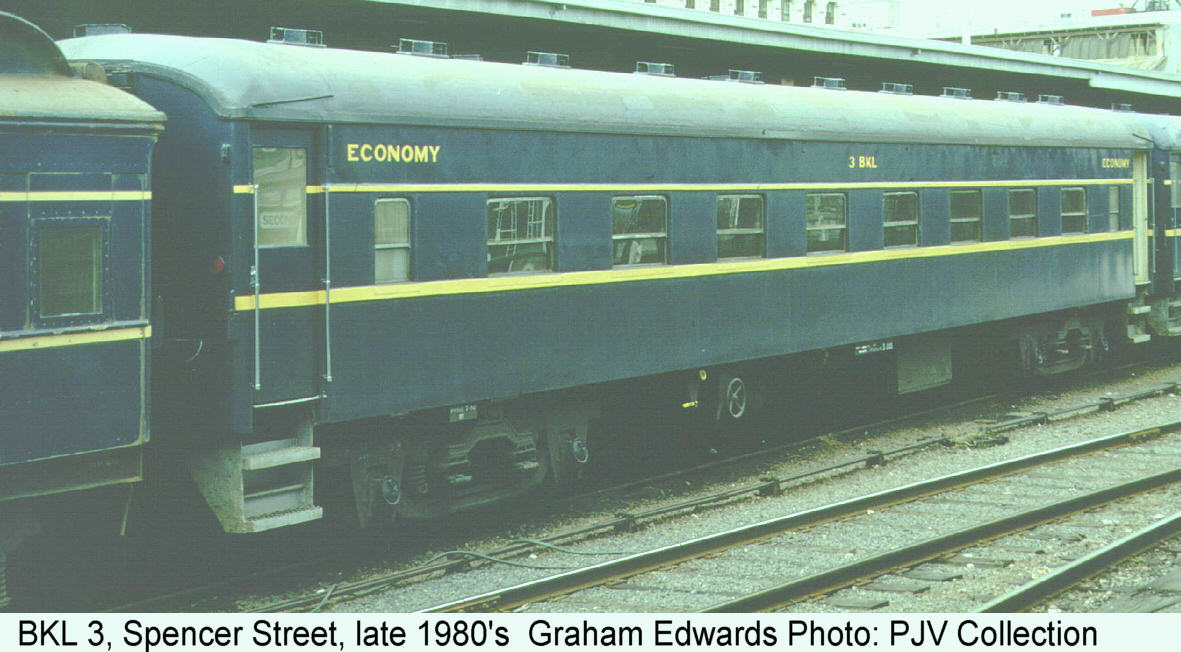 To overcome a temporary car shortage, some cars from South Australia were leased from Australian National Railways (ANR). The cars took a while to arrive as there were union problems in South Australia due to train service cuts.
In ANR service the cars were already classed BK.
BK
Cars 702 and 703 entered passenger service in Victoria as BK 1 and BK 2 in 1983. In about 1992 the cars were returned to South Australia.
Seating capacities for each car was 56 passengers.
BKL
Car 600 entered passenger service as BKL 3 in December 1983. About 1992 the car was returned to South Australia.
Seating capacity was 64 passengers.
   Photos   for  'BK  '

   FileID  Description................................................



   DJ632   BK        -  on Up Bendigo set, Sunshine, 11/1983, [oPJV]

   BQ451   BK      1 - s2e1, Flinders Street Yard, 18/10/1984, [oPJV]

   BU100   BK      1 - VR, s1e1, c1990, [oSXH]

   BQ449   BK      2 - axlebox/boge lettering, Flinders Street Yard, 18/10/1984, [oPJV]

   AV296   BK      2 - bogie, Flinders Street Yard, 2/11/1983, [oPJV]

   BQ447   BK      2 - bogie, Flinders Street Yard, 18/10/1984, [oPJV]

   BQ446   BK      2 - e2 side door/steps, Flinders Street Yard, 18/10/1984, [oPJV]

   BQ443   BK      2 - e2p, Flinders Street Yard, 18/10/1984, [oPJV]

   BQ444   BK      2 - e2q, Flinders Street Yard, 18/10/1984, [oPJV]

   AV209   BK      2 - end steps, Flinders Street Yard, 2/11/1983, [oPJV]

   AV208   BK      2 - end steps, platform hinge plate, Flinders Street Yard, 2/11/1983, [oPJV]

   AV344   BK      2 - id photo, Flinders Street Yard, 2/11/1983, [oPJV]

   AV450   BK      2 - s1, Flinders Street Yard, 2/11/1983, [oPJV]

   BQ445   BK      2 - s1e2, Flinders Street Yard, 18/10/1984, [oPJV]

 
   No diagrams found for BK   
   Photos   for  'BKL  '

   FileID  Description................................................



   BQ453   BKL      3 - bogie, Flinders Street Yard, 18/10/1984, [oPJV]

   BQ455   BKL      3 - class lettering, Flinders Street Yard, 18/10/1984, [oPJV]

   BQ452   BKL      3 - s1e2, Flinders Street Yard, 18/10/1984, [oPJV]

 
   No diagrams found for BKL   
---
File c397m compiled by Peter J. Vincent, updated 1/11/2007