---
BCP - Second Class Suburban Car with Van
---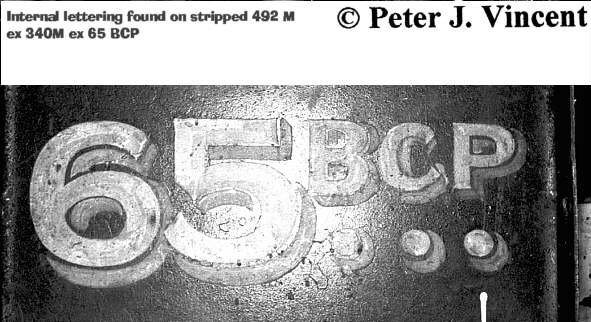 The BCP class were Second Class sitting cars with a guards compartment. They were sliding door cars of a new design with a centre aisle down the car between the seats, hence the 'P' in the code. The number group was 1 to 80, 121 - 134.
Cars 1 to 18 were built and placed into service between 1910 and 1913.
Cars 19 to 80 were built during 1915/1916. From conversions, the first eigtheen cars were built on trailer underframes. The remaining cars seem to have been built with heavier underframes, pantograph well in the roof and drivers cab in preparation for eventual conversion to electric service.
Cars 121 to 134 were converted from ACP_ cars numbered 1 to 14 respectively.
Between 1917 and 1922 the cars were all fitted with electric lighting and/or driving controls and/or traction equipment for electric suburban service.
The car types they were converted to were:
In 1921 the electric rolling stock codes were simplified. Motor cars were relettered to M and Driving Trailer cars ( BCPD ) relettered to D. Conversions from BCP continued whilst the codes were changed.
   Photos   for  'BCP  '

   FileID  Description................................................



   BP393   BCP     65 - lettering behind stripped interior of Tait M, 4/7/1982, [oPJV]

 
   Diagrams   for  'BCP  '

   FileID  Description................................................



   BF669   BCP        -  1,2, 1910, [sPJV]

 
---
File c367m compiled by Peter J. Vincent, updated 22/10/2007