---
AVE / AE - First Class Express Carriage
---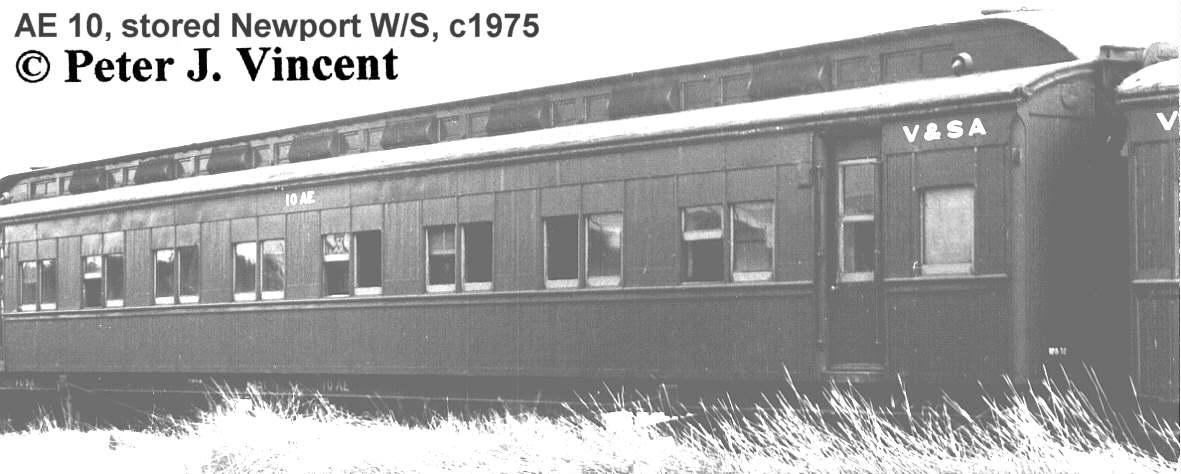 AVE
Twenty six new 70' express stock cars were built between 1906 and 1909. This design and cars placed into service were a direct result of the electrification project. The new cars allowed the cascading of older stock to provide stock suitable for electric suburban service.
The new code was AVE, the car numbers were 1 - 26.
AE
In the 1910 recoding the class was relettered to AE. The original numbers were retained.
Twelve cars were built during 1912 ( Nos. 27 - 38 ) and four cars in 1923 ( Nos. 39 - 42 ).
Following a disastrous train fire on a Bairnsdale train in 1912 in which two carriages were destroyed to their underframes and rebuilt later. One of the cars was 34 AE. It was rebuilt and issued to service in 1914.
Some cars were in Joint Stock service between Adelaide and Melbourne.
The class were converted for different uses: dining or buffet cars as required.
Car 36AE was notable as this car was the prototype car for air conditioning carriages in VR service, the test for the "Spirit of Progress" cars. 36 AE entered service 13/12/1935 after air conditioning modifications. What was not known until now was the car went in to the Workshops on 31/5/1935; about seven months of work for the air conditioning fit.
In the early 1980's, some _BE_ cars were recoded to AE. They used numbers in the '50' group. The BE cars had previously been AE cars until conversions in the early 1960's.
   No photos found for AVE   
   Diagrams   for  'AVE  '

   FileID  Description................................................



   BF625   AVE        -  1-4, 1908, [sPJV]

   BF621   AVE        -  5-10 JS, 1908, [sPJV]

 
   Photos   for  'AE  '

   FileID  Description................................................



   CM941   AE      2 - s2e2c, 1970s, [oBAU]

   BB136   AE      4 - undergear removed/scrapping, Newport Workshops, 18/7/1984, [oPJV]

   AV824   AE     13 - s1, Spencer St, 1/2/1976, [oPJV]

   BD162   AE     18 - s2e2, Spencer Street, 19/10/1976, [oRXO]

   BE707   AE     19, Flinders Street Yard, 27/8/1981, [oPJV]

   BD163   AE     23 - s1e1, Spencer Street, 18/10/1976, [oRXO]

   BD616   AE     24 - e1 bogie, Flinders Street Yard, 27/7/1981, [oPJV]

   BD617   AE     24 - e2 bogie, Flinders Street Yard, 27/7/1981, [oPJV]

   BD618   AE     24 - s1e1, Flinders Street Yard, 27/7/1981, [oPJV]

   CB178   AE     24 - s1p, Cobram, 15/4/1979, [oPJV]

   CB179   AE     24 - s1q, Cobram, 15/4/1979, [oPJV]

   CM942   AE     28, Spencer Street, 1970s, [oBAU]

   CM943   AE     28 - bogie, Spencer Street, 1970s, [oBAU]

   BQ208   AE     28 - part view, Flinders Street Yard, 24/3/1981, [oPJV]

   CC255   AE     28 - part view, Flinders Street Yard, 3/4/1979, [oPJV]

   BD310   AE     38 - s2e1, Wodonga, 12/4/1975, [oPJV]

   BD164   AE     38 - s2e1, Spencer Street, 4/11/1976, [oRXO]

   DJ632   AE     51 - on Up Bendigo set, s2e1, Sunshine, 11/1983, [oPJV]

   AV345   AE     51 - s1, Flinders Street Yard, 2/11/1983, [oPJV]

   BQ579   AE     52, Flinders Street Yard, 10/10/1984, [oPJV]

   AV079   AE     52 - s2 (1), Flinders Street Yard, 6/6/1983, [oPJV]

   AV094   AE     52 - s2 (2), Flinders Street Yard, 6/6/1983, [oPJV]

 
   Diagrams   for  'AE  '

   FileID  Description................................................



   BF655   AE        -  (AVE), [sPJV]

   BF652   AE        -  JS, [sPJV]

 
---
File c320m compiled by Peter J. Vincent, updated 9/10/2007