---
ZMF / VVEY - Bogie Guards Van
---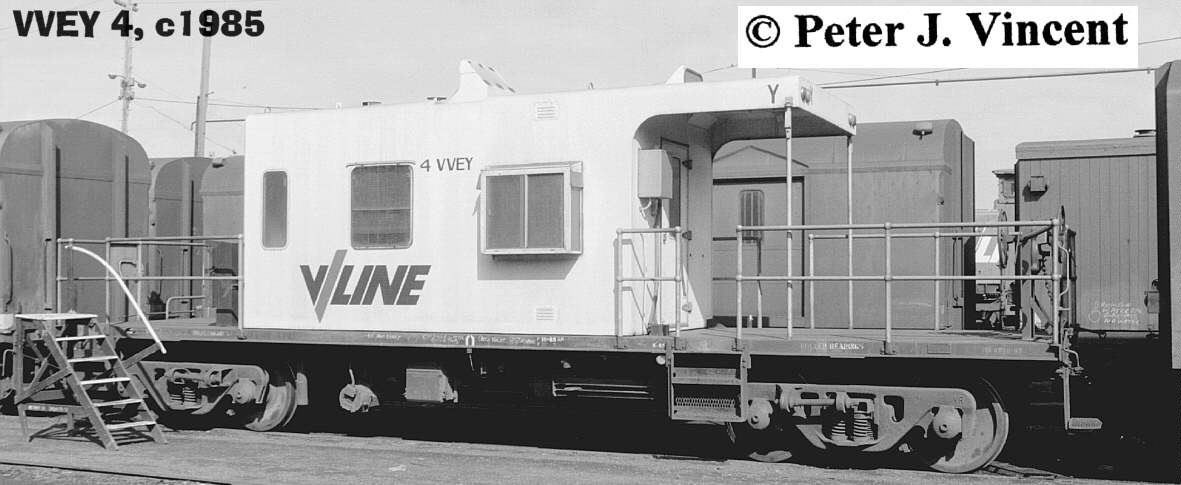 ZMF
In 1980 a radical design of guards van entered service. After many months of rumours the van left Newport Workshops in December 1980.
It was a short bogie flatwagon fitted with a reinforced plastic cabin. The cabin shape included a verandah which was at the handbrake end of the wagon. The opposite end platform had gas and electrical fittings for heating and lighting.
The unusual design was inspired by the fact that planning had been underway for the removal of guards vans from trains. If this eventuated, the cabin could be removed and the underframe utilised for other traffic.
From the design, most operational staff could readily conjure up images of guards seated in the verandah section with sizzling barbeque, amply supported by a full icebox of 'tinnies' and waving cheerily to passers by.
The van was issued as class 'ZMF', the M indicated Modular cabin.
There were plenty of problems. Ten vans in all were built, ZMF 1 - 10. Numbers 1 eneterd service in 1980, numbers 2 - 10 entered service during 1982.
VVEY
When the vans were recoded from 1983, they were given the class letters VVEY.
Guards vans were removed from trains in the late 1980's. The VVEY class were amongst the first casualties.
Two vans had cabins removed and the underframes converted to _QD_ as transporters for the sleeper discharge equipment. This equipment ran on a track down the sleeper train and was used to hydraulically unload the sleepers.
   Photos   for  'ZMF  '

   FileID  Description................................................



   BQ232   ZMF        - 2 x underframes; 1 x bogie, 1 x load, Newport Workshops, 3/3/1981, [oPJV]

   BE120   ZMF        - Seven underframes ready, w/e view, Newport Workshops, 17/8/1981, [oPJV]

   BE121   ZMF        - Seven x underframes ready, e/e view, Newport Workshops, 17/8/1981, [oPJV]

   BQ180   ZMF        - underframe on bogies ldd with ZMF u/frame, Newport Workshops, 17/3/1981, [oPJV]

   BO324   ZMF      1 - cabin door/veranda/F lettering, North Melbourne C&W, 21/1/1981, [oPJV]

   BO315   ZMF      1 - e1p, North Melbourne C&W, 21/1/1981, [oPJV]

   BO314   ZMF      1 - e1q, North Melbourne C&W, 21/1/1981, [oPJV]

   BO322   ZMF      1 - e2 railing, North Melbourne C&W, 21/1/1981, [oPJV]

   BO320   ZMF      1 - e2p, North Melbourne C&W, 21/1/1981, [oPJV]

   BO321   ZMF      1 - e2q@s1, North Melbourne C&W, 21/1/1981, [oPJV]

   BO319   ZMF      1 - e2q@s2, North Melbourne C&W, 21/1/1981, [oPJV]

   BO317   ZMF      1 - modular cabin, part s2, North Melbourne C&W, 21/1/1981, [oPJV]

   BO312   ZMF      1 - s1e1c, North Melbourne C&W, 21/1/1981, [oPJV]

   BO313   ZMF      1 - s1p, North Melbourne C&W, 21/1/1981, [oPJV]

   BO327   ZMF      1 - s1p, North Melbourne C&W, 21/1/1981, [oPJV]

   BO326   ZMF      1 - s1q, North Melbourne C&W, 21/1/1981, [oPJV]

   BR040   ZMF      1 - s2e1, Flinders Street Yard, 17/12/1980, [oPJV]

   BO316   ZMF      1 - s2e1c, North Melbourne C&W, 21/1/1981, [oPJV]

   BC108   ZMF      1 - s2e1h, top, back of cabin, vic, North Melbourne C&W, 6/1981, [oPJV]

   BR038   ZMF      1 - s2e2, Flinders Street Yard, 17/12/1980, [oPJV]

   BO318   ZMF      1 - s2e2c, North Melbourne C&W, 21/1/1981, [oPJV]

   BC109   ZMF      1 - top view cabin, North Melbourne C&W, 6/1981, [oPJV]

   BD737   ZMF      2 - s1e2, Flinders Street Yard, 3/9/1984, [oPJV]

   AX267   ZMF      5 - part view, Vic, North Melbourne C&W, 18/11/1983, [oPJV]

   AU895   ZMF      6 - Vic, Melbourne Yard, 15/9/1983, [oPJV]

   AV086   ZMF      7 - s1e1, North Melbourne C&W Shops, 26/9/1983, [oPJV]

   AV085   ZMF      7 - s1e2, North Melbourne C&W Shops, 26/9/1983, [oPJV]

   AU989   ZMF      8 - e1 cabin door/details, Flinders Street Yard, 24/9/1983, [oPJV]

   AU966   ZMF      8 - e1 cabin/veranda, Flinders Street Yard, 24/9/1983, [oPJV]

   AU990   ZMF      8 - e1 railing/handbrake, Flinders Street Yard, 24/9/1983, [oPJV]

   AU949   ZMF      8 - e1 veranda ceiling, Flinders Street Yard, 24/9/1983, [oPJV]

   AU939   ZMF      8 - e2 cabin door, Flinders Street Yard, 24/9/1983, [oPJV]

   AU948   ZMF      8 - e2 gas bottle storage, Flinders Street Yard, 24/9/1983, [oPJV]

   AU991   ZMF      8 - s2 cabin side/logo/bay window, Flinders Street Yard, 24/9/1983, [oPJV]

   AU923   ZMF      8 - s2e1, Flinders Street Yard, 24/9/1983, [oPJV]

   AU925   ZMF      8 - s2e2, Flinders Street Yard, 24/9/1983, [oPJV]

   AU924   ZMF      8 - s2p, Flinders Street Yard, 24/9/1983, [oPJV]

   AU896   ZMF     10 - Vic, Melbourne Yard, 15/9/1983, [oPJV]

 
   No diagrams found for ZMF   
   Photos   for  'VVEY  '

   FileID  Description................................................



   BQ586   VVEY      1 - s1@e1, Flinders Street Yard, 14/10/1984, [oPJV]

   BQ585   VVEY      1 - s1e2, Flinders Street Yard, 14/10/1984, [oPJV]

   BD741   VVEY     10 - s1e1, Flinders Street Yard, 3/9/1984, [oPJV]

   BD743   VVEY     10 - s1e1, corner h/brake, Flinders Street Yard, 3/9/1984, [oPJV]

   BD739   VVEY     10 - s1e2, Flinders Street Yard, 3/9/1984, [oPJV]

   BD740   VVEY     10 - s1p, cab, Flinders Street Yard, 3/9/1984, [oPJV]

   BD736   VVEY     10 - s2e1, end of train ZMF/CP, Flinders Street Yard, 3/9/1984, [oPJV]

 
   No diagrams found for VVEY   
---
File c272m compiled by Peter J. Vincent, updated 12/9/2007