---
"Oil Tank" (OT) Wagon Group
---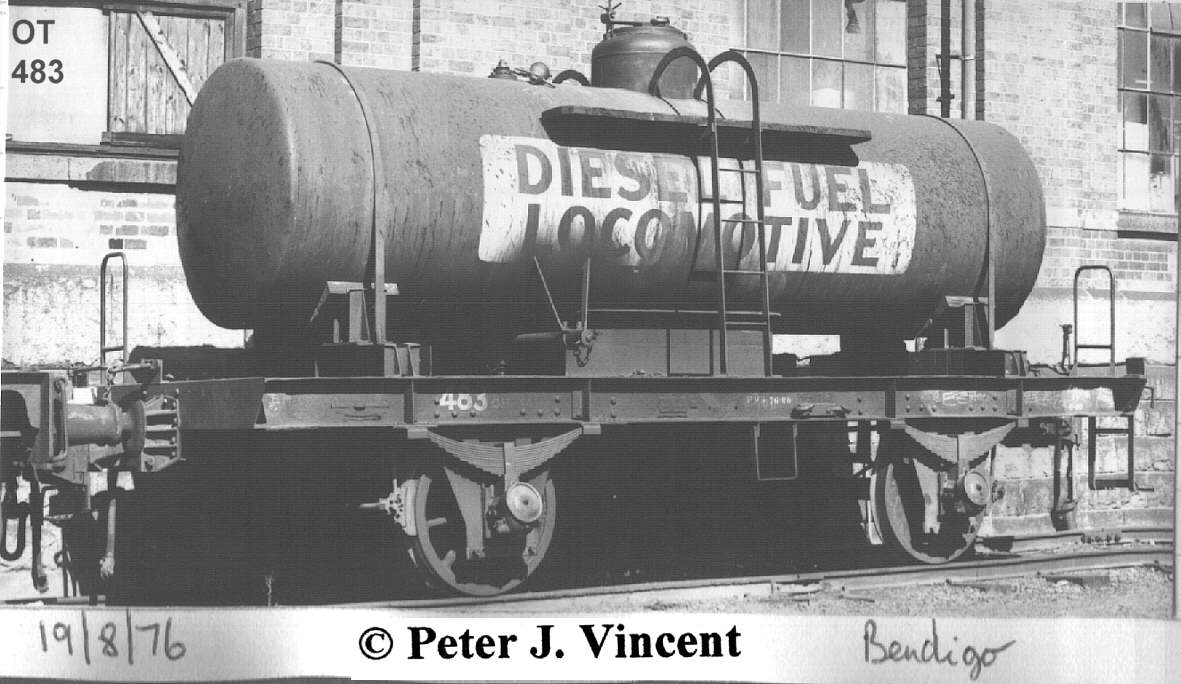 The tank wagon group started in 1902 with the petroleum group "Shell" requiring tank wagons. Up to this time, tank wagons for water, etc were modified from surplus engine tenders, usually of the six and four wheel variety. Wagons in the new "Oil Tank" group were initially purpose built.
Wagons 1 - 83 were issued to traffic between 1902 and 1928. Up to 1928 all the wagons were fixed wheel. From 1928, bogie tank wagons were issued.
To complicate matters, it seems that any wagon that qualified as "tank" was placed into this number group. This led to patchy number groups within this class as four wheel wagons were placed in service in between bogie construction. And not all tank wagons were for petroleum and like products. Some were for transporting water.
From 1961, the bogie tank wagons were reclassified into groups _TW_ and TWF_ . In later years TWX_ tanks were introduced. TW indicated low speed, TWF for high speed, non bogie exchange and TWX for "bogie exchange" capability and high speed.
Original lettering had "OIL TANK nnnn" on the underframe where "nnn" was the number. In the late 1970's this was shortened to "OT". The code "OT" was adopted when railway records were computerised. This writer has adopted "OT" for personal computerisation of records and uses "OT" to mean "OIL TANK" where referenced.
Most four wheel petroleum tank wagons used by Shell and British Petroleum were placed in storage by 1977 and subsequently scrapped or disposed of.
A few four wheel tank wagons were in rail service transporting loco lube oil and diesel fuel.
   Photos   for  'OT  '

   FileID  Description................................................



   AI865   OT        -  Off Reg  homemade  transfer wagon, part view, Newport Workshops, 5/1958, [oPJV]

   BG717   OT        - as depot fuel tank, s2, Hamilton, 11/8/1976, [oPJV]

   AV293   OT        - body, Brucks mill, Wangaratta, 20/1/2000, [oPJV]

   AV405   OT        - rake - all stored, Tottenham, 14/1/2000, [oPJV]

   AW695   OT      2, [sMDN]

   AW696   OT      8, [sMDN]

   CZ580   OT     15 - s2p, BP, Port Melbourne, 19/10/1976, [oRXO]

   AT595   OT     16 - BP, North Geelong, c1978, [oPHD]

   CZ581   OT     16 - s2p, BP, Port Melbourne, 19/10/1976, [oRXO]

   CZ582   OT     17 - s2p, BP, Port Melbourne, 10/1976, [oRXO]

   BM824   OT     18 - s1e1, Port Melbourne, 23/1/1976, [oPJV]

   BM825   OT     18 - s1p, Port Melbourne, 23/1/1976, [oPJV]

   CZ583   OT     18 - s1p, BP, Port Melbourne, 27/10/1976, [oRXO]

   CZ584   OT     26 - s1, BP, Port Melbourne, 19/10/1976, [oRXO]

   BH403   OT     27 - as 27 Oil Tank, hand lettering, 1975, [oPJV]

   BM809   OT     27 - s1e1, Port Melbourne, 23/1/1976, [oPJV]

   BM814   OT     27 - s1p, Port Melbourne, 23/1/1976, [oPJV]

   BH397   OT     27 - s1p, BP, Port Melbourne, 1975, [oPJV]

   AT594   OT     29 - BP, North Geelong, c1978, [oPHD]

   CN165   OT     29 - BP, s1, Port Melbourne, 1970s, [oBAU]

   BM822   OT     29 - s1e1 BP, Port Melbourne, 23/1/1976, [oPJV]

   BM823   OT     29 - s1p BP, Port Melbourne, 23/1/1976, [oPJV]

   BM812   OT     31 - e2p, Port Melbourne, 23/1/1976, [oPJV]

   BM811   OT     31 - e2q, Port Melbourne, 23/1/1976, [oPJV]

   CZ586   OT     31 - s2, BP, Port Melbourne, 19/10/1976, [oRXO]

   BM810   OT     31 - s2e2c BP, Port Melbourne, 23/1/1976, [oPJV]

   BM813   OT     31 - s2p, Port Melbourne, 23/1/1976, [oPJV]

   BH396   OT     31 - s2p, BP, Port Melbourne, 1975, [oPJV]

   BH404   OT     31 - stencilled  31 Oil Tank , 1975, [oPJV]

   CZ587   OT     32 - s2, BP, Port Melbourne, 19/19/1976, [oRXO]

   CZ588   OT     33 - s1e2, BP, Port Melbourne, 19/10/1976, [oRXO]

   CZ591   OT     48 - s1e2, SHELL, Bendigo, 13/11/1976, [oRXO]

   B1043   OT     48 - Shell, Tottenham Yard, 25/3/1979, [oPJV]

   BF023   OT     51 - e2q, Newport Workshops, 20/9/1975, [oPJV]

   BF024   OT     51 - e2q, Newport Workshops, 20/9/1975, [oPJV]

   BF022   OT     51 - s2e2c, Shell, Newport Workshops, 20/9/1975, [oPJV]

   B3393   OT     53, Tottenham Yard, 18/3/1979, [oPJV]

   BG352   OT     58 - s1e2, Tottenham Yard, 17/1/1976, [oPJV]

   CN166   OT     70 - s1 BP, Port Melbourne, 1970s, [oBAU]

   CF952   OT     73, Donald, 19/4/1978, [oPJV]

   BG674   OT     76 - s2p, Newport Workshops, 27/1/1976, [oPJV]

   BG675   OT     76 - s2q, Newport Workshops, 27/1/1976, [oPJV]

   CZ603   OT     77 - s2e1, BP, Port Melbourne, 19/10/1976, [oRXO]

   BE334   OT     77N- lettering, axlebox, Port Melbourne, 29/8/1984, [oPJV]

   BE333   OT     77N- s1e2, BP, Port Melbourne, 29/8/1984, [oPJV]

   BD738   OT     77N- s2e1, Flinders Street Yard, 3/9/1984, [oPJV]

   B3404   OT     80 - lettering 80 Oil Tank, Tottenham Yard, 18/3/1979, [oPJV]

   B3405   OT     80 - lettering: PV 1.79 SN, Tottenham Yard, 18/3/1979, [oPJV]

   DB171   OT     83 - lettering, EMPTY/FULL indicator, Daylesford, 9/1/2003, [oPJV]

   DB170   OT     83 - restored as  Oil Tank , s2e1, narrow view, Daylesford, 9/1/2003, [oPJV]

   CP863   OT    126 - Chlorine carrier, ldd, 1950s, [sPHD]

   CP864   OT    127 - Chlorine carrier, handrails,ldd, 1950s, [sPHD]

   AU879   OT    483 - Lube oil, BO - Dynon, Bendigo, 18/2/1977, [oPJV]

   CB351   OT    483 - s1p LOCO LUBE OIL, Bendigo, 8/4/1979, [oPJV]

   CB350   OT    483 - s1q LOCO LUBE OIL, Bendigo, 8/4/1979, [oPJV]

   CZ620   OT    483 - s2, Diesel Fuel Locomotive, Bendigo, 1/11/1976, [oRXO]

   BP647   OT    508 - s1e1, DLF, Spencer Street, 28/2/1980, [oPJV]

   11645   OT    508 - s1p Ampol, Tottenham Yard, 16/4/1978, [oPJV]

   11644   OT    508 - s1q Ampol, Tottenham Yard, 16/4/1978, [oPJV]

   B1665   OT    509, Tottenham Yard, 12/3/1979, [oPJV]

   BG037   OT    509 - s2e1, DLF, North Geelong Yard, 27/9/1981, [oPJV]

   BG038   OT    509 - s2e2, DLF, North Geelong Yard, 27/9/1981, [oPJV]

   11643   OT    509 - s2p Ampol, Tottenham Yard, 16/4/1978, [oPJV]

   11642   OT    509 - s2q Ampol, Tottenham Yard, 16/4/1978, [oPJV]

   BM082   OT    510 - DLF, s2e2c, Tottenham Yard, 20/4/1980, [oPJV]

   CQ404   OT    510 - s1p, [oDAC]

   B1032   OT    511 - DLF, Tottenham Yard, 25/3/1979, [oPJV]

   BM186   OT    511 - DLF, s2e1, Newport Workshops, 2/6/1980, [oPJV]

   BO778   OT    512 - s2e1, Loco Lube Oil, North Geelong Yard, 5/9/1982, [oPJV]

   DR665   OT    515 - lettered  OIL TANK , Ampol, Tottenham Yard, 12/10/1980, [oPJV]

 
   No diagrams found for OT   
---
File c198m compiled by Peter J. Vincent, updated 24/8/2007