---
GJX / VHGX - Bogie Grain Hopper
---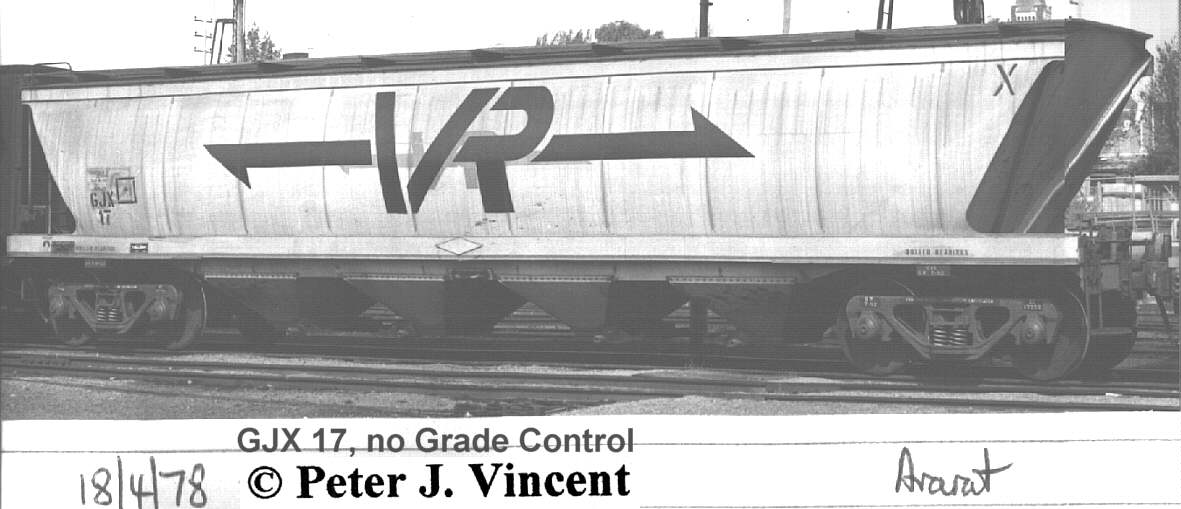 GJX
There were two hundred bogie grain hoppers coded GJX. The first 100 were made of aluminium and the second 100 were steel construction. The number group was initially 1 - 200.
To prevent the unwanted migration of hoppers interstate most of the class were recoded to GJF_ and the grade control apparatus (retainers) removed. The wagons converted were numbered 21 - 200.
Twenty GJX wagons were retained, with numbers 1 - 20. In the initial recoding only twenty GJX were to be retained from the number group. However later it was decided to rationalise the twenty wagons to the first twenty, 1 - 20. Some GJF wagons in the group 1 to 20 ran for a short time.
In the 1979 recoding the class was altered to VHGX.
VHGX
The VHGX wagons were relettered from GJX between 1979 and 1981.
Following the standard gauge conversion of the Melbourne - Adelaide line by NRC c1995/1996, the main grain feeder lines to Portland were converted to standard gauge too. This included conversion to Dunolly, via Ararat and Maryborough. A number of VHGY wagons were also converted to VHGX for these lines.
   Photos   for  'GJX  '

   FileID  Description................................................



   BW488   GJX      3, Echuca, 15/4/1979, [oPJV]

   BF846   GJX      5 - s2e1, VR, North Geelong Yard, 27/9/1981, [oPJV]

   AL460   GJX      7, Albury, NSW, 10/11/1974, [oPJV]

   AR909   GJX     12, Bendigo, 22/4/1979, [oPJV]

   CU477   GJX     12, North Geelong Yard, 12/3/1979, [oPJV]

   AL456   GJX     14, North Geelong Yard, 10/6/1978, [oPJV]

   BB777   GJX     15 - s2e2, North Geelong, 29/3/1981, [oPJV]

   B1086   GJX     16 - L4, North Geelong Yard, 25/3/1979, [oPJV]

   CF585   GJX     17, Ararat, 18/4/1978, [oPJV]

   AL458   GJX     17, [sPJV]

   AL457   GJX     17 - large VR/L7, Ararat, 18/4/1978, [oPJV]

   CF584   GJX     17 - lett/overpainted old symbols, Ararat, 18/4/1978, [oPJV]

   BB794   GJX     17 - s2e1, North Geelong, 29/3/1981, [oPJV]

   AR908   GJX     20, Bendigo, 22/4/1979, [oPJV]

   BG593   GJX     20 - e1p, coupled, Newport Workshops, 6/11/1975, [oPJV]

   BG589   GJX     20 - part view, Newport Workshops, 6/11/1975, [oPJV]

 
   Diagrams   for  'GJX  '

   FileID  Description................................................



   AS764   GJX        -  1-20, diagram G-7, 19/3/1973, [oPTC]

 
   Photos   for  'VHGX  '

   FileID  Description................................................



   BQ966   VHGX      3, Tottenham Yard, 4/1/1981, [oPJV]

   BB791   VHGX      3 - s2, North Geelong, 29/3/1981, [oPJV]

   BO767   VHGX      6 - s2e1, VR, North Geelong Yard, 5/9/1982, [oPJV]

   BI571   VHGX      7 - s1e2, Bendigo, 18/10/1981, [oPJV]

   DE172   VHGX     10C- s2e1, FA, Kensington, 11/4/2003, [oPJV]

   BD967   VHGX     15 - s2e1, North Geelong Yard, 26/8/1984, [oPJV]

   BB790   VHGX     16 - s1, North Geelong, 29/3/1981, [oPJV]

   DG447   VHGX     20 - distant, 1980s, [oDVC]

   BM689   VHGX     20 - s2e1, North Geelong Yard, 5/9/1982, [oPJV]

   AV395   VHGX    149W- no logo, Tottenham, 14/1/2000, [oPJV]

   CT516   VHGX    158V- green sides, manual, yellow reflectors, s1e2, South Kensington, 19/9/2002, [oPJV]

   AF181   VHGX    165, [oDMG]

   AH419   VHGX    165, [oRXO]

 
   No diagrams found for VHGX   
---
File c164m compiled by Peter J. Vincent, updated 24/7/2007