---
JDX / JDF / VHDY - Dolomite Hopper
---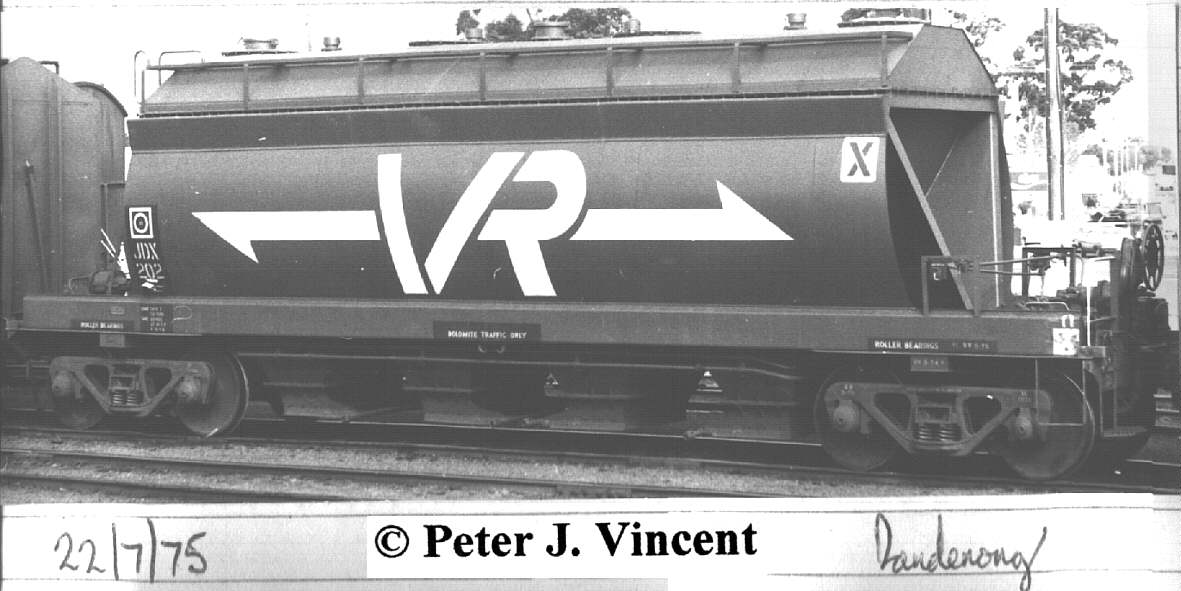 JDX
For dolomite traffic between Tantanoola, South Australia and the glass factory at Dandenong, Victoria, ten covered hopper wagons were built in 1974. They were gravity discharge, with top fill.
The wagons were coded JDX and the number group 201 - 210.
JDF
To reduce the number of bogie exchange wagons in service, the class was recoded to JDF in 1977.
In the 1979 recoding the class was relettered to VHDY.
VHDY
VHDY 201 to 210 were reclassed to VHDX in 1987/1988.
   Photos   for  'JDX  '

   FileID  Description................................................



   AM111   JDX    202, [oPJV]

   BA071   JDX    209 - s1e1, Dandenong, c1977, [oRXO]

 
   Diagrams   for  'JDX  '

   FileID  Description................................................



   AS696   JDX        -  diagram J-7, 4/12/1975, [oPTC]

 
   Photos   for  'JDF  '

   FileID  Description................................................



   AM110   JDF    202, [oPJV]

 
   No diagrams found for JDF   
   Photos   for  'VHDY  '

   FileID  Description................................................



   DT040   VHDY    201, Dandenong, 8/10/1980, [oPJV]

   BI833   VHDY    201 - part view, Dandenong, 28/1/1982, [oPJV]

   DT064   VHDY    202, Dandenong, 8/10/1980, [oPJV]

   BQ583   VHDY    203H- s2e1, VR, Dandenong, 10/10/1984, [oPJV]

   AC615   VHDY    204, Dandenong, 17/10/1981, [oPJV]

   BK356   VHDY    205 - s1, Dandenong, 16/3/1980, [oPJV]

   BR032   VHDY    205 - s2e1c, Dandenong, 14/12/1980, [oPJV]

   BM304   VHDY    207 - s1e2, Dandenong, 20/5/1980, [oPJV]

   BQ584   VHDY    207U- s1e2, Vline, Dandenong, 10/10/1984, [oPJV]

   BM305   VHDY    208 - s2e1, Dandenong, 20/5/1980, [oPJV]

   BM303   VHDY    210 - s1e2, Dandenong, 20/5/1980, [oPJV]

 
   No diagrams found for VHDY   
---
File c149m compiled by Peter J. Vincent, updated 2/7/2007