---
E - Bogie Open Wagon
---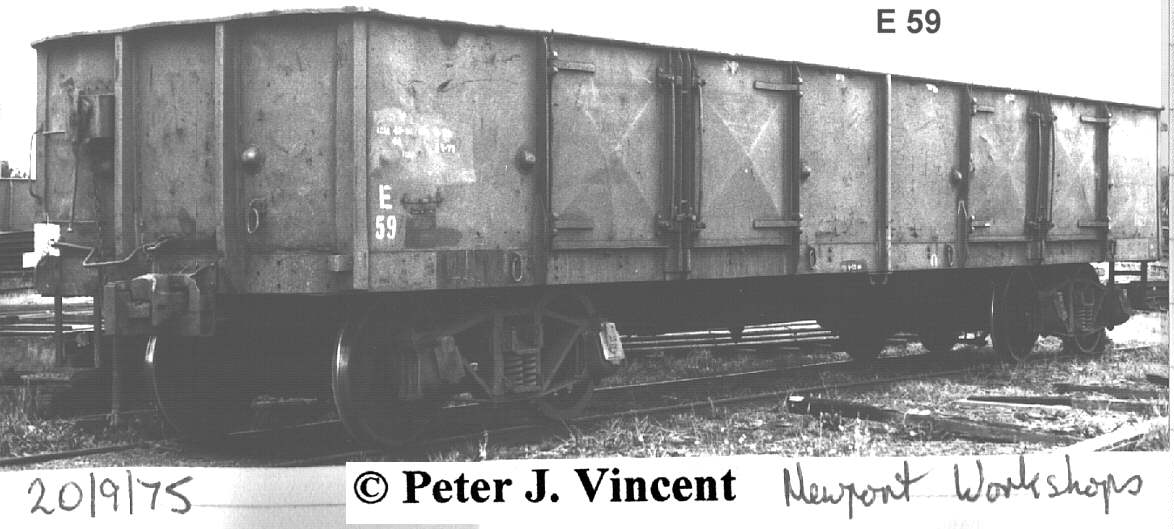 Two of these bogie open wagons were purchased with the South Australian order. They entered service as class E, numbers 1 and 2. The VR built another 200 at Newport Workshops between 1927 and 1928. The number group was 1 - 202. The wagons featured barframe bogies with pressed "dreadnought" ends and pressed sides.
During 1941, one hundred E wagons were cut down to flat wagons and recoded _S__, retaining E wagon numbers. E 1 became S 203 as vehicle S 1 was already in service. It is not known whether the sides and ends from the wagons were stored at Newport for re-use or were melted down for scrap. Most of the wagons were rebuilt to E after 1947. Those not converted back had been grabbed as oil tank underframes or retained in S traffic.
In the late 1950's the rivetted bodies were in need of replacement. Welded components were used to rebuilt the bodies as required.
Some E wagons were used in pole traffic. This traffic distributed wooden power poles from the main Brooklyn State Electricity Commission depot to major SEC depots in the country. The depot at Bairnsdale for example kept a stock of about 200-400 poles. The E wagons had doors removed and bolsters on the floor with wood bulkheads secured to the ends.
To provide for wagons on the new standard guage line, thirteen wagons were modified with roller bearing bogies and grade control equipment. They were reclassed to _EF_ and retained the E wagon numbers.
E wagons were fitted with barframe bogies, cast plain bearing bogies and in the late 1970's were fitted with roller bearing bogies.
The 1979 coding for E wagon was VOAA.
   Photos   for  'E  '

   FileID  Description................................................



   BV118   E      1 - part view, OR, r/bearing, Bendigo Workshops, 23/11/1980, [oPJV]

   CF614   E     11 - lift/trestle, Ballarat Workshops, 17/4/1978, [oPJV]

   B1669   E     11 - Scrap wheel traffic, Tottenham Yard, 12/3/1979, [oPJV]

   CY974   E     18 - s1e1, handbrake on underframe/side, North Melbourne C&W Shops, 2/7/1976, [oPJV]

   B3379   E     25 - lettering/bogie XB 4, Tottenham Yard, 18/3/1979, [oPJV]

   BL727   E     25 - OR, rake of stored wagons, Goornung, 13/4/1980, [oPJV]

   CU018   E     25 - r/b, s1e2, ldd briquettes, Maryvale siding, 25/12/1977, [oPJV]

   B1030   E     28 - rebuilt body, VR logo, cast bogies, OR, Tottenham Yard, 25/3/1979, [oPJV]

   CU021   E     28 - tarped, row of four bogie open wagons tarped, Maryvale siding, 25/12/1977, [oPJV]

   CU022   E     28 - tarped, s2e1, Maryvale siding, 25/12/1977, [oPJV]

   CB518   E     36 - OR COND, Scrap Wheel Traffic Npt-Spots Rec, Rangelea, 8/4/1979, [oPJV]

   CM987   E     39 - Off Reg, VR, barframe, Rangelea, 1970s, [oBAU]

   BC641   E     39 - part view, Port Melbourne, 27/10/1976, [oRXO]

   CZ219   E     39 - s2, tarped, barframe, Dandenong, c1976, [oRXO]

   CB516   E     40 - lettering / cast bogie / OR COND, Rangelea, 8/4/1979, [oPJV]

   CB531   E     40 - OR / cast / pressed sides, Rangelea, 8/4/1979, [oPJV]

   CZ222   E     40 - s2, pressed sides, cast, Morwell, 9/10/1976, [oRXO]

   AV668   E     54 - large VR, pressed sides, cast/package, Castlemaine, 18/2/1977, [oPJV]

   CZ239   E     54 - s2, package, pressed sides, Camperdown, 28/11/1976, [oRXO]

   CM988   E     55 - VR, cast bogies, Dandenong, 1970s, [oBAU]

   B2912   E     57 - e2p dreadnought end, Bendigo Workshops, 15/3/1978, [oPJV]

   B2911   E     57 - e2q, Bendigo Workshops, 15/3/1978, [oPJV]

   B2913   E     57 - ID/lettering/OR, Bendigo Workshops, 15/3/1978, [oPJV]

   BF053   E     59 - e1p, Newport Workshops, 20/9/1975, [oPJV]

   BF052   E     59 - e1q, Newport Workshops, 20/9/1975, [oPJV]

   BF054   E     59 - s2e1c, barframe, Newport Workshops, 20/9/1975, [oPJV]

   CK418   E     63 - ldd 2 x Harris bogies/interior view, Jolimont Workshops, 11/3/1979, [oPJV]

   CZ251   E     63 - s1e2, welded, VR logo, barframe, Seymour, 23/9/1976, [oRXO]

   CK417   E     63 - VR, barframe, s1e2, Jolimont Workshops, 11/3/1979, [oPJV]

   BP821   E     64 - lettering, Jolimont Workshops, 6/2/1980, [oPJV]

   BD391   E     64 - part view, VR, tarped, Jolimont Workshops, 7/1981, [oPJV]

   DK619   E     64 - part view/side/doors removed, Harris bogie transport, Jolimont Workshops, 25/2/1983, [oPJV]

   BP820   E     64 - s2e1, Jolimont Workshops, 6/2/1980, [oPJV]

   DK699   E     64 - s2e2, empty, doors removed, Harris bogie traffic, Jolimont Workshops, 25/2/1983, [oPJV]

   CB530   E     72 - OR barframe, Rangelea, 8/4/1979, [oPJV]

   BG612   E     73 - s2e1, barframe, pressed sides, HY ends,, Newport Workshops, 6/11/1975, [oPJV]

   CU305   E     82 - ldd briquettes, Flinders Street Yard, 25/5/1977, [oPJV]

   DA658   E     89 - e1p, Pakenham, 17/7/1976, [oPJV]

   DA657   E     89 - e1q, Pakenham, 17/7/1976, [oPJV]

   DA656   E     89 - e2p, Pakenham, 17/7/1976, [oPJV]

   DA655   E     89 - e2q, Pakenham, 17/7/1976, [oPJV]

   DA653   E     89 - s2p, cast bogies, rebuilt sides, Pakenham, 17/7/1976, [oPJV]

   DA654   E     89 - s2q, Pakenham, 17/7/1976, [oPJV]

   B9935   E     92, Flinders Street Yard, 17/3/1978, [oPJV]

   DA623   E     97 - s2, barframes, Dandenong, 17/7/1976, [oPJV]

   B2977   E    100 - rebuilt body, cast bogies, no logo, Arden Street, 1/4/1978, [oPJV]

   CB835   E    102 - OR / lettering /  OFF REG  hand painted, Tottenham Yard, 7/4/1979, [oPJV]

   BL726   E    111 - OR, Rangelea, 13/4/1980, [oPJV]

   DK620   E    112 - s2e1c, welded sides, flat tarp cover, Drouin, 7/11/1978, [oPJV]

   CU516   E    121 - e1p, Geelong Loco, 12/3/1979, [oPJV]

   CU515   E    121 - e1q, Geelong Loco, 12/3/1979, [oPJV]

   CU514   E    121 - s1e1c, r/bearings, no logo, Geelong Loco, 12/3/1979, [oPJV]

   B1373   E    122 - no logo, r/bearings, Tottenham Yard, 16/4/1979, [oPJV]

   CB709   E    122 - OR / roller bearing, Tottenham Yard, 7/4/1979, [oPJV]

   BF030   E    123 - e2p, Newport Workshops, 20/9/1975, [oPJV]

   BF029   E    123 - e2q, Newport Workshops, 20/9/1975, [oPJV]

   BG614   E    123 - s1e2, VR, barframe & cast bogie, Newport Workshops, 6/11/1975, [oPJV]

   BF027   E    123 - s1e2c, barframe, VR, Newport Workshops, 20/9/1975, [oPJV]

   BF028   E    123 - s1e2c, barframe, VR, Newport Workshops, 20/9/1975, [oPJV]

   DK698   E    133 - s2e2, pressed sides, VR logo, barframes, Canal Zone, 4/1/1976, [oPJV]

   DI834   E    139 - part view, L4, barframes, rebuilt body, Geelong, 25/3/1971, [oPJV]

   DK696   E    139 - s2e1, welded sides, roller bearings, no logo, Canal Zone, 28/1/1978, [oPJV]

   CZ350   E    142 - s2, barframes, large VR, Electric Crane Area, 12/1976, [oRXO]

   DK621   E    142 - welded sides, VR logo, s2, barframes, Albury, NSW, 22/11/1975, [oPJV]

   DK698   E    146 - part view/lettering, pressed sides, Canal Zone, 4/1/1976, [oPJV]

   DK618   E    146 - s2e2, pressed sides, barframe bogies, Canal Zone, 4/1/1976, [oPJV]

   BP528   E    163 - OR barframe VR s2e1, South Dynon, 22/6/1982, [oPJV]

   CA969   E    163 - OR/lettering/barframe bogie, North Melbourne C&W Shops, 16/4/1979, [oPJV]

   B2906   E    164 - cut down, Bendigo Workshops, 15/3/1978, [oPJV]

   B2907   E    164 - cut down, part side/chalked ID, Bendigo Workshops, 15/3/1978, [oPJV]

   B9933   E    165, Flinders Street Yard, 17/3/1978, [oPJV]

   BG708   E    165 - brake gear, Casterton, 11/8/1976, [oPJV]

   BG705   E    165 - s1e2, barframe, rebuilt, Casterton, 11/8/1976, [oPJV]

   BK957   E    170 - e1q, Castlemaine, 29/6/1975, [oPJV]

   BK958   E    170 - e2q, Castlemaine, 29/6/1975, [oPJV]

   BK918   E    170 - s1e2, ldd SEC poles, Castlemaine, 29/6/1975, [oPJV]

   BK919   E    170 - s1p, ldd SEC poles, Castlemaine, 29/6/1975, [oPJV]

   BF051   E    172 - s1e2c, barframe, Newport Workshops, 20/9/1975, [oPJV]

   CI910   E    174 - interior: ldd scrap wheels, Tottenham Yard, 18/3/1979, [oPJV]

   CI909   E    174 - ldd wheels, VR logo, Tottenham Yard, 18/3/1979, [oPJV]

   B1670   E    174 - Scrap wheel traffic, Tottenham Yard, 12/3/1979, [oPJV]

   CC228   E    174 - Scrap Wheel Transport NPT-SPOTS REC, Newport Workshops, 2/4/1979, [oPJV]

   B1614   E    193 - e1, Tottenham Yard, 12/3/1979, [oPJV]

   B1615   E    193 - e2, Tottenham Yard, 12/3/1979, [oPJV]

   DK697   E    193 - s1e2, empty, pressed sides, no doors, Pole Traffic, East Yard, 14/3/1980, [oPJV]

   B1611   E    193 - SEC pole traffic, ldd poles, Tottenham Yard, 12/3/1979, [oPJV]

   B9937   E    201 - VR, Flinders Street Yard, 17/3/1978, [oPJV]

 
   Diagrams   for  'E  '

   FileID  Description................................................



   BF529   E        -  (4 dia), [sPJV]

   BF699   E        -  (X d) 3 dia, [sPJV]

   BF698   E        -  (X d) Mailvan, [sPJV]

   BF528   E        -  mailvan, [sPJV]

 
---
File c136m compiled by Peter J. Vincent, updated 26/6/2007