---
T - M&K Trailer Car
---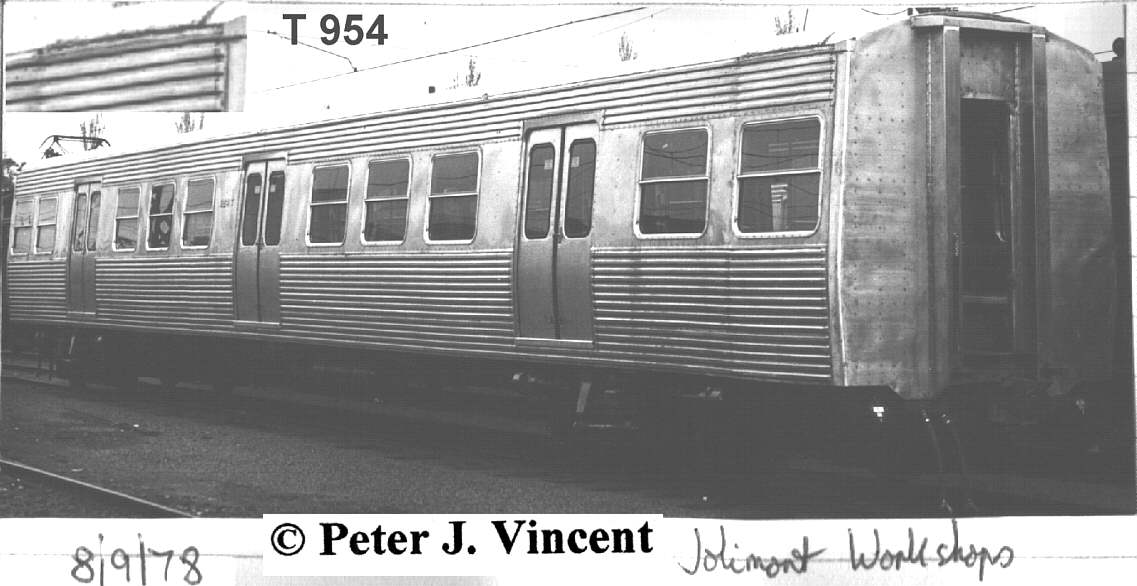 In 1973 the VR introduced a new type of suburban train. The trains featured fluted stainless steel body with Hitachi electrical equipment. The trailers built new were numbered 901 - 950.
Train sets were marshalled as M-T-T-M-D-M or M-D-D-M-D-M.
By the late 1970's the _D__ driving trailer was surplus due to changing requirements. They were converted to T cars by removing the cab and replacing the body work with a standard T car end. The D to T cars were numbered T 951 - T 1017. The D car body is about 6 1/2" longer than a standard T car. This extra length can be noticed on the conversion cars as a wider gap between windows at the 'cab' end. A pronounced vertical weld mark is also a distinguishing feature.
As the conversion process was slow and expensive, later batches of cars were issued as T cars with the D cabs blocked up and painted over. Car 1017T was the first of this group to have the cab removed and the car rebuilt with a T end. The car was involved in a yard collision and required rebuilding.
In the mid 1980s, the Martin & King trailer cars were placed into the '1000' series and renumbered 1901 - 2017. This was to clear the Comeng T car numbers.
   Photos   for  'T  '

   FileID  Description................................................



   DT270   T        - mk, temp transfer coupler, Jolimont Workshops, 12/6/1985, [oPJV]

   DK798   T    901 - mk, profile, B side, Newport Workshops, 20/10/1977, [oPJV]

   BN894   T    902 - mk, BS, Flinders Street Yard, 12/2/1982, [oPJV]

   BI509   T    904 - mk, BS, Flinders Street Yard, 19/10/1981, [oPJV]

   BM199   T    911 - mk, ID/transfer, Newport Workshops, 2/6/1980, [oPJV]

   CU299   T    925 - mk, ID/join strip, Jolimont Workshops, 25/5/1977, [oPJV]

   BI599   T    928 - mk, BS, Flinders Street Yard, 6/10/1981, [oPJV]

   B3633   T    929 - mk, bogie, [oPJV]

   AQ712   T    930 - mk, burnt body, on trestles, Newport Workshops, 6/5/1980, [oPJV]

   DK799   T    939 - mk, A side, BS lettering, Jolimont Workshops, 24/2/1983, [oRXO]

   BF815   T    945 - mk, BS, Flinders Street Yard, 14/9/1981, [oPJV]

   BG217   T    945 - mk, BS, Flinders Street Yard, 14/9/1981, [oPJV]

   BG236   T    946 - mk, BS, Flinders Street Yard, 18/9/1981, [oPJV]

   CT637   T    948 - mk, ID, Jolimont Workshops, 4/9/1977, [oPJV]

   BQ053   T    950 - mk, BS, narrow spindles, Flinders Street Yard, 19/3/1982, [oPJV]

   DK800   T    957 - mk, damaged wheel tread a/c brakes, Jolimont Workshops, 6/4/1981, [oPJV]

   DK802   T    957 - mk, damaged wheel tread a/c brakes 2, Jolimont Workshops, 6/4/1981, [oPJV]

   DK805   T    957 - mk, damaged wheel tread a/c brakes 3, Jolimont Workshops, 6/4/1981, [oPJV]

   DK801   T    957 - mk, damaged wheel tread, scale a/c brakes, Jolimont Workshops, 6/4/1981, [oPJV]

   DK803   T    957 - mk, damaged/scaled wheel tread a/c brakes, Jolimont Workshops, 6/4/1981, [oPJV]

   DK804   T    957 - mk, scaled wheel damage a/c brakes, Jolimont Workshops, 6/4/1981, [oPJV]

   BB851   T    957 - mk, wheel tread damage, Jolimont Workshops, 2/4/1981, [oPJV]

   CT758   T    958 - mk, part side/ID, Flinders Street Yard, 27/12/1978, [oPJV]

   CT849   T    959 - mk, ID/lettering, Flinders Street Yard, 28/12/1978, [oPJV]

   DK807   T    962 - mk, B side centre door/BS lettering, Flinders Street Yard, 30/9/1985, [oPJV]

   DK806   T    962 - mk, converted D, BS lettering, Flinders Street Yard, 30/9/1985, [oPJV]

   CK492   T    962 - mk, ID / shows 319D on supplementary res., Newport Workshops, 7/3/1979, [oPJV]

   CK493   T    962 - mk, no cab, Newport Workshops, 7/3/1979, [oPJV]

   AV333   T    964 - mk, just arrived line up 180M-964T-179M, Jolimont Workshops, 19/4/1979, [oPJV]

   BY106   T    965 - mk, cplr chopped, Jolimont Workshops, 12/6/1985, [oPJV]

   BY196   T    965 - mk, cplr chopped off, Jolimont Workshops, 12/6/1985, [oPJV]

   BY330   T    965 - mk, ID/BS, Jolimont Workshops, 12/6/1985, [oPJV]

   BM752   T    968 - mk, End 1, B side T end, Flinders Street Yard, 14/3/1980, [oPJV]

   BM750   T    968 - mk, End 2 B side, T end, Flinders Street Yard, 14/3/1980, [oPJV]

   BM751   T    968 - mk, ID, transfer, Flinders Street Yard, 14/3/1980, [oPJV]

   BM118   T    970 - mk, ID, Newport Workshops, 6/5/1980, [oPJV]

   BM117   T    970 - mk, T end, Newport Workshops, 6/5/1980, [oPJV]

   BM378   T    970 - mk, T end/transfers, Flinders Street Yard, 29/5/1980, [oPJV]

   DK809   T    971 - mk, (s2e1) converted D, transfers, Jolimont Workshops, 2/3/1980, [oPJV]

   BP683   T    971 - mk, ID, Jolimont Workshops, 2/3/1980, [oPJV]

   BP682   T    971 - mk, T end, transfers, Jolimont Workshops, 2/3/1980, [oPJV]

   BM746   T    971 - mk, transfers, Jolimont Workshops, 11/3/1980, [oPJV]

   BL424   T    972 - mk, ID, T car end, Jolimont Workshops, 17/3/1980, [oPJV]

   BL423   T    972 - mk, transfer lettering, Jolimont Workshops, 17/3/1980, [oPJV]

   BO277   T    973 - mk, ID transfers/door transfer, Flinders Street Yard, 20/1/1981, [oPJV]

   BM355   T    974 - mk, T end, Jolimont Workshops, 23/5/1980, [oPJV]

   BM374   T    975 - mk, ID, ex D312 writing, Jolimont Workshops, 29/5/1980, [oPJV]

   BM375   T    975 - mk, T end, delivery, Jolimont Workshops, 29/5/1980, [oPJV]

   BM144   T    976 - mk, ex 362D lettering, Jolimont Workshops, 3/6/1980, [oPJV]

   BM143   T    976 - mk, full T car, Jolimont Workshops, 3/6/1980, [oPJV]

   BM145   T    976 - mk, wide to narrow spindles, B end, Jolimont Workshops, 3/6/1980, [oPJV]

   DK808   T    979 - mk, converted D, (s2e2)/A side, BS lettering, Flinders Street Yard, 27/8/1985, [oPJV]

   BP352   T    982 - mk, BS, no cab, Flinders Street Yard, 2/4/1982, [oPJV]

   BH333   T    993 - mk, s2e1, BS, Flinders Street Yard, 7/1/1982, [oPJV]

   BK837   T   1002 - mk, damaged end/twisted bar coupler/buffers, Jolimont Workshops, 14/10/1982, [oPJV]

   DK792   T   1007 - mk, e1p, cab blanked, windows painted, Jolimont Workshops, 7/1/1982, [oPJV]

   DK793   T   1007 - mk, profile cab/e1/blanked, Jolimont Workshops, 7/1/1982, [oPJV]

   BR913   T   1009 - mk, head of 7 x T car lineup, Jolimont Workshops, 31/11/1980, [oPJV]

   BR912   T   1010 - mk, ID/transfers, Jolimont Workshops, 31/11/1980, [oPJV]

   BR911   T   1010 - mk, s1e1, D cab, Jolimont Workshops, 31/11/1980, [oPJV]

   BJ151   T   1010 - mk, transfer lettering, D end, Flinders Street Yard, 14/1/1982, [oPJV]

   BR903   T   1011 - mk, D cab / transfers, Jolimont Workshops, 25/11/1980, [oPJV]

   BR904   T   1011 - mk, ID/ transfers, Jolimont Workshops, 25/11/1980, [oPJV]

   BR905   T   1012 - mk, D cab s2e1, Jolimont Workshops, 25/11/1980, [oPJV]

   BR907   T   1012 - mk, ID/transfers, Jolimont Workshops, 25/11/1980, [oPJV]

   DK796   T   1012 - mk, s1e1, cab blanked, Flinders Street Yard, 30/1/1982, [oPJV]

   DK795   T   1012 - mk, s2e1, transfers, cab blanked, Jolimont Workshops, 12/1980, [oPJV]

   DK797   T   1014 - mk, cab blanked, s2e1, Jolimont Workshops, 15/8/1981, [oPJV]

   BQ389   T   1014 - mk, ID transfer, Jolimont Workshops, 2/3/1981, [oPJV]

   BQ331   T   1014 - mk, s2e2, D cab, Jolimont Workshops, 2/3/1981, [oPJV]

   BN897   T   1015 - mk, BS, D cab, Flinders Street Yard, 12/2/1982, [oPJV]

   BN898   T   1015 - mk, cab end shows blanked fittings, Flinders Street Yard, 12/2/1982, [oPJV]

   BI213   T   1015 - mk, s1e1, Flinders Street Yard, 8/1/1982, [oPJV]

   DK723   T   1017 - mk, (s1e1), cab removed mod/BS lettering, Flinders Street Yard, 29/5/1985, [oPJV]

   DH639   T   1906 - mk, POTS aerial on end, Flemington Racecourse, 28/7/2003, [oPJV]

   DU448   T   1907 - mk, behind fence, Epping, 25/10/2003, [oPJV]

   DK724   T   1907 - mk, sX, Met Transit stripes, Flinders Street Yard, 28/4/1985, [oPJV]

   DH655   T   1910 - mk, end bost buffer compression damage, Flemington Racecourse, 28/7/2003, [oPJV]

   DC510   T   1912 - mk, detail: spindle failure chain/wide buffers, 9/3/2003, [oPJV]

   DC509   T   1912 - mk, wide buffer/chain for spindle failure, 9/3/2003, [oPJV]

   DG066   T   1913 - mk, with graffitti mural, Spencer Street, 7/6/2003, [oPJV]

   DD104   T   1916 - mk, as  916 T , Epping, 26/2/2003, [oPJV]

   DA761   T   1916 - mk, lettered  916 T , Camberwell, 24/12/2002, [oPJV]

   11653   T   1916 - mk, lettering worn, shows: 916T, Eltham, 5/6/2003, [oPJV]

   DG030   T   1920 - mk, class/number stickers removed, lettering view, Hurstbridge, 3/6/2003, [oPJV]

   DH685   T   1920 - mk, lettering peeled off, marks show ID, Flinders Street, 30/7/2003, [oPJV]

   DA967   T   1928 - mk, axle odometer/brake cylinder, Glen Waverley, 4/1/2003, [oPJV]

   DK970   T   1928 - mk, brake block cage with well worn blocks inside, Victoria Park, 6/11/2003, [oPJV]

   DK969   T   1928 - mk, brake block cage/undergear, Victoria Park, 6/11/2003, [oPJV]

   DK967   T   1928 - mk, tread lathe marks, brake smoothing, Victoria Park, 6/11/2003, [oPJV]

   DK968   T   1928 - mk, undergear brake unit/reservoirs, Victoria Park, 6/11/2003, [oPJV]

   DA966   T   1928 - mk, wide buffer spindles, [sPJV]

   DG725   T   1930 - mk, air ride leveller valve, 23/6/2003, [oPJV]

   DG726   T   1930 - mk, air ride leveller/indicator, Eltham, 23/6/2003, [oPJV]

   DG723   T   1930 - mk, air-ride indicator/standard, 23/6/2003, [oPJV]

   DC719   T   1930 - mk, mural on side, Westgarth, 14/7/2003, [oPJV]

   DG755   T   1930 - mk, POTS: Last UW Transfer, Eltham, 23/6/2003, [oPJV]

   DG762   T   1930 - mk, POTS: Last UW Transfer - Sent Data, Eltham, 23/6/2003, [oPJV]

   DG765   T   1930 - mk, POTS: Last UW Transfer - Sent Data, Eltham, 23/6/2003, [oPJV]

   DG759   T   1930 - mk, POTS: MAN#, UW, Eltham, 23/6/2003, [oPJV]

   DG764   T   1930 - mk, POTS: MAN#, UW, Eltham, 23/6/2003, [oPJV]

   DG754   T   1930 - mk, POTS: MAN#/UW, Eltham, 23/6/2003, [oPJV]

   DG761   T   1930 - mk, POTS: Spd/Dist 421m after dock from yard, Eltham, 23/6/2003, [oPJV]

   DG752   T   1930 - mk, POTS: speed/distance, Eltham, 23/6/2003, [oPJV]

   DG753   T   1930 - mk, POTS: TDN/Tag, Eltham, 23/6/2003, [oPJV]

   DG763   T   1930 - mk, POTS: TDN/Tag 4E61, Eltham, 23/6/2003, [oPJV]

   DG756   T   1930 - mk, POTS: Version, Date, Volts, Eltham, 23/6/2003, [oPJV]

   DG760   T   1930 - mk, POTS: Version, Date, Volts, Eltham, 23/6/2003, [oPJV]

   DG724   T   1930 - mk, vidclip of SPOT undercar display, Eltham, 23/6/2003, [oPJV]

   DG751   T   1930 - mk, wide spindle buffer/buffed to narrow, Eltham, 23/6/2003, [oPJV]

   DG750   T   1930 - mk, wide spindles extended/siding curve, Eltham, 23/6/2003, [oPJV]

   DB819   T   1939 - mk, part view, pc/lettering/brake gear, Epping, 20/1/2003, [oPJV]

   DC883   T   1939 - mk, stored, Greer siding, Somerton, 15/2/2003, [oPJV]

   DC450   T   1939 - mk, tele view of  stickered shut  doors, Epping, 12/2/2003, [oPJV]

   DC451   T   1939 - mk, with  stickered  doors, Epping, 12/2/2003, [oPJV]

   CR888   T   1948 - mk, POTS antenna end, Burnley Sidings, 10/9/2002, [oPJV]

   DE917   T   1949 - mk, axle odometer removed/silver plate, Epping, 5/5/2003, [oPJV]

   DE916   T   1949 - mk, end 2/bogie/axle odometer removed, Epping, 5/5/2003, [oPJV]

   DC568   T   1949 - mk, for scrap, Epping, 5/5/2003, [oPJV]

   DI420   T   1950 - mk, Bayside, distant, Flinders Street, 20/8/2003, [oPJV]

   DC555   T   1951 - mk, bogie with axle odometer, Epping, 5/5/2003, [oPJV]

   DE828   T   1951 - mk, bogie: axle odometer removed/silver plate, Epping, 5/5/2003, [oPJV]

   DD013   T   1951 - mk, converted cab end, Lilydale, 23/2/2003, [oPJV]

   DE387   T   1951 - mk, lettering, 16/4/2003, [oPJV]

   DC572   T   1951 - mk, silhouette of auxiliary res/brake res under car, Epping, 5/5/2003, [oPJV]

   DC571   T   1951 - mk, weld visible, for scrap, Epping, 5/5/2003, [oPJV]

   DP390   T   1953 - mk, Layby shunt, Spencer Street, 3/10/2003, [oPJV]

   DB937   T   1956 - mk, D car conversion end, Hurstbridge, 23/1/2003, [oPJV]

   DH630   T   1957 - mk, (s1e2), Flemington Racecourse, 28/7/2003, [oPJV]

   DH629   T   1957 - mk, lettering overlays, Flemington Racecourse, 28/7/2003, [oPJV]

   DD809   T   1958 - mk, (s1e2), weld visible, Macleod, 28/3/2003, [oPJV]

   DG982   T   1961 - mk, narrow view, Epping, 26/6/2003, [oPJV]

   DG974   T   1961 - mk, notched air ride indicator, Epping, 27/6/2003, [oPJV]

   DG939   T   1961 - mk, tattered lettering, Epping, 26/6/2003, [oPJV]

   DH531   T   1964 - mk, (s1e1)/join, Epping, 25/7/2003, [oPJV]

   DH576   T   1964 - mk, floor damage at car end, 25/7/2003, [oPJV]

   DH577   T   1964 - mk, floor ribbing at eye level/doorway, 25/7/2003, [oPJV]

   DH574   T   1964 - mk, flooring/ribbed, at centre door, 25/7/2003, [oPJV]

   DH573   T   1964 - mk, interior, original flooring, 25/7/2003, [oPJV]

   DH575   T   1964 - mk, saloon/flooring, from end door, 25/7/2003, [oPJV]

   DH534   T   1966 - mk, (s1e1)/join, Epping, 25/7/2003, [oPJV]

   DH537   T   1966 - mk, interior of seat moulding, 25/7/2003, [oPJV]

   DH535   T   1966 - mk, saloon mods: yellow bars, white seat moulds, Epping, 25/7/2003, [oPJV]

   DH539   T   1966 - mk, saloon to #2 end, 25/7/2003, [oPJV]

   DH538   T   1966 - mk, seat pad securing method in moulding, 25/7/2003, [oPJV]

   DH536   T   1966 - mk, seat pads removed from scrap set, Epping, 25/7/2003, [oPJV]

   DH572   T   1966 - mk, side ribbing damage, Epping, 25/7/2003, [oPJV]

   DU446   T   1968 - mk, behind fence, Epping, 25/10/2003, [oPJV]

   12301   T   1969 - mk, tread pattern from lathe work, Eltham, 7/6/2003, [oPJV]

   DD473   T   1969 - mk, weld visible (s1e1), Eltham, 20/3/2003, [oPJV]

   DD637   T   1971 - mk, part view, lettering/brake gear/centre door, Epping, 6/3/2003, [oPJV]

   DD706   T   1971 - mk, part view/chopped end, Epping, 6/3/2003, [oPJV]

   DQ021   T   1976 - mk, (r) shiny spindles/M (l), Epping, 9/10/2003, [oPJV]

   DP765   T   1976 - mk, mod T end, Epping, 9/10/2003, [oPJV]

   DU941   T   1976 - mk, next car in line for scrapping, Brooklyn, 6/12/2003, [oBXY]

   CX034   T   1978 - mk, bogie/cutout/undergear, Burnley Sidings, 2/11/2002, [oPJV]

   CX026   T   1978 - mk, conersion weld/bogie, Burnley Sidings, 2/11/2002, [oPJV]

   CX032   T   1978 - mk, interior from e1 to e2, Burnley Sidings, 2/11/2002, [oPJV]

   CX029   T   1978 - mk, interior to e2 from centre doors, Burnley Sidings, 2/11/2002, [oPJV]

   CX027   T   1978 - mk, interior, e1, Burnley Sidings, 2/11/2002, [oPJV]

   CX030   T   1978 - mk, interior, e1 from centre doors, Burnley Sidings, 2/11/2002, [oPJV]

   CX031   T   1978 - mk, interior, e2, Burnley Sidings, 2/11/2002, [oPJV]

   CX028   T   1978 - mk, interior/saloon, refurb floor/seats, Burnley Sidings, 2/11/2002, [oPJV]

   DE316   T   1978 - mk, passes through washdock, dripping water/spray, Epping, 15/4/2003, [oPJV]

   CX035   T   1978 - mk, undergear/car centre to bogie, Burnley Sidings, 2/11/2002, [oPJV]

   DD470   T   1978 - mk, weld visible (s1e1), Eltham, 20/3/2003, [oPJV]

   DF630   T   1979 - mk, brake block cage/empty, Macleod, 22/5/2003, [oPJV]

   DF631   T   1979 - mk, brake block cage/empty, Macleod, 22/5/2003, [oPJV]

   CR885   T   1979 - mk, lettering, set tracking reflector/AMSCAN, Burnley Sidings, 10/9/2002, [oPJV]

   DF629   T   1979 - mk, lettering/brake block cage, Macleod, 22/5/2003, [oPJV]

   DE024   T   1983 - mk, sheds water after washdock trip/70M MK set, Epping, 4/4/2003, [oPJV]

   DD972   T   1983 - mk, weld far end, Epping, 4/4/2003, [oPJV]

   CZ813   T   1985 - mk, door/lettering, Epping, 9/11/2004, [oPJV]

   DP394   T   1985 - mk, modified T, D end, Spencer Street, 3/10/2003, [oPJV]

   DP770   T   1990 - mk, mod T end, Epping, 9/10/2003, [oPJV]

   DA440   T   1992 - mk, s2, Flinders Street, 12/2002, [oPJV]

   DD479   T   1994 - mk, detail: lettering and vehicle tracking reflector, Eltham, 20/3/2003, [oPJV]

   DD483   T   1994 - mk, e1/cab, Eltham, 20/3/2003, [oPJV]

   DD484   T   1994 - mk, s1e1, Eltham, 20/3/2003, [oPJV]

   DE008   T   1995 - mk, (s2e1), Epping, 1/4/2003, [oPJV]

   CV699   T   1995 - mk, s1e1, myral, stored, Brooklyn, 19/12/2003, [sPJV]

   AZ708   T   1996 - mk, dark, stabled, Glen Waverley, 26/10/2002, [oPJV]

   DB783   T   1996 - mk, s1e1, Eltham, 18/1/2003, [oPJV]

   DE201   T   1996 - mk, shows D car whistle position, Epping, 7/4/2003, [oPJV]

   DE139   T   1996 - mk, shows whistle location/roof drain pipe in end, Epping, 7/4/2003, [oPJV]

   DE140   T   1996 - mk, whistle mounting location/coupler pocket, Epping, 7/4/2003, [oPJV]

   CZ817   T   2000 - mk, lettering, Epping, 9/11/2004, [oPJV]

   DB932   T   2000 - mk, s2e1, Hurstbridge, 23/1/2003, [oPJV]

   CZ816   T   2000 - mk, s2e1, cab, mural, Epping, 9/11/2004, [oPJV]

   DE035   T   2002 - mk, (s1e2)/poles, Epping, 1/4/2003, [oPJV]

   12334   T   2002 - mk, (s2e1), Epping, 6/6/2003, [oPJV]

   DD807   T   2002 - mk, (s2e1), Macleod, 28/3/2003, [oPJV]

   12335   T   2002 - mk, blanked cab, Epping, 8/6/2003, [oPJV]

   DE034   T   2002 - mk, s1/cab, Epping, 1/4/2003, [oPJV]

   CV692   T   2002 - mk, s2e1, graffitti side, dusk, Brooklyn, 19/12/2003, [oBXY]

   DG052   T   2003 - mk, cab view of window/interior/graffitti, Epping, 7/6/2003, [oPJV]

   DG051   T   2003 - mk, e1q, clear driving window, Epping, 7/6/2003, [oPJV]

   DG050   T   2003 - mk, s1e1, clear drivers window/platform, Epping, 7/6/2003, [oPJV]

   DC107   T   2003 - mk, s1e2, Flinders Street, 30/1/2003, [oPJV]

   CV700   T   2003 - mk, stored, graffitti mural, Brooklyn, 19/12/2003, [oBXY]

   DA877   T   2005 - mk, (s1e1), Eltham, 29/12/2002, [oPJV]

   DO090   T   2005 - mk, e1q, cab blanked/side step/s2, Epping, 11/11/2003, [oPJV]

   DO142   T   2005 - mk, part view, shows dew on roof outlining framework, Epping, 13/11/2003, [oPJV]

   DO089   T   2005 - mk, s2e1, cab blanked, for scrap, Epping, 11/11/2003, [oPJV]

   DU543   T   2006 - mk, e1 buffer spindle spring/housing, Epping, 27/10/2003, [oPJV]

   DU542   T   2006 - mk, e1, narrow spindles, buff plate, Epping, 27/10/2003, [oPJV]

   DU541   T   2006 - mk, e1/blanked cab, Epping, 27/10/2003, [oPJV]

   DU540   T   2006 - mk, s1e1, blanked cab, Epping, 27/10/2003, [oPJV]

   DD415   T   2008 - mk, s2e1/cab, Flinders Street, 18/3/2003, [oPJV]

   DC401   T   2009 - mk, bogie brake spreader brackets, Macleod, 10/2/2003, [oPJV]

   DC388   T   2009 - mk, e1, blanked cab, Macleod, 10/2/2003, [oPJV]

   DB421   T   2009 - mk, e1/cab, Eltham, 14/1/2003, [oPJV]

   DK725   T   2009 - mk, lettering detail: BS sticker -  9  made from  0 , Flinders Street Yard, 7/10/1985, [oPJV]

   DC386   T   2009 - mk, lettering: 2009T stickers damaged, 10/2/2003, [oPJV]

   DB420   T   2009 - mk, pl/cab, Eltham, 14/1/2003, [oPJV]

   DK726   T   2009 - mk, s1e1, cab blanked, BS lettering, Flinders Street Yard, 7/10/1985, [oPJV]

   DB387   T   2009 - mk, s2e1, Eltham, 14/1/2003, [oPJV]

   DC387   T   2009 - mk, s2e1, Macleod, 10/2/2003, [oPJV]

   CX003   T   2010 - mk, (s1e1), Burnley Sidings, 2/11/2002, [oPJV]

   DD745   T   2010 - mk, (s1e1), Epping, 26/3/2003, [oPJV]

   DE267   T   2010 - mk, (s2e1), Epping, 14/4/2003, [oPJV]

   12356   T   2010 - mk, bogie, Epping, 8/6/2003, [oPJV]

   12330   T   2010 - mk, bogie/bolster/green stripe, Epping, 8/6/2003, [oPJV]

   CX017   T   2010 - mk, bogie/cutout/POTS, Burnley Sidings, 2/11/2002, [oPJV]

   12329   T   2010 - mk, bolster/green stripe, Epping, 8/6/2003, [oPJV]

   DF420   T   2010 - mk, e1 cab step, shunters step location/cable/buffer, Victoria Park, 16/5/2003, [oPJV]

   CX007   T   2010 - mk, e2/interior, Burnley Sidings, 2/11/2002, [oPJV]

   12355   T   2010 - mk, General Steel Casting logo cast in bogie (G), Epping, 8/6/2003, [oPJV]

   DD646   T   2010 - mk, graffitti mural on side, Flemington Racecourse, 5/3/2003, [oPJV]

   CX004   T   2010 - mk, interior of saloon bulkhead to cab/e1, Burnley Sidings, 2/11/2002, [oPJV]

   CV695   T   2010 - mk, lettering/door/graffitti, Brooklyn, 19/12/2003, [oBXY]

   12328   T   2010 - mk, part s2e1 profile, Epping, 8/6/2003, [oPJV]

   CV694   T   2010 - mk, part view side/lettering/graffitti mural, Brooklyn, 19/12/2003, [oBXY]

   CX010   T   2010 - mk, part view/cab/step to guards door, Burnley Sidings, 2/11/2002, [oPJV]

   CX018   T   2010 - mk, POTS/ladder, Burnley Sidings, 2/11/2002, [oPJV]

   12352   T   2010 - mk, POTS: Innovonics tag, Epping, 8/6/2003, [oPJV]

   DC165   T   2010 - mk, s1e1/blanked cab, Eltham, 31/1/2003, [oPJV]

   CV693   T   2010 - mk, s1e2, dusk, graffitti mural, Brooklyn, 19/12/2003, [oBXY]

   CX005   T   2010 - mk, saloon door/cab reset, e1/interior, Burnley Sidings, 2/11/2002, [oPJV]

   CX008   T   2010 - mk, saloon interior from e2 forwards, Burnley Sidings, 2/11/2002, [oPJV]

   CX009   T   2010 - mk, saloon to e1 from centre doors, Burnley Sidings, 2/11/2002, [oPJV]

   CX006   T   2010 - mk, saloon towards #2 end, original lino, Burnley Sidings, 2/11/2002, [oPJV]

   12353   T   2010 - mk, SUMIRIDE NOV 1976 air ride makers plate, Epping, 8/6/2003, [oPJV]

   12354   T   2010 - mk, SUMIRIDE plate and General Steel Casting logo (G), Epping, 8/6/2003, [oPJV]

   CX022   T   2010 - mk, under cab junction box/step, s1, Burnley Sidings, 2/11/2002, [oPJV]

   CX011   T   2010 - mk, underframe beneath cab, Burnley Sidings, 2/11/2002, [oPJV]

   CX012   T   2010 - mk, underframe/lead axle on bogie, Burnley Sidings, 2/11/2002, [oPJV]

   CX013   T   2010 - mk, undergear, Burnley Sidings, 4/11/2002, [oPJV]

   CX021   T   2010 - mk, undergear, bogie/cutout/BP hose connection, Burnley Sidings, 2/11/2002, [oPJV]

   CX019   T   2010 - mk, undergear, brake unit/reservoir, Burnley Sidings, 2/11/2002, [oPJV]

   CX020   T   2010 - mk, undergear, reservoirs/small door res, Burnley Sidings, 4/11/2002, [oPJV]

   CX014   T   2010 - mk, undergear/bogie/cutout, Burnley Sidings, 2/11/2002, [oPJV]

   CX016   T   2010 - mk, undergear/ladder/POTS/brake block cage full, Burnley Sidings, 2/11/2002, [oPJV]

   CX015   T   2010 - mk, undergear/POTS/brake block cage full/new ladder, Burnley Sidings, 2/11/2002, [oPJV]

   12365   T   2012 - mk, buffers/narrow flutes, Epping, 8/6/2003, [oPJV]

   12364   T   2012 - mk, cab end/narrow flutes, Epping, 8/6/2003, [oPJV]

   DO102   T   2012 - mk, car end weld beading, Epping, 11/11/2003, [oPJV]

   DP817   T   2012 - mk, e1q/s1, at platform, side door window intact, Lilydale, 11/10/2003, [oPJV]

   DU475   T   2012 - mk, e2/buufer spindle/plate, fluted ends, Epping, 27/10/2003, [oPJV]

   DO093   T   2012 - mk, eXq/POTS antenna/pointed flutes/for scrap, Epping, 11/11/2003, [oPJV]

   12361   T   2012 - mk, hoses/buffing gear/cables to 116M, Epping, 8/6/2003, [oPJV]

   12366   T   2012 - mk, lettering/door step/pointed flutes, Epping, 8/6/2003, [oPJV]

   DP816   T   2012 - mk, part view cab end/weld bead/blanked headboard, Lilydale, 11/10/2003, [oPJV]

   DO095   T   2012 - mk, part view/lettering/door/POTS reflector, Epping, 11/11/2003, [oPJV]

   DP815   T   2012 - mk, part view: flutes/cab weld bead/e1, Lilydale, 11/10/2003, [oPJV]

   12363   T   2012 - mk, pointed flutes/end, Epping, 8/6/2003, [oPJV]

   DO094   T   2012 - mk, POTS antenna, weld beading along top join, Epping, 11/11/2003, [oPJV]

   DO096   T   2012 - mk, s1e1, cab blanked/pointed flutes/for scrap, Epping, 11/11/2003, [oPJV]

   DU476   T   2012 - mk, s2e1, blanked cab, Epping, 27/10/2003, [oPJV]

   12362   T   2012 - mk, wide buffer/shows bent narrow buffer on 116M, Epping, 8/6/2003, [oPJV]

   DD969   T   2014 - mk, (s1e2), Epping, 4/4/2003, [oPJV]

   DE014   T   2014 - mk, fitters stripping POTS eqmt, Epping, 4/4/2003, [oPJV]

   DE017   T   2014 - mk, interior towards #1 end, 4/4/2003, [oPJV]

   DE018   T   2014 - mk, interior: shows graffitti, 4/4/2003, [oPJV]

   DD811   T   2015 - mk, (s1e1), Macleod, 28/3/2003, [oPJV]

   DB415   T   2015 - mk, s2e2, Flinders Street, 15/1/2003, [oPJV]

   DE318   T   2016 - mk, (s2e1), Epping, 15/4/2003, [oPJV]

   DC395   T   2016 - mk, detail of thick open cab door for drop window, Burnley, 11/2/2003, [oPJV]

   DC370   T   2016 - mk, drivers cab/stripped/rebuilt console cover, 11/2/2003, [oPJV]

   DC367   T   2016 - mk, drivers rhs wall/stripped D cab, 11/2/2003, [oPJV]

   DC371   T   2016 - mk, drivers side access door/blanked/stripped, 11/2/2003, [oPJV]

   DC396   T   2016 - mk, drivers side cab door/interior/dash/pedestal locat, Burnley, 11/2/2003, [oPJV]

   DC369   T   2016 - mk, high access panel behind driver/stripped D, 9/2/2003, [oPJV]

   DG731   T   2016 - mk, hosebag: VR Dunlop 8/1995, Eltham, 23/6/2003, [oPJV]

   DG732   T   2016 - mk, hosebag: VR DUNLOP 8/1995 (2), 23/6/2003, [oPJV]

   DC410   T   2016 - mk, interior s2 cab stripped, Burnley, 11/2/2003, [oPJV]

   DC506   T   2016 - mk, MET lightrail illuminated map, 9/3/2003, [oPJV]

   DC368   T   2016 - mk, panels above drivers head/stripped D cab, 9/2/2003, [oPJV]

   DC507   T   2016 - mk, part view MET llight rail map (lhs), 9/3/2003, [oPJV]

   DC373   T   2016 - mk, s2e1, Burnley, 9/2/2003, [oPJV]

   DC372   T   2016 - mk, saloon door/peep from van compt/stripped D, 11/2/2003, [oPJV]

   DC508   T   2016 - mk, saloon towards  cab  bulkhead, 9/3/2003, [oPJV]

   DC505   T   2016 - mk, saloon/cab bulkead, 9/3/2003, [oPJV]

   DC468   T   2016 - mk, saloon/cab doors from cab side, Burnley, 11/2/2003, [oPJV]

   DC397   T   2016 - mk, van area/emergency gear/side door/interior, Burnley, 11/2/2003, [oPJV]

   DP957   T   2017 - mk, mod end, Epping, 20/10/2003, [oPJV]

   DG285   T   2017 - mk, s1e1, Flemington Racecourse, 18/7/2003, [oPJV]

   DG306   T   2017 - mk, wide buffers/spindle not working, with 41M, Flemington Racecourse, 18/7/2003, [oPJV]

   DE016   T   2104 - mk, interior towards #2 end, 4/4/2003, [oPJV]

 
   Diagrams   for  'T  '

   FileID  Description................................................



   BF554   T        -  t, 401+, c1925, [sPJV]
---
File c123m compiled by Peter J. Vincent, updated 20/6/2007