---
NN - Bogie Ballast Hopper
---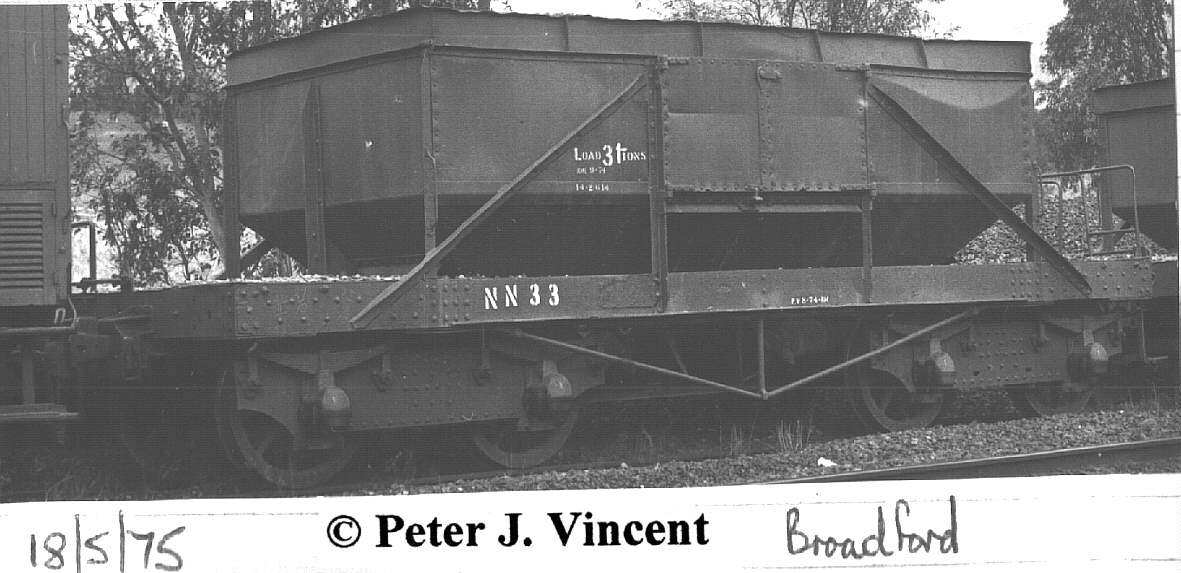 The prototype NN1 entered service in 1901. A further forty five wagons were built in 1907. They were numbered 2 - 46 and built to a slightly different design.
Five of this class were scrapped in 1924. This was the start of a project to convert all wagons in the class to _O__ hopper wagons. The traffic was coal from Yallourn to Newport Power Station. The project was abandoned for reasons unknown. The wagons scrapped were numbers 17, 28, 36, 39 and 46. The hoppers were used to make O 1 - 5.
During 1950/51, one hundred welded NN hopper wagons were built to a new design. These wagons were numbered 46 - 145.
Between 1960 and 1967 the capacity of the vehicles was raised. This was achieved by welding up the hopper side access doors and raising the sides by about 30cm. On the 46 - 145 number group, end supports were added for load bearing support. NN 139 had the sides raised but no end supports fitted.
In the 1979 recoding the class was recoded to VHWA.
   Photos   for  'NN  '

   FileID  Description................................................



   DQ789   NN        - 1950 s prototype, buffers, cast bogies, Newport Workshops, c1950, [oPTC]

   AO111   NN        - loaded and empty ballast trains, North Melbourne, 23/4/1979, [oPJV]

   CZ181   NN      5 - s2e1, Bendigo North Workshops, 1/11/1976, [oRXO]

   CF613   NN      9 - lift/on trestle, Ballarat Workshops, 17/4/1978, [oPJV]

   AK350   NN     12 - interior, doors open, North Melbourne C&W Shops, 20/10/1977, [oPJV]

   CB491   NN     12 - OR/lift/on trestles, Bendigo Workshops, 8/4/1979, [oPJV]

   AK370   NN     12 - part view top/hopper, North Melbourne C&W Shops, 20/10/1977, [oPJV]

   B1199   NN     24, Spotswood, 25/3/1979, [oPJV]

   CZ208   NN     31 - s2, Ballarat, 2/10/1976, [oRXO]

   AW791   NN     38, Bairnsdale, 7/10/1967, [oPJV]

   11135   NN     40 - e1p, Ararat, 29/4/1978, [oPJV]

   11134   NN     40 - e1q, Ararat, 29/4/1978, [oPJV]

   11137   NN     40 - e2p, Ararat, 29/4/1978, [oPJV]

   11136   NN     40 - e2q, Ararat, 29/4/1978, [oPJV]

   CZ589   NN     40 - s1, welded rebuilt body, North Melbourne C&W, 17/10/1976, [oRXO]

   CN149   NN     41 - s2e1, ldd, North Melbourne C&W Shops, 1970s, [oBAU]

   AW792   NN     64, Bairnsdale, 7/10/1967, [oPJV]

   DC366   NN     67 - roller bearings, Victoria Park, 4/7/1976, [oPJV]

   BV106   NN     70 - damaged body, Bendigo Workshops, 23/11/1980, [oPJV]

   B1200   NN     76 - part view, Spotswood, 25/3/1979, [oPJV]

   BN167   NN     86 - s1e2 cast, North Melbourne C&W, 28/2/1980, [oPJV]

   CB160   NN     88, Shepparton, 15/4/1979, [oPJV]

   BK647   NN     92 - s1e2, 35ton lettering, cast/roller bearings, Tottenham Yard, 4/3/1976, [oPJV]

   DC362   NN     93 - cast bogies, Victoria Park, 4/7/1976, [oPJV]

   CN150   NN     95 - s2e1, cast bogies, ldd high ballast, North Melbourne C&W Shops, 1970s, [oBAU]

   BN171   NN     96 - s1e2, r/b, North Melbourne C&W, 28/2/1980, [oPJV]

   CB159   NN     97, Shepparton, 15/4/1979, [oPJV]

   CB158   NN     98, Shepparton, 15/4/1979, [oPJV]

   DC364   NN    102 - cast bogies, as  102 NN , Victoria Park, 4/7/1976, [oPJV]

   DC365   NN    105 - cast bogies, L5, Imperial 35 Tons, Victoria Park, 4/7/1976, [oPJV]

   BL711   NN    107 - body damaged on VQCY, Bendigo, 13/4/1980, [oPJV]

   CK460   NN    111 - cast bogies, North Geelong Yard, 12/3/1979, [oPJV]

   B1191   NN    113 - derailed/rerail opertions 1, Spotswood, 25/3/1979, [oPJV]

   B1193   NN    113 - derailed/rerail opertions 2, Spotswood, 25/3/1979, [oPJV]

   B1195   NN    113 - rerailed, Spotswood, 25/3/1979, [oPJV]

   BN169   NN    115 - lettering/bogie XC 1930*, North Melbourne C&W, 28/2/1980, [oPJV]

   BN168   NN    115 - s2e1, r/b, North Melbourne C&W, 28/2/1980, [oPJV]

   DC363   NN    122 - roller bearing bogies, Victoria Park, 4/7/1976, [oPJV]

   CZ323   NN    127 - s1e2c, North melbourne C&W, 17/10/1976, [oRXO]

   CB093   NN    133, North Melbourne C&W Shops, 16/4/1979, [oPJV]

   CZ505   NN    134 - s1, North Melbourne C&W, 17/10/1976, [oRXO]

   BM460   NN    136 - s2e1, cast, Echuca, 11/5/1980, [oPJV]

   AU875   NN    140, North Melbourne, 2/1977, [oPJV]

   CN147   NN    144 - ldd ballast, s1, down view, Footscray, 1980s, [oBAU]

   CN148   NN    145 - s1e2, Dandenong, 1970s, [oBAU]

 
   Diagrams   for  'NN  '

   FileID  Description................................................



   BF720   NN        -  2 dia, [sPJV]

   BF546   NN      1, 1904, [oD04]

 
---
File c121m compiled by Peter J. Vincent, updated 20/6/2007