---
GH - Fixed Wheel Grain Hopper
---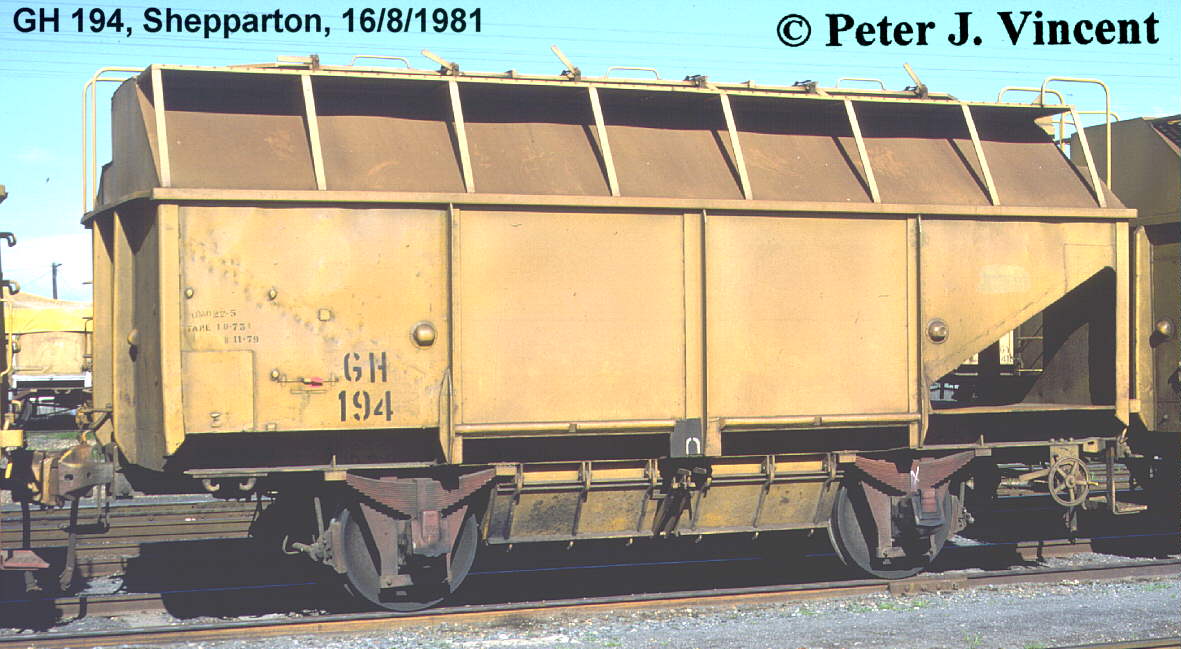 The GH wagons were converted from the open _GY_ wagons between 1979 to 1984. About 810 were placed into service
Problems were experienced with underframes cracking with these wagons. The underframes had already been in service for 20 to 40 years.
In 1980, two sets of Gloucester Suspension Units were applied to vehicles GH 155 and GH 336. Tests were conducted to 70mph(115km/hr) but nothing further developed from the experiment. The vehicles are believed to have carried the equipment until scrapped about eight years later.
At this time no scrapping data has been collected. The class was withdrawn from service by the early 1990's. They were replaced by large numbers of bogie grain wagons built in the late 1980's. At the time of their construction they were believed to be a short term measure until finance became available for new bogie vehicles.
Types
There were several types of GH's built. In the main, the differences apparent in later years were due to modifications caried out to improve the design.
GH 1 and 2 were the prototypes, with GH 4 onwards built to a standard 4 door hopper discharge and foldover top hatch.
Great difficulty was experienced in maintaining the brake equipment. To overcome the problem, two wagons were modifed. They had cutout ends at the handbrake end. Two brake arrangements were tried; one on GH 150 and another on GH 151. Brake equipment was tucked in under the slope sheet of the hopper. These changes were not progressed with. Instead, the four hopper discharge was reduced to a two door discharge, thereby gaining clearance for maintenance. To confuse matters, GH's were still issued to service with cutout ends despite instructions to the contrary.
Another parallel modification made was a change to the top hatch design. Initial design was "in sequence flipover" lids and later the two "barrel" hatch evolved.
Most unique was a fibreglass top that fitted directly onto the hopper as a one piece cast. This top was eventually fitted to GH 810.
   Photos   for  'GH  '

   FileID  Description................................................



   DC870   GH        -  deailed wagons, spilt rice, Goornung, c1979, [sALT]

   DC789   GH        -  derailed train, from wagon tops, Goornung, c1979, [sALT]

   DC794   GH        -  derailed wagons from wagon tops 2, Goornung, c1979, [sALT]

   DC796   GH        -  derailed wagons off the rails and buried, Goornung, c1979, [sALT]

   DC783   GH        -  derailed wagons/spilt rice, Goornung, c1979, [oALT]

   DC872   GH        -  derailed, undergear/brake levers, newspaper article, Goornung, c1979, [sALT]

   DC776   GH        -  derailment damage, Goornung, c1979, [oALT]

   DC775   GH        -  derailment photo, Goornung, c1979, [oALT]

   DG442   GH        -  e2p, 1980s, [oDVC]

   DC791   GH        -  ends of wagons, derailed, Goornung, c1979, [sALT]

   DC784   GH        -  GH 461/wagons on side/bent rail, Goornung, c1979, [sALT]

   DC869   GH        -  newpaper article/kids with wrecked wagons, Goornung, c1979, [sALT]

   CN141   GH        -  rake in yard, Murtoa, 1970s, [oBAU]

   DC785   GH        -  rake of wagons in derailment, Goornung, c1979, [sALT]

   DC795   GH        -  top details of derailed wagons, Goornung, c1979, [sALT]

   DC871   GH        -  top view of derailment, undergear, newspaper article, Goornung, c1979, [sALT]

   DC787   GH        -  top/end step detail, derailed wagon, Goornung, c1979, [sALT]

   DC778   GH        -  undergear, open hatches in derailment, Goornung, c1979, [oALT]

   DC782   GH        -  undergear/bottom hatches 2, derailment, Goornung, c1979, [oALT]

   DC793   GH        -  undergear/bottom hatches 3, Goornung, c1979, [sALT]

   DC781   GH        -  undergear/bottom hatches, derailment, Goornung, c1979, [oALT]

   DC799   GH        -  undergear/brake levers, derailed wagon, Goornung, c1979, [sALT]

   DC780   GH        -  wagon on side/spilt rice, derailment, Goornung, c1979, [oALT]

   DC790   GH        -  wagon tops in derailment, Goornung, c1979, [sALT]

   DC786   GH        -  wagons derailed, from guards van forward, Goornung, c1979, [sALT]

   DC779   GH        -  wagons off rails, Goornung, c1979, [oALT]

   BE196   GH        - fibreglass top - e2p, Newport Workshops, 5/8/1981, [oPJV]

   BE198   GH        - fibreglass top - hatch, walkway, Newport Workshops, 5/8/1981, [oPJV]

   BE195   GH        - fibreglass top - p, Newport Workshops, 5/8/1981, [oPJV]

   BE194   GH        - fibreglass top - q, Newport Workshops, 5/8/1981, [oPJV]

   BE197   GH        - fibreglass top - top view, Newport Workshops, 5/8/1981, [oPJV]

   BL718   GH        - lid frame jig, Bendigo Workshops, 13/4/1980, [oPJV]

   BK711   GH        - no lettering a/c paint/lift, Bendigo Workshops, 27/7/1980, [oPJV]

   BL596   GH        - rake on train, trailing forward, Sunshine, 29/3/1980, [oPJV]

   BL717   GH        - roof cover framework, Bendigo Workshops, 13/4/1980, [oPJV]

   BV130   GH        - stripped GY body for conversion, Bendigo Workshops, 23/11/1980, [oPJV]

   CA821   GH        - wagons on wheat train/T loco, c1984, [oREW]

   BO127   GH        - wagons on wheat train; A 62 + T 379, Broadmeadows, 15/10/1984, [oPJV]

   CA933   GH      1 + GH 2 (near), Echuca, 15/4/1979, [oPJV]

   CA932   GH      1 - 1N2 s2e2, Echuca, 15/4/1979, [oPJV]

   BP322   GH      1 - 1N2, top view, North Geelong Yard, 17/8/1980, [oPJV]

   CA926   GH      1 - detail: thick cracked paint over superphosphate?, Echuca, 15/4/1979, [oPJV]

   CA925   GH      1 - e1q, Echuca, 15/4/1979, [oPJV]

   CA937   GH      1 - e1q, Echuca, 15/4/1979, [oPJV]

   BW467   GH      1 - end roof step/inset, Echuca, 15/4/1979, [oPJV]

   BW468   GH      1 - end steps/e2, Echuca, 15/4/1979, [oPJV]

   CA936   GH      1 - lettering/axle/door, Echuca, 15/4/1979, [oPJV]

   CA939   GH      1 - lettering/handbrake, Echuca, 15/4/1979, [oPJV]

   CA924   GH      1 - s1 1N2, Echuca, 15/4/1979, [oPJV]

   CN010   GH      1 - s2e1, 1N2, 1970s, [oBAU]

   BW464   GH      1 - top, part view GJF top, Echuca, 15/4/1979, [oPJV]

   BW452   GH      1 - top, with GH 2 top, Echuca, 15/4/1979, [oPJV]

   CA933   GH      2 + GH 1, Echuca, 15/4/1979, [oPJV]

   CA931   GH      2 - 1N2 s2e2c, Echuca, 15/4/1979, [oPJV]

   BR782   GH      2 - 2N2, Echuca, 23/11/1980, [oPJV]

   CA934   GH      2 - e2p, Echuca, 15/4/1979, [oPJV]

   CA935   GH      2 - e2q, Echuca, 15/4/1979, [oPJV]

   CA938   GH      2 - lettering/handbrake, Echuca, 15/4/1979, [oPJV]

   BW446   GH      2 - s1e2c, Echuca, 15/4/1979, [oPJV]

   CA927   GH      2 - s1e2c, Echuca, 15/4/1979, [oPJV]

   BW460   GH      2 - top, Echuca, 15/4/1979, [oPJV]

   BW452   GH      2 - top, 2nd wagon, Echuca, 15/4/1979, [oPJV]

   BF991   GH      4 - s1e2, 1n1, North Melbourne C&W Shops, 30/9/1981, [oPJV]

   BL531   GH     10 - part view 2C2, Sunshine, 29/3/1980, [oPJV]

   BL748   GH     11 - s1, 2N2, Echuca, 13/4/1980, [oPJV]

   BP266   GH     12 - 2N2, North Geelong Yard, 17/8/1980, [oPJV]

   DT062   GH     14 - 1N1, North Geelong Yard, 21/9/1980, [oPJV]

   BM415   GH     15 - s2e1c, 2N2, Echuca, 11/5/1980, [oPJV]

   BV006   GH     16 - 2N2, Echuca, 23/11/1980, [oPJV]

   BV159   GH     19 - 1N1, North Geelong Yard, 9/11/1980, [oPJV]

   BG070   GH     20 - s2e1, 1n1, North Geelong Yard, 27/9/1981, [oPJV]

   BU985   GH     23 - 2N2, Elmore, 23/11/1980, [oPJV]

   BP237   GH     25 - 1N1, North Geelong Yard, 17/8/1980, [oPJV]

   BF816   GH     27 - s1e2, 1n1, North Geelong Yard, 27/9/1981, [oPJV]

   BL745   GH     28 - e2p, Echuca, 13/4/1980, [oPJV]

   BL746   GH     28 - e2q, Echuca, 13/4/1980, [oPJV]

   BL744   GH     28 - s1e2c, 2N2, Echuca, 13/4/1980, [oPJV]

   BO781   GH     29 - s2e1, North Geelong Yard, 5/9/1982, [oPJV]

   BP373   GH     32 - 2N2, North Geelong Yard, 17/8/1980, [oPJV]

   BI628   GH     33 - s2 1N1, 19/4/1983, [oPJV]

   BG029   GH     36 - s2e1, 1n1, Tottenham Yard, 13/9/1981, [oPJV]

   BL750   GH     41 - s1, 2N2, Echuca, 13/4/1980, [oPJV]

   BL742   GH     43 - s2e1, 2N2, Echuca, 13/4/1980, [oPJV]

   BG088   GH     46 - s2e1, 2n2, North Geelong Yard, 27/9/1981, [oPJV]

   BY623   GH     47 - -N2, North Geelong Yard, 21/9/1980, [oPJV]

   BP298   GH     47 - 2N2, North Geelong Yard, 17/8/1980, [oPJV]

   BR807   GH     49 - 1N1, Shepparton, 23/11/1980, [oPJV]

   BV154   GH     53 - 1N1, North Geelong Yard, 9/11/1980, [oPJV]

   BM078   GH     54 - 2N2, s1e2, Tottenham Yard, 20/4/1980, [oPJV]

   BV162   GH     55 - 1N1, North Geelong Yard, 9/11/1980, [oPJV]

   BM454   GH     58 - s2, 2N2, Echuca, 11/5/1980, [oPJV]

   BN883   GH     59 - s2e1, 1N1, Pakenham, 11/2/1982, [oPJV]

   BT634   GH     60 - 2N2, North Geelong Yard, 9/11/1980, [oPJV]

   DC788   GH     62 - part view, derailed, Goornung, c1979, [sALT]

   BG200   GH     64 - s1e1c, 1n1, Tottenham Yard, 13/9/1981, [oPJV]

   BR746   GH     66 - 2N2, Echuca, 23/11/1980, [oPJV]

   BV010   GH     66 - 2N2, Echuca, 23/11/1980, [oPJV]

   BX837   GH     70 - -N2, North Geelong Yard, 21/9/1980, [oPJV]

   BV009   GH     71 - 2N2, Echuca, 23/11/1980, [oPJV]

   BP334   GH     73 - 2N2, North Geelong Yard, 17/8/1980, [oPJV]

   BV008   GH     76 - 2N2, Echuca, 23/11/1980, [oPJV]

   BV160   GH     77 - 1N1, North Geelong Yard, 9/11/1980, [oPJV]

   BK716   GH     84 - 2N-, bottom doors removed, Bendigo Workshops, 27/7/1980, [oPJV]

   BT642   GH     85 - 2N2, North Geelong Yard, 9/11/1980, [oPJV]

   BR771   GH     86 - 1N1, Echuca, 23/11/1980, [oPJV]

   BL753   GH     86 - s2, 2N2, Echuca, 13/4/1980, [oPJV]

   BU984   GH     89 - 2N2, Elmore, 23/11/1980, [oPJV]

   BV168   GH     92 - 1N1, North Geelong Yard, 9/11/1980, [oPJV]

   BP296   GH     92 - 2N2, North Geelong Yard, 17/8/1980, [oPJV]

   BL751   GH     93 - s1, -N2, Echuca, 13/4/1980, [oPJV]

   BR775   GH     95 - 2N2, Echuca, 23/11/1980, [oPJV]

   BK710   GH     96 - 1N1, Bendigo Workshops, 27/7/1980, [oPJV]

   BK712   GH     96 - s2, top, Bendigo Workshops, 27/7/1980, [oPJV]

   BX765   GH     97 - -N2, North Geelong Yard, 21/9/1980, [oPJV]

   BL731   GH     97 - s2p, 2N2, Echuca, 13/4/1980, [oPJV]

   BL732   GH     97 - s2q, 2N2, Echuca, 13/4/1980, [oPJV]

   BL813   GH     97 - top/roof/id, Echuca, 13/4/1980, [oPJV]

   BR787   GH    100 - 2N2, Echuca, 23/11/1980, [oPJV]

   BB596   GH    101 - s2e1, -n2, Tottenham Yard, 29/3/1981, [oPJV]

   DS187   GH    102 - 1N1, North Geelong Yard, 31/8/1980, [oPJV]

   BL749   GH    104 - s2, 2N2, Echuca, 13/4/1980, [oPJV]

   BT635   GH    109 - 1N1, North Geelong Yard, 9/11/1980, [oPJV]

   BL747   GH    110 - s1, 2N2, Echuca, 13/4/1980, [oPJV]

   BG080   GH    110 - s1e2, 1n1, North Geelong Yard, 27/9/1981, [oPJV]

   BY873   GH    111 - 2N2, North Geelong Yard, 31/8/1980, [oPJV]

   BV143   GH    114 - -N1, Geelong Loco, 9/11/1980, [oPJV]

   BR780   GH    115 - 1N1, Echuca, 23/11/1980, [oPJV]

   BG082   GH    122 - s1e1, 1n1, North Geelong Yard, 27/9/1981, [oPJV]

   BL733   GH    123 - s2, 2N2, Echuca, 13/4/1980, [oPJV]

   BL814   GH    123 - top/roof/id, Echuca, 13/4/1980, [oPJV]

   BY002   GH    129 - 2N2, North Geelong Yard, 21/9/1980, [oPJV]

   BR762   GH    130 - 2N2, Echuca, 23/11/1980, [oPJV]

   BR767   GH    132 - 2N2, Echuca, 23/11/1980, [oPJV]

   BM451   GH    136 - s2, 2N2, Echuca, 11/5/1980, [oPJV]

   BV181   GH    140 - 2N2, Tottenham Yard, 9/11/1980, [oPJV]

   BL756   GH    142 - s2, 2N2, Echuca, 13/4/1980, [oPJV]

   BE609   GH    144 - e2p, Shepparton, 16/8/1981, [oPJV]

   BE610   GH    144 - long top hatch, Shepparton, 16/8/1981, [oPJV]

   BE608   GH    144 - s1e2, 1n1, Shepparton, 16/8/1981, [oPJV]

   BM309   GH    148 - s1e1, 2N2, North Melbourne C&W, 20/5/1980, [oPJV]

   BL493   GH    149 - part view 2N2, Sunshine, 29/3/1980, [oPJV]

   CJ098   GH    150 - cutout/lettering/transverse brake cylinder test, Bendigo Workshops, c1979, [oPTC]

   DT227   GH    151 - 1C1 s2e1, North Geelong Yard, 21/9/1980, [oPJV]

   BX728   GH    151 - cutout deck detail 1, North Geelong Yard, 21/9/1980, [oPJV]

   BY059   GH    151 - cutout deck detail 2, North Geelong Yard, 21/9/1980, [oPJV]

   CJ099   GH    151 - cutout/brake cylinder longitudinal, Bendigo Workshops, c1979, [oPTC]

   BG071   GH    151 - s1e2, 1c1, North Geelong Yard, 27/9/1981, [oPJV]

   BP359   GH    153 - 1N2, North Geelong Yard, 17/8/1980, [oPJV]

   DK650   GH    155 - fitted Gloucester Suspension Units, North Geelong, 21/9/1980, [oPJV]

   DS148   GH    155 - GSU, North Melbourne C&W Shops, 11/7/1980, [oPJV]

   BV164   GH    157 - 1N1, North Geelong Yard, 9/11/1980, [oPJV]

   BR747   GH    162 - 1N1, Echuca, 23/11/1980, [oPJV]

   BR748   GH    164 - 1N1, Echuca, 23/11/1980, [oPJV]

   BR757   GH    169 - 1N1, Echuca, 23/11/1980, [oPJV]

   BR781   GH    170 - 1N1, Echuca, 23/11/1980, [oPJV]

   BV189   GH    172 - 1N2, Tottenham Yard, 9/11/1980, [oPJV]

   DC792   GH    172 - part view, derailed, Goornung, c1979, [sALT]

   BL739   GH    176 - s1, 1N2, Echuca, 13/4/1980, [oPJV]

   BL740   GH    176 - s1p, Echuca, 13/4/1980, [oPJV]

   BL738   GH    176 - s1q, 1N2, Echuca, 13/4/1980, [oPJV]

   BV142   GH    177 - 1N1, Geelong Loco, 9/11/1980, [oPJV]

   BU983   GH    179 - 1N1, Elmore, 23/11/1980, [oPJV]

   BM447   GH    180 - s1, 1N2, Echuca, 11/5/1980, [oPJV]

   BR784   GH    181 - 1N1, Echuca, 23/11/1980, [oPJV]

   BP513   GH    181 - 1N2, Bendigo, 27/7/1980, [oPJV]

   BG022   GH    184 - s1e2, 1n2, Tottenham Yard, 13/9/1981, [oPJV]

   BP515   GH    185 - 1N2, Bendigo, 27/7/1980, [oPJV]

   BV004   GH    190 - 1C1, Echuca, 23/11/1980, [oPJV]

   BP539   GH    190 - 1C2, Bendigo, 27/7/1980, [oPJV]

   BL754   GH    194 - s1, 1C2, Echuca, 13/4/1980, [oPJV]

   BM453   GH    199 - s1, 1C2, Echuca, 11/5/1980, [oPJV]

   BY642   GH    201 - 1C1, North Geelong Yard, 21/9/1980, [oPJV]

   DR662   GH    205 - 1N1, North Geelong Yard, 31/8/1980, [oPJV]

   BR760   GH    207 - 2N2, Echuca, 23/11/1980, [oPJV]

   BR763   GH    212 - 2C2, Echuca, 23/11/1980, [oPJV]

   BV007   GH    214 - 1C1, Echuca, 23/11/1980, [oPJV]

   BP511   GH    214 - 2C2, Bendigo, 27/7/1980, [oPJV]

   DG443   GH    215 - part view, -N1, s2p, 1980s, [oDVC]

   BL530   GH    216 - part view 2N2, Sunshine, 29/3/1980, [oPJV]

   BR766   GH    217 - 1N1, Echuca, 23/11/1980, [oPJV]

   BM448   GH    218 - s1, 2N2, Echuca, 11/5/1980, [oPJV]

   BG020   GH    218 - s1e2, 1n1, Tottenham Yard, 13/9/1981, [oPJV]

   BV182   GH    220 - 1C1, Tottenham Yard, 9/11/1980, [oPJV]

   BM456   GH    220 - s1, 2C2, Echuca, 11/5/1980, [oPJV]

   BR776   GH    221 - 2C2, Echuca, 23/11/1980, [oPJV]

   DT038   GH    222 - 1C1, North Geelong Yard, 21/9/1980, [oPJV]

   BK719   GH    223 - s1, 2C2, Bendigo Workshops, 27/7/1980, [oPJV]

   BG027   GH    224 - s2e1, 2c2, Tottenham Yard, 13/9/1981, [oPJV]

   BP365   GH    225 - 2C2, North Geelong Yard, 17/8/1980, [oPJV]

   BL741   GH    227 - s1e2, 2C2, Echuca, 13/4/1980, [oPJV]

   BP330   GH    235 - 2C2, North Geelong Yard, 17/8/1980, [oPJV]

   BK710   GH    236 - 1C1, Bendigo Workshops, 27/7/1980, [oPJV]

   CN011   GH    236 - s1, 2C2, 1980s, [oBAU]

   BK713   GH    236 - s2, top, Bendigo Workshops, 27/7/1980, [oPJV]

   BG095   GH    237 - s2e1, 2n2, North Geelong Yard, 27/9/1981, [oPJV]

   BD945   GH    239E- s1e2, 1c1, North Geelong, 26/8/1984, [oPJV]

   BM714   GH    242 - s1e2 1C1, North Geelong Yard, 5/9/1982, [oPJV]

   BR764   GH    243 - 1C1, Echuca, 23/11/1980, [oPJV]

   CN012   GH    243 - s2e1, 2C2, 1980s, [oBAU]

   BR761   GH    246 - 2C2, Echuca, 23/11/1980, [oPJV]

   DS923   GH    247 - 2C2, top view/hatches, North Melbourne, 1/9/1980, [oPJV]

   BY667   GH    247 - 2C2, with GY 5804, North Melbourne, 1/9/1980, [oPJV]

   BM443   GH    250 - e1p, cutout, Echuca, 11/5/1980, [oPJV]

   BM444   GH    250 - e1q, cutout, Echuca, 11/5/1980, [oPJV]

   BM446   GH    250 - s2e1, 2C2, Echuca, 11/5/1980, [oPJV]

   BL736   GH    250 - s2q, 2C2, Echuca, 13/4/1980, [oPJV]

   BP504   GH    253 - 2C2, Bendigo, 27/7/1980, [oPJV]

   BL529   GH    254 - s2e1h 2C2, Sunshine, 29/3/1980, [oPJV]

   BT637   GH    256 - 2C2, North Geelong Yard, 9/11/1980, [oPJV]

   BK718   GH    258 - distant, Bendigo Workshops, 27/7/1980, [oPJV]

   BG019   GH    258 - s2e1, 1c1, Tottenham Yard, 13/9/1981, [oPJV]

   BG084   GH    265 - s2e1, 1c1, North Geelong Yard, 27/9/1981, [oPJV]

   BP070   GH    267 - s1e2 1C1, North Geelong Yard, 5/9/1982, [oPJV]

   BV074   GH    268 - -C1, North Geelong Yard, 9/11/1980, [oPJV]

   BM715   GH    269 - s1e2 -C1, North Geelong Yard, 5/9/1982, [oPJV]

   BY712   GH    271 - 2C2, North Geelong Yard, 21/9/1980, [oPJV]

   BK717   GH    272 - 2C2, Bendigo Workshops, 27/7/1980, [oPJV]

   BK718   GH    272 - distant, Bendigo Workshops, 27/7/1980, [oPJV]

   BP295   GH    273 - 2C2, North Geelong Yard, 17/8/1980, [oPJV]

   BE614   GH    273 - s1e2, 1c1, Shepparton, 16/8/1981, [oPJV]

   BV187   GH    274 - 2C2, Tottenham Yard, 9/11/1980, [oPJV]

   BG023   GH    280 - s1e2, 1c1, Tottenham Yard, 13/9/1981, [oPJV]

   BV005   GH    282 - 1C1, Echuca, 23/11/1980, [oPJV]

   BY099   GH    283 - 1C1, North Geelong Yard, 31/8/1980, [oPJV]

   BL735   GH    286 - s2p, 2C2, Echuca, 13/4/1980, [oPJV]

   BL734   GH    286 - s2q, 2C2, Echuca, 13/4/1980, [oPJV]

   BR769   GH    287 - 1C1, Echuca, 23/11/1980, [oPJV]

   BL531   GH    289 - s1e2h 2C2, Sunshine, 29/3/1980, [oPJV]

   BY164   GH    290 - 1C1, North Geelong Yard, 21/9/1980, [oPJV]

   BP297   GH    293 - 1C2, North Geelong Yard, 17/8/1980, [oPJV]

   BP498   GH    294 - part view e1, 1C-, Bendigo, 27/7/1980, [oPJV]

   BV185   GH    297 - 1C1, Tottenham Yard, 9/11/1980, [oPJV]

   BV003   GH    298 - 1C2, Echuca, 23/11/1980, [oPJV]

   BP541   GH    299 - 1C2 s2p, Bendigo, 27/7/1980, [oPJV]

   BP549   GH    299 - 1C2 s2q, Bendigo, 27/7/1980, [oPJV]

   BK692   GH    299 - e2p, Bendigo, 27/7/1980, [oPJV]

   BK693   GH    299 - e2q, Bendigo, 27/7/1980, [oPJV]

   BK694   GH    299 - s1e2, 1C2, Bendigo, 27/7/1980, [oPJV]

   BK695   GH    299 - s1p, Bendigo, 27/7/1980, [oPJV]

   BL594   GH    301 - part view, 1N2, Sunshine, 29/3/1980, [oPJV]

   BL529   GH    302 - part view 1C2, Sunshine, 29/3/1980, [oPJV]

   BR770   GH    303 - 1C2, Echuca, 23/11/1980, [oPJV]

   BL729   GH    304 - s1e2, 1C2, Echuca, 13/4/1980, [oPJV]

   BL730   GH    304 - s1p, 1C2, Echuca, 13/4/1980, [oPJV]

   BL812   GH    304 - top/roof/id, Echuca, 13/4/1980, [oPJV]

   DQ867   GH    305 - 1N1, North Geelong Yard, 31/8/1980, [oPJV]

   BG086   GH    306 - s1e2, 1n1, North Geelong Yard, 27/9/1981, [oPJV]

   BM452   GH    306 - s2, 2N2, uf#, Echuca, 11/5/1980, [oPJV]

   BY794   GH    309 - 1N1, North Geelong Yard, 31/8/1980, [oPJV]

   BP226   GH    310 - 2N2, Geelong Loco, 17/8/1980, [oPJV]

   BT643   GH    315 - 2N2, North Geelong Yard, 9/11/1980, [oPJV]

   BT551   GH    315 - discharge doors/2 p, North Geelong Yard, 9/11/1980, [oPJV]

   BT644   GH    315 - discharge doors/2 q, North Geelong Yard, 9/11/1980, [oPJV]

   BF818   GH    316 - s2e1, 1n1, North Geelong Yard, 27/9/1981, [oPJV]

   BL757   GH    317 - s1, 2N2, Echuca, 13/4/1980, [oPJV]

   BV141   GH    321 - 2N2, Geelong Loco, 9/11/1980, [oPJV]

   BR751   GH    324 - 1N1, Echuca, 23/11/1980, [oPJV]

   BP537   GH    324 - 1N2, Bendigo, 27/7/1980, [oPJV]

   BR753   GH    325 - 1N1, Echuca, 23/11/1980, [oPJV]

   BL737   GH    326 - s2q, 2N2,  GH326  on underframe, Echuca, 13/4/1980, [oPJV]

   BR788   GH    329 - 1N2, Echuca, 23/11/1980, [oPJV]

   BJ113   GH    331 - 1N2, North Geelong Yard, 9/11/1980, [oPJV]

   BT552   GH    331 - 1N2, North Geelong Yard, 9/11/1980, [oPJV]

   BV165   GH    332 - 1N1, North Geelong Yard, 9/11/1980, [oPJV]

   BL752   GH    334 - s1, 2N2, Echuca, 13/4/1980, [oPJV]

   BY430   GH    336 + GH 155, GSU conversion, North Melbourne C&W Shops, 11/7/1980, [oPJV]

   BY435   GH    336 - e2p, North Melbourne C&W Shops, 11/7/1980, [oPJV]

   BY114   GH    336 - e2q, North Melbourne C&W Shops, 11/7/1980, [oPJV]

   BX572   GH    336 - GSU, North Melbourne C&W Shops, 11/7/1980, [oPJV]

   BX656   GH    336 - GSU detail, North Melbourne C&W Shops, 11/7/1980, [oPJV]

   DS243   GH    336 - GSU side detail, North Melbourne C&W Shops, 11/7/1980, [oPJV]

   DS862   GH    336 - lettering, North Melbourne C&W Shops, 11/7/1980, [oPJV]

   BY510   GH    336 - lettering/GSU, North Melbourne C&W Shops, 11/7/1980, [oPJV]

   BU982   GH    338 - 1N2, Elmore, 23/11/1980, [oPJV]

   BU986   GH    338 - e1p, Elmore, 23/11/1980, [oPJV]

   BU987   GH    338 - e1q, Elmore, 23/11/1980, [oPJV]

   BM449   GH    340 - s1, 1N2, uf#, Echuca, 11/5/1980, [oPJV]

   BR790   GH    346 - s2p 1N1, Echuca, 23/11/1980, [oPJV]

   BR789   GH    346 - s2q 1N1, Echuca, 23/11/1980, [oPJV]

   BL595   GH    347 - 1N2, Sunshine, 29/3/1980, [oPJV]

   BM173   GH    349 - -C1, s2e1, Newport Workshops, 2/6/1980, [oPJV]

   DT225   GH    350 - -N1, ready for test, 1 door discharge?, North Melbourne C&W Shops, 11/7/1980, [oPJV]

   BX622   GH    350 - e1p, North Melbourne C&W Shops, 11/7/1980, [oPJV]

   DQ829   GH    350 - e1q, North Melbourne C&W Shops, 11/7/1980, [oPJV]

   BY757   GH    350 - green card/test/discharge door?, North Melbourne C&W Shops, 12/7/1980, [oPJV]

   BG078   GH    350 - s1e2, 1n1, North Geelong Yard, 27/9/1981, [oPJV]

   DT179   GH    352 - -N2, North Geelong Yard, 21/9/1980, [oPJV]

   BO748   GH    354 - 2N2, doors open, North Geelong Yard, 5/9/1982, [oPJV]

   BO749   GH    354 - door - open/detail, North Geelong Yard, 5/9/1982, [oPJV]

   CN013   GH    355 - 2N2, s2, 1980s, [oBAU]

   BR786   GH    356 - s1p 2N2, Echuca, 23/11/1980, [oPJV]

   BR785   GH    356 - s1q 2N2, Echuca, 23/11/1980, [oPJV]

   BE612   GH    360 - s1e2, 1n1, Shepparton, 16/8/1981, [oPJV]

   BR752   GH    363 - 2N2, Echuca, 23/11/1980, [oPJV]

   BV161   GH    366 - 2N2, North Geelong Yard, 9/11/1980, [oPJV]

   BU996   GH    368 - 1N1, Echuca, 23/11/1980, [oPJV]

   BM455   GH    372 - s1, 2N2, uf#, Echuca, 11/5/1980, [oPJV]

   BO819   GH    374 - s2e1 -N2, North Geelong Yard, 5/9/1982, [oPJV]

   BY827   GH    377 - 1N1, North Geelong Yard, 31/8/1980, [oPJV]

   BL530   GH    378 - 2N2, Sunshine, 29/3/1980, [oPJV]

   BL594   GH    380 - s1h, 2N2, Sunshine, 29/3/1980, [oPJV]

   BL743   GH    381 - s2, 2N2,  GH381  on underframe, Echuca, 13/4/1980, [oPJV]

   BP362   GH    382 - 2N2, North Geelong Yard, 17/8/1980, [oPJV]

   BR773   GH    383 - 2N2, Echuca, 23/11/1980, [oPJV]

   BP236   GH    385 - 2N2, North Geelong Yard, 17/8/1980, [oPJV]

   BY391   GH    385 - 2N2, North Geelong Yard, 21/9/1980, [oPJV]

   BG069   GH    387 - s1e2, 2n2, North Geelong Yard, 27/9/1981, [oPJV]

   BY592   GH    388 - 2N2, North Geelong Yard, 21/9/1980, [oPJV]

   BJ115   GH    392 - -N1, North Geelong Yard, 9/11/1980, [oPJV]

   BV002   GH    394 - 2N2, Echuca, 23/11/1980, [oPJV]

   BL755   GH    395 - s2, 2N2, Echuca, 13/4/1980, [oPJV]

   BD946   GH    397 - s2e1, 2n2, North Geelong, 26/8/1984, [oPJV]

   BG025   GH    399 - s2e1, 2n2, Tottenham Yard, 13/9/1981, [oPJV]

   BP338   GH    400 - 2N2, North Geelong Yard, 17/8/1980, [oPJV]

   BP224   GH    401 - 1N1, Geelong Loco, 17/8/1980, [oPJV]

   BP223   GH    404 - 1N1, Geelong Loco, 17/8/1980, [oPJV]

   BG203   GH    409 - part view, Tottenham Yard, 13/9/1981, [oPJV]

   BM676   GH    410 - s2e1 1N1, North Geelong Yard, 5/9/1982, [oPJV]

   BX697   GH    412 - -N1, North Geelong Yard, 21/9/1980, [oPJV]

   DS909   GH    412 - lettering:  Fix the ..... hole , North Geelong Yard, 21/9/1980, [oPJV]

   BO751   GH    413 - door, single door detail/open, North Geelong Yard, 5/9/1982, [oPJV]

   BO750   GH    413 - s2e1, -N1, North Geelong Yard, 5/9/1982, [oPJV]

   BM450   GH    414 - s2, 2N2, Echuca, 11/5/1980, [oPJV]

   BB597   GH    421 - s2e1, -n1, Tottenham Yard, 29/3/1981, [oPJV]

   BE611   GH    422 - s2e1, 1n1, Shepparton, 16/8/1981, [oPJV]

   BN884   GH    423 - s2e1, -N1, Pakenham, 11/2/1982, [oPJV]

   BV166   GH    424 - 1N1, North Geelong Yard, 9/11/1980, [oPJV]

   BK248   GH    426, Tottenham Yard, 9/11/1980, [oPJV]

   BG092   GH    427 - s2e1, 1n1, North Geelong Yard, 27/9/1981, [oPJV]

   BT633   GH    429 - 1N1, North Geelong Yard, 9/11/1980, [oPJV]

   BT638   GH    431 - 1N1, North Geelong Yard, 9/11/1980, [oPJV]

   BG077   GH    434 - s1e2, 1n1, North Geelong Yard, 27/9/1981, [oPJV]

   BG030   GH    437 - s2e1, 1n1, Tottenham Yard, 13/9/1981, [oPJV]

   BI629   GH    439 - s1 1N1, 19/4/1983, [oPJV]

   BB595   GH    439 - s1e2, -n1, Tottenham Yard, 29/3/1981, [oPJV]

   BJ114   GH    440 - -N1, North Geelong Yard, 9/11/1980, [oPJV]

   BV156   GH    446 - 1N1, North Geelong Yard, 9/11/1980, [oPJV]

   BY252   GH    448 - 1N1, North Geelong Yard, 21/9/1980, [oPJV]

   BV163   GH    450 - 1N1, North Geelong Yard, 9/11/1980, [oPJV]

   BT546   GH    452 - 1N1, North Geelong Yard, 9/11/1980, [oPJV]

   BG076   GH    453 - s2e1, 1n1, North Geelong Yard, 27/9/1981, [oPJV]

   BV073   GH    454 - -N1, North Geelong Yard, 9/11/1980, [oPJV]

   BG028   GH    456 - s2e1, 1n1, Tottenham Yard, 13/9/1981, [oPJV]

   AW998   GH    459 - LH, 2 door, s1, Arden St, 10/6/1983, [oPJV]

   BG021   GH    460 - s1e2, 1n1, Tottenham Yard, 13/9/1981, [oPJV]

   BV158   GH    461 - 1N1, North Geelong Yard, 9/11/1980, [oPJV]

   DC798   GH    461 - lettering, derail wagon, Goornung, c1979, [sALT]

   DC797   GH    461 - part view, derailed wagons, Goornung, c1979, [sALT]

   DC777   GH    461 - part view, derailment, Goornung, c1979, [oALT]

   BV157   GH    464 - 1N1, North Geelong Yard, 9/11/1980, [oPJV]

   BO747   GH    466 - s2e1 1N1, North Geelong Yard, 5/9/1982, [oPJV]

   BO820   GH    466 - s2e1 1N1, North Geelong Yard, 5/9/1982, [oPJV]

   BG075   GH    472 - s2e1, 1n1, North Geelong Yard, 27/9/1981, [oPJV]

   BG072   GH    476 - s1e2, 1n1, North Geelong Yard, 27/9/1981, [oPJV]

   BO831   GH    478 - s1e2, 1N1, North Melbourne C&W, 14/7/1982, [oPJV]

   BT548   GH    481 - 1N1, North Geelong Yard, 9/11/1980, [oPJV]

   BK288   GH    483 - 1N1, vandals release doors/wheat discharge on ground, Tottenham Yard, 9/11/1980, [oPJV]

   BT549   GH    484 - 1N1, North Geelong Yard, 9/11/1980, [oPJV]

   BU995   GH    486 - 1N1, Echuca, 23/11/1980, [oPJV]

   BU997   GH    486 - 1N1 s1e2, Echuca, 23/11/1980, [oPJV]

   BG087   GH    488 - s2e1, 1n1, North Geelong Yard, 27/9/1981, [oPJV]

   BU994   GH    489 - 1N1, Echuca, 23/11/1980, [oPJV]

   BU998   GH    489 - 1N1 s2e2, Echuca, 23/11/1980, [oPJV]

   BI507   GH    491 - s1e2c, 1N1, end damage, Bendigo Workshops, 18/10/1981, [oPJV]

   BG073   GH    492 - s2e1, 1n1, North Geelong Yard, 27/9/1981, [oPJV]

   BV190   GH    493 - 1N1, Tottenham Yard, 9/11/1980, [oPJV]

   BT640   GH    496 - 1N1, Chenille Lubricator Tests, North Geelong Yard, 9/11/1980, [oPJV]

   BT639   GH    497 - 1N1, Chenille Lubricator Tests, North Geelong Yard, 9/11/1980, [oPJV]

   BT641   GH    497 - lettering: Chenille Lubricator Tests, North Geelong Yard, 9/11/1980, [oPJV]

   BQ153   GH    501 - s2e1 1C1 ( ex 2nd GH 249 ), North Geelong Yard, 5/9/1982, [oPJV]

   BP475   GH    502 - 1N1, Bendigo, 27/7/1980, [oPJV]

   BR778   GH    502 - 1N1, Echuca, 23/11/1980, [oPJV]

   BV188   GH    503 - 1N1, Tottenham Yard, 9/11/1980, [oPJV]

   DT090   GH    510, North Geelong Yard, 21/9/1980, [oPJV]

   DS228   GH    513 - 1N1, North Geelong Yard, 31/8/1980, [oPJV]

   BR772   GH    516 - -N1, Echuca, 23/11/1980, [oPJV]

   DR634   GH    520 - 1N1, North Geelong Yard, 31/8/1980, [oPJV]

   BG093   GH    522 - s1e2, 1n1, North Geelong Yard, 27/9/1981, [oPJV]

   BM677   GH    523 - s1e2 1N1, North Geelong Yard, 5/9/1982, [oPJV]

   DS823   GH    524 - 1N1, North Geelong Yard, 31/8/1980, [oPJV]

   BV184   GH    525 - 1N1, Tottenham Yard, 9/11/1980, [oPJV]

   BV186   GH    527 - 1N1, Tottenham Yard, 9/11/1980, [oPJV]

   BG026   GH    529 - s2e1, 1n1, Tottenham Yard, 13/9/1981, [oPJV]

   BV183   GH    533 - 1N1, Tottenham Yard, 9/11/1980, [oPJV]

   BV155   GH    534 - 1N1, North Geelong Yard, 9/11/1980, [oPJV]

   DG441   GH    534 - s1q, 1980s, [oDVC]

   BI505   GH    536 - s2e2c, bent step, 1N1, Bendigo Workshops, 18/10/1981, [oPJV]

   BG081   GH    544 - s1e1c, 1n1, North Geelong Yard, 27/9/1981, [oPJV]

   BG081   GH    548 - part view, North Geelong Yard, 27/9/1981, [oPJV]

   BG094   GH    549 - s1e1, 1n1, North Geelong Yard, 27/9/1981, [oPJV]

   BG085   GH    550 - s2e1, 1n1, North Geelong Yard, 27/9/1981, [oPJV]

   BG079   GH    551 - s2e1, 1n1, North Geelong Yard, 27/9/1981, [oPJV]

   AW997   GH    552 - LH, 2 door, s2, Arden St, 10/6/1983, [oPJV]

   BG090   GH    560 - s1e2, 1n1, North Geelong Yard, 27/9/1981, [oPJV]

   BG091   GH    561 - s1e2, 1n1, North Geelong Yard, 27/9/1981, [oPJV]

   BT550   GH    566 - 1N1, North Geelong Yard, 9/11/1980, [oPJV]

   BT636   GH    578 - 1N1, North Geelong Yard, 9/11/1980, [oPJV]

   BT547   GH    579 - 1N1, North Geelong Yard, 9/11/1980, [oPJV]

   BG089   GH    587 - s1e2, 1n1, North Geelong Yard, 27/9/1981, [oPJV]

   BT545   GH    599 - 1N1, North Geelong Yard, 9/11/1980, [oPJV]

   BU955   GH    600 - under construction: end/detail/step, Bendigo Worshops, 23/11/1980, [oPJV]

   BU956   GH    600 - under construction: on trestles, Bendigo Worshops, 23/11/1980, [oPJV]

   BP072   GH    601 - s2e1 1N1, North Geelong Yard, 5/9/1982, [oPJV]

   BM678   GH    608 - s1e2 1N1, North Geelong Yard, 5/9/1982, [oPJV]

   BO752   GH    626 - s1e2, -N1, North Geelong Yard, 5/9/1982, [oPJV]

   BM712   GH    638 - part view, North Geelong Yard, 5/9/1982, [oPJV]

   BP068   GH    648 - s1e2 1N1, North Geelong Yard, 5/9/1982, [oPJV]

   BP071   GH    673 - s2e1 1N1, North Geelong Yard, 5/9/1982, [oPJV]

   BP075   GH    676 - s1e2 1N1, North Geelong Yard, 5/9/1982, [oPJV]

   BP069   GH    681 - s1e2 1N1, North Geelong Yard, 5/9/1982, [oPJV]

   BP073   GH    692 - s1e2 -N1, North Geelong Yard, 5/9/1982, [oPJV]

   BP074   GH    697 - s2e1 1N1, North Geelong Yard, 5/9/1982, [oPJV]

   BI630   GH    791 - s2e2 1N1, 19/4/1983, [oPJV]

 
   No diagrams found for GH   
---
File c114m compiled by Peter J. Vincent, updated 14/6/2007