---
T - Comeng Rebuilt Harris Trailer
---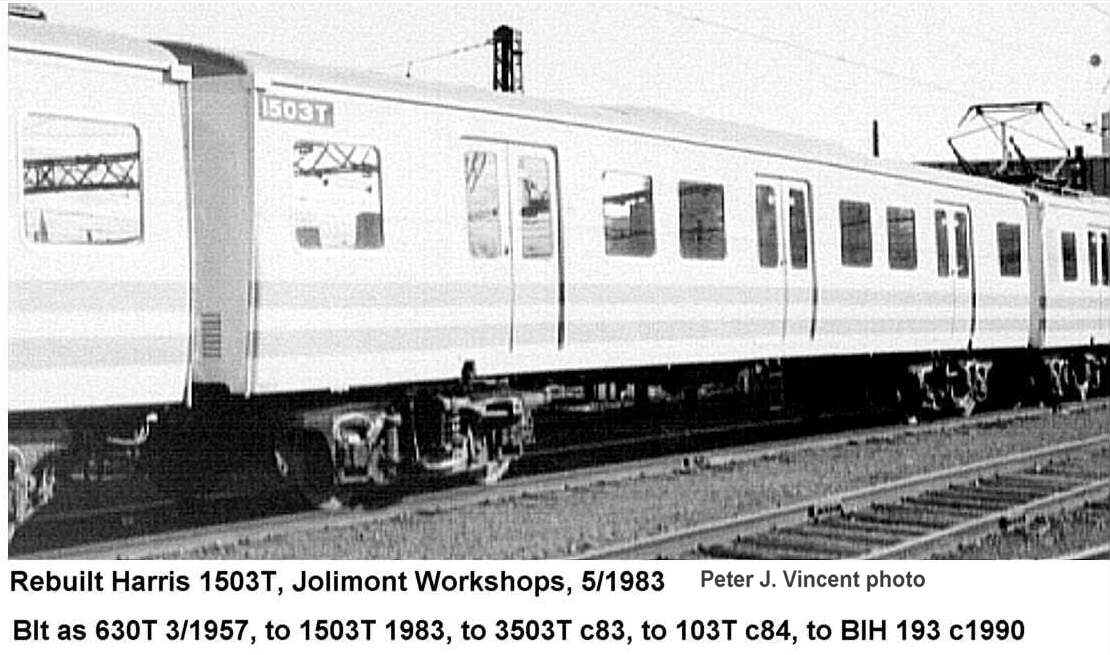 Eight Harris _T__ cars were rebuilt by Comeng in the mid 1980's. This made up four trains of M-T-T-M configuration.
The cars were delivered as T 101 - 108. Shortly after they were renumbered to 1501-1508 and later still renumbered to 3501 - 3508. Renumberings were to clear a path for Comeng trailers, then clear the 1000 block for M&K trailers.
By the late 1980's they were out of service.
   Photos   for  'T  '

   FileID  Description................................................



   BJ023   T    601 - h, 9 for 6, Jolimont Workshops, 14/1/1982, [oPJV]

   BJ022   T    602 - h, 9 for 6, Jolimont Workshops, 14/1/1982, [oPJV]

   CU666   T    613 - h, end comm, Jolimont Workshops, 10/1/1979, [oPJV]

   BQ608   T    616 - h, asbestos protection wrap, Jolimont Workshops, 7/11/1984, [oPJV]

   CV871   T    616 - h, end/bogie/ID, plastic wrapped, Jolimont Workshops, 9/11/1984, [oPJV]

   CV869   T    616 - h, end/plastic wrapped a/c asbestos, Jolimont Workshops, 9/11/1984, [oPJV]

   BQ612   T    616 - h, ID, Jolimont Workshops, 7/11/1984, [oPJV]

   CV868   T    616 - h, plastic wrapped a/c asbestos, Jolimont Workshops, 9/11/1984, [oPJV]

   BQ611   T    616 - h, wrapped, Jolimont Workshops, 7/11/1984, [oPJV]

   BQ613   T    616 - h, wrapped in tarps, Jolimont Workshops, 7/11/1984, [oPJV]

   BI824   T    617 - h,  9  used as  6  lettering, Dandenong, 27/1/1982, [oPJV]

   BF094   T    623 - h, eXp, Jolimont Workshops, 3/7/1975, [oPJV]

   BF093   T    623 - h, eXq, Jolimont Workshops, 3/7/1975, [oPJV]

   BF092   T    623 - h, no end door, Jolimont Workshops, 3/7/1975, [oPJV]

   BP711   T    625 - h, comm door, Flinders Street Yard, 31/3/1982, [oPJV]

   BO624   T    635 - h, part view, Glen Waverley, 30/4/1980, [oPJV]

   BF135   T    636 - h, coupled, buffers, solid drawbar, Newport Workshops, 20/9/1975, [oPJV]

   BF134   T    636 - h, no end door, Newport Workshops, 20/9/1975, [oPJV]

   BF133   T    636 - h, sXp, Newport Workshops, 20/9/1975, [oPJV]

   BQ002   T    637 - h, no comm comm door, Flinders Street Yard, 29/3/1982, [oPJV]

   CT752   T    641 - h, part view, Jolimont Workshops, 27/12/1978, [oPJV]

   CU288   T    645 - h, tap, Jolimont Workshops, 25/5/1977, [oPJV]

   BR849   T    652 - h, comm, Jolimont Workshops, 6/12/1980, [oPJV]

   BI212   T    652 - h, part view, comm doors, Flinders Street Yard, 8/1/1982, [oPJV]

   BP974   T    659 - h, end comm doors, cpld to 578M, Flinders Street Yard, 2/4/1982, [oPJV]

   BI214   T    660 - h, comm doors, Flinders Street Yard, 8/1/1982, [oPJV]

   BF128   T    662 - h, end door, Newport Workshops, 20/9/1975, [oPJV]

   BF129   T    662 - h, sXp, Newport Workshops, 20/9/1975, [oPJV]

   BO028   T    663 - h, part view stored, Newport Workshops, 17/3/1981, [oPJV]

   CB073   T    663 - h, sX1 opp end, burnt, Jolimont Workshops, 19/4/1979, [oPJV]

   BP971   T    665 - h, comm door, Flinders Street Yard, 2/4/1982, [oPJV]

   11315   T    669 - h, roof part side, Flinders Street Yard, 5/4/1978, [oPJV]

   CT747   T    673 - h, no comm, Jolimont Workshops, 27/12/1978, [oPJV]

   BO148   T    676 - h, scrap car, waybill, Jolimont Workshops, 16/10/1984, [oPJV]

   BH286   T    684 - h, comm doors, Flinders Street Yard, 7/1/1982, [oPJV]

   BO278   T    690 - h, end comm, Flinders Street Yard, 20/1/1981, [oPJV]

   BO288   T    804 - h, no comm, Flinders Street Yard, 20/1/1981, [oPJV]

   BO287   T    805 - h, no comm, Flinders Street Yard, 20/1/1981, [oPJV]

   BI982   T    820 - h, burnt, Jolimont Workshops, 18/1/1982, [oPJV]

   BJ126   T    820 - h, burnt, A side, Jolimont Workshops, 11/1/1982, [oPJV]

   BJ124   T    820 - h, burnt, B side, Jolimont Workshops, 11/1/1982, [oPJV]

   BJ125   T    820 - h, burnt, part B side, Jolimont Workshops, 11/1/1982, [oPJV]

   BI983   T    820 - h, burnt, part view/lettering, Jolimont Workshops, 18/1/1982, [oPJV]

   B3133   T    825 + T 826 - h, perm cpld/no comm doors, Flinders Street Yard, 24/3/1979, [oPJV]

   BP709   T    828 - h, no comm door, Flinders Street Yard, 31/3/1982, [oPJV]

   BH743   T    828 - h, rusted body section/ID, Flinders Street Yard, 9/5/1983, [oPJV]

   BI109   T    831 - h, part view, Flinders Street Yard, 15/8/1983, [oPJV]

   BP241   T    844 - h, as SHELL T 8, Dandenong, 14/4/1982, [oPJV]

   BP238   T    844 - h, stripped, as SHELL 8, Dandenong, 14/4/1982, [oPJV]

   BP239   T    844 - h, stripped, as SHELL 8, Dandenong, 14/4/1982, [oPJV]

   CU437   T    859 - h, burnt/rebuilding/stored, Spotswood Rec Depot, 11/1/1979, [oPJV]

   DO630   T    859 - h, scrap car, part view, burnt (r), Spotswood Rec Depot, 29/1/1979, [oPJV]

   CQ402   T    861 - h, burnt shell, Newport Workshops, [oDAC]

   DO630   T    861 - h, scrap car, part view, burnt (c), Spotswood Rec Depot, 29/1/1979, [oPJV]

   BO603   T    864 - h, no comm door, Jolimont Workshops, 25/4/1980, [oPJV]

   BQ134   T    867 - h, no comm, Flinders Street Yard, 9/2/1980, [oPJV]

   BL486   T    874 - h, burnt, Jolimont Workshops, 20/3/1980, [oPJV]

   BM745   T    874 - h, burnt, Jolimont Workshops, 11/3/1980, [oPJV]

   BM743   T    874 - h, comm, burnt, Jolimont Workshops, 11/3/1980, [oPJV]

   BO290   T    881 - h, end comm, Flinders Street Yard, 20/1/1981, [oPJV]

   BG913   T    887 - h, part view (dx), Tottenham Yard, 1/2/1981, [oPJV]

   DA672   T    893 - h, e2p, Jolimont Workshops, 8/7/1976, [oPJV]

   DA673   T    893 - h, e2q, Jolimont Workshops, 8/7/1976, [oPJV]

   DA671   T    893 - h, s1e2c, Jolimont Workshops, 8/7/1976, [oPJV]

   DA674   T    894 - h, s1e2, Jolimont Workshops, 8/7/1976, [oPJV]

   BO273   T    895 - h, couplings/hoses/end comm platform detail, Lilydale, 13/1/1981, [oPJV]

   BO271   T    896 - h, windows down, Lilydale, 13/1/1981, [oPJV]

   BF907   T   3507 - h, met, Flinders Street Yard, 1/10/1984, [oPJV]

   BF908   T   3508 - h, met, Flinders Street Yard, 1/10/1984, [oPJV]

 
   Diagrams   for  'T  '

   FileID  Description................................................



   BF554   T        -  t, 401+, c1925, [sPJV]
---
File c079m compiled by Peter J. Vincent, updated 19/4/2007