---
RM - PERM / DERM Rail Motor
---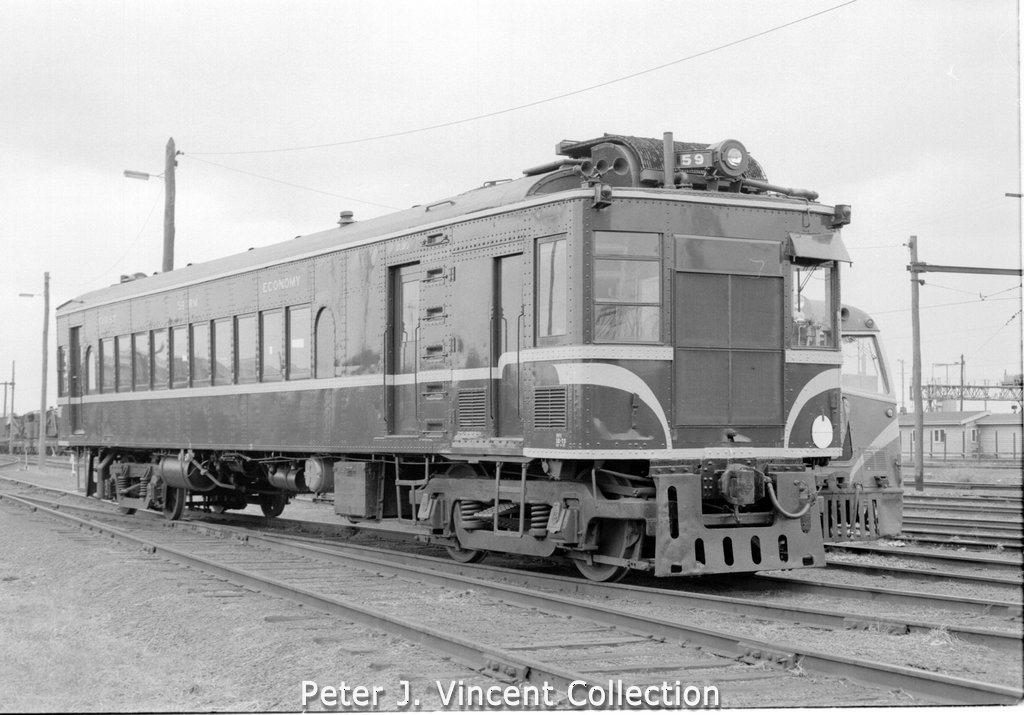 The one RM railmotor class incorporated several types of railmotors.
The group represented here are the numbers 55-64 built 1928 to 1930. The first one was kitbuilt from parts supplied by the St Louis Car Company. The railways then built another nine.
These railmotors were all petrol-electric. They were known as "PERM"s or Petrol Electric Rail Motors.
On light used branch lines they were sometimes used for hauling one or two freight wagons.
In the early 1950's they were re-engined with GM diesels, becoming known as "DERM"s from that time.
   Photos   for  'RM  '

   FileID  Description................................................



   BD729   RM        +  MT -  motor , Up MK spark waits, St Albans, 24/5/1985, [oPJV]

   BD206   RM        +  MT - Dn, Somerton, c10/1975, [oRXO]

   BD339   RM        +  MT - Up Bacchus Marsh motor, Melton, c1984, [oPJV]

   CN339   RM        -  102/153hp, eXp, turntable road, Bacchus Marsh, 1970s, [oBAU]

   BD228   RM        -  102hp type, Up motor, Broadford, 23/9/1976, [oRXO]

   DB579   RM        -  10hp, diverges, with proceed flag, 1970s, [oPTC]

   CN338   RM        -  153hp, Dn (Mansfield), Jacana, 1970s, [oBAU]

   BD227   RM        -  280hp, Warrenheip, c1977, [oRXO]

   BT350   RM        -  280hp, Spencer Street, 1980s, [oMUH]

   CG155   RM        -  280hp crosses junction, North Melbourne, 26/4/1978, [oPJV]

   DK646   RM        -  280hp on local service, Werribee, 11/1977, [oPJV]

   DL562   RM        -  280hp power unit, loading onto truck, Newport Workshops, 22/7/1980, [oPJV]

   DJ338   RM        -  280hp shuttle a/c duplication works, Footscray, 20/11/1976, [oPJV]

   BD229   RM        -  280hp type, in RM depot, Spencer Street, 28/9/1976, [oRXO]

   CV823   RM        -  280hp, with DRC 41, RM 64, South Dynon, 31/12/1978, [oPJV]

   BD058   RM        -  AEC, Orbost, 1924, [oNRL]

   B5303   RM        -  AEC and trailer, passengers pose for camera, Coleraine, c1928, [oJAM]

   B5388   RM        -  as PERM, hauled by D3 678, Ultima, 4/1941, [oJAM]

   BA009   RM        -  blue / silver, Spencer Street, 1950s, [sRXO]

   DL196   RM        -  Down 280hp passes platform, Beveridge, 22/3/1980, [oPJV]

   DJ777   RM        -  Down 280hp Williamstown shuttle on crossover, Footscray, 20/11/1976, [oPJV]

   DL081   RM        -  Down motor, Sunshine, 2/12/1978, [oPJV]

   DO573   RM        -  Down motor arrives at plat in rain, Parwan, 12/12/1978, [oPJV]

   BD225   RM        -  Fan trip, Appleton Dock, 17/1/1976, [oRXO]

   BD230   RM        -  local service, Daylesford, 2/10/1976, [oRXO]

   B5334   RM        -  part view PMM / Inspection car, Heathcote Junction, 29/1/1940, [oJAM]

   BC293   RM        -  scrapped cab end, 102hp type, Williamstown Pier, 20/11/1976, [oRXO]

   CC218   RM        -  stored cars, Spotswood Rec Depot, 2/4/1979, [oPJV]

   BE262   RM        -  through dust storm, Oaklands, 11/2/1978, [oPJV]

   DL207   RM        -  Up 102hp blocks Up MK set, Sunshine, 29/3/1980, [oPJV]

   DK848   RM        -  Up 280hp, North Melbourne, 13/11/1978, [oPJV]

   DL058   RM        -  Up 280hp wrong line/trailing/track machines, Sunshine, 2/12/1978, [oPJV]

   DL057   RM        -  Up 280hp, running wrong line a/c track works, Sunshine, 2/12/1978, [oPJV]

   CS897   RM        -  Up departure/trailing, Diamond Creek, 1970s, [sPJV]

   DL205   RM        -  Up motor, Sunshine, 29/3/1980, [oPJV]

   DO533   RM        -  Up passes viaduct gantry, signals removed a/c works, Flinders Street, 9/12/1978, [oPJV]

   BD226   RM        -  Up railmotor, Ardeer, c1/1976, [oRXO]

   CK263   RM        -  with Tait 2 car shuttle, Dn B, Up Tait, Dn MK, Newport, 7/3/1979, [oPJV]

   BL374   RM        - 102hp power bogies(?), scrap road, Newport Workshops, 22/7/1980, [oPJV]

   BK582   RM        - 280hp power unit being scrapped, Newport Workshops, 22/7/1980, [oPJV]

   BL565   RM        - 280hp power unit eXp, Newport Workshops, 25/7/1980, [oPJV]

   BL564   RM        - 280hp power unit eXq, Newport Workshops, 25/7/1980, [oPJV]

   BL527   RM        - 280hp scrap unit ldd onto semi, Newport Workshops, 22/7/1980, [oPJV]

   BL561   RM        - bogies in scrap area, Newport Workshops, 25/7/1980, [oPJV]

   CA736   RM        - Dn, Up trail run P 17, Kilmore East, [oREW]

   AX397   RM        - line up MT/DRC/280hp/102hp, Spencer Street, 20/4/1979, [oPJV]

   BL376   RM        - scrap bogies, Newport Workshops, 22/7/1980, [oPJV]

   CA919   RM        - set: RM-BPL-CV, Echuca, 15/4/1979, [oPJV]

   CA820   RM        - Up, wait line, Dn T 350 pass, Werribee, c1980, [oREW]

   AW679   RM      2 -  102hp, Piangil motor, Swan Hill, 9/1966, [oPJV]

   AL103   RM      2 - Mirboo North  motor , Morwell, 8/1968, [oPJV]

   BD223   RM      4, c1977, [oRXO]

   BD224   RM      4*- end on, c1977, [oRXO]

   BD681   RM      7 - Up 0745  Koondrook  motor, Koondrook, 25/5/1976, [oPJV]

   BG298   RM     10, Spencer Street, c1975, [oPJV]

   CS494   RM     12 - AEC near gangers shed, 1950s, [sLYB]

   CS496   RM     12 - lettering enlarged, 1950s, [sLYB]

   CS495   RM     12 - side view, 1950s, [sLYB]

   AW709   RM     14 + MT -  Motor Train , 1920s, [sMDN]

   DL528   RM     22 + MT - Up motor/tail disc up, Laverton, 16/7/1980, [oPJV]

   BK416   RM     22 + MT 64 - Up motor, Laverton, 16/7/1980, [oPJV]

   BK446   RM     22 + MT 64 - Up motor, trailing view, Laverton, 16/7/1980, [oPJV]

   DK447   RM     22 + MT56 + RM34 - Down motor set, Westall, 26/10/1977, [oPJV]

   BE191   RM     24, Newport Workshops, 5/8/1981, [oPJV]

   BG299   RM     26, Spencer Street, c1975, [oPJV]

   DJ199   RM     27 - Down (Mansfield) motor, Tallarook, 22/11/1975, [oPJV]

   BK815   RM     28 - in scrap road, Newport Workshops, 22/7/1980, [oPJV]

   BL377   RM     28 - in scrap road, RM 89/bulldozer scrap, Newport Workshops, 22/7/1980, [oPJV]

   DL548   RM     28 - on scrap row, Newport Workshops, 22/7/1980, [oPJV]

   DL550   RM     28 - on scrap row, Newport Workshops, 22/7/1980, [oPJV]

   BX997   RM     28 - part view, on scrap road, Newport Workshops, 22/7/1980, [oPJV]

   BK862   RM     28 - with RM 89 power unit, scrap road, Newport Workshops, 22/7/1980, [oPJV]

   BK802   RM     28 - with RMs, wheels on scrap road, Newport Workshops, 22/7/1980, [oPJV]

   BK816   RM     28*- e1p, Newport Workshops, 22/7/1980, [oPJV]

   CF664   RM     29, Ballarat Workshops, 17/4/1978, [oPJV]

   BA208   RM     29 - Daylesford motor, Woodend, 22/4/1979, [oPJV]

   DO497   RM     29 - Up motor, Jacana, 7/12/1978, [oPJV]

   CU007   RM     32, Sunshine, 15/1/1979, [oPJV]

   CU009   RM     32 - ID/power unit end/cab, Sunshine, 15/1/1979, [oPJV]

   AU493   RM     54 + MT, Bairnsdale, 1920s, [sFXK]

   DB143   RM     54 - AEC D.E.R.M., restored body, Daylesford, 9/1/2003, [oPJV]

   DB150   RM     54 - drive train support/part underframe, Daylesford, 9/1/2003, [oPJV]

   DB154   RM     54 - interior from short compartment end, Daylesford, 9/1/2003, [oPJV]

   DB146   RM     54 - interior of stripped body, Daylesford, 9/1/2003, [oPJV]

   DB147   RM     54 - interior of stripped body/van end?, Daylesford, 9/1/2003, [oPJV]

   DB145   RM     54 - lettering on underframe, Daylesford, 9/1/2003, [oPJV]

   DB153   RM     54 - part view/end/stripped body, Daylesford, 9/1/2003, [oPJV]

   DB144   RM     54 - restored body, Daylesford, 9/1/2003, [oPJV]

   DB151   RM     54 - restored/stripped body, Daylesford, 9/1/2003, [oPJV]

   CK526   RM     54 - s2e2c, Daylesford, [sPJV]

   DB148   RM     54 - underframe, drive train supports, Daylesford, 9/1/2003, [oPJV]

   DB149   RM     54 - underframe, drive train supports, Daylesford, 9/1/2003, [oPJV]

   BL431   RM     55 - e1p, Frankston, 18/3/1980, [oPJV]

   BL430   RM     55 - e1q, Frankston, 18/3/1980, [oPJV]

   BG836   RM     55 - e2q, Spencer Street, 12/11/1975, [oPJV]

   CK432   RM     55 - pacing dn Werribee, Laverton, 12/3/1979, [oPJV]

   CC249   RM     55 - rebuilt s1e2c, Newport, 2/4/1979, [oPJV]

   BG837   RM     55 - s1@e1, driver in cab, Spencer Street, 12/11/1975, [oPJV]

   BG834   RM     55 - s1@e2, Spencer Street, 12/11/1975, [oPJV]

   BG835   RM     55 - s1e2, Spencer Street, 12/11/1975, [oPJV]

   BL429   RM     55 - s2e1c, rebuilt, Frankston, 18/3/1980, [oPJV]

   DL275   RM     55 - Stony Point motor/rebuilt, Frankston, 18/3/1980, [oPJV]

   BD058   RM     55 - with Brill, Orbost, 1924, [oNRL]

   DK525   RM     56 + BPL 4 - arrive into yard/station, Oaklands, NSW, 11/2/1978, [oPJV]

   DK521   RM     56 + BPL 4 - at platform, Yarrawonga, 11/2/1978, [oPJV]

   DK522   RM     56 + BPL 4 - crosses weir bridge on down, Yarrawonga, 11/2/1978, [oPJV]

   DK520   RM     56 + BPL 4 - Down fantrip/railfans, Yarrawonga, 11/2/1978, [oPJV]

   DK524   RM     56 + BPL 4 - down, arrives at yard, sandstorm at rear, Oaklands, NSW, 11/2/1978, [oPJV]

   DK523   RM     56 + BPL 4 - photo stop on flat ground, Mile 172, Mile 172, 11/2/1978, [oPJV]

   DL336   RM     56 + BPL4 + C36 - weekend shutdown, Echuca, 13/4/1980, [oPJV]

   DK531   RM     56 - across paddocks 1, Myrtleford, 12/2/1978, [oPJV]

   DK532   RM     56 - across paddocks 2, Myrtleford, 12/2/1978, [oPJV]

   DK533   RM     56 - across paddocks 3, Myrtleford, 12/2/1978, [oPJV]

   DK526   RM     56 - arrives on fantrip, Oaklands, NSW, 11/2/1978, [oPJV]

   DK530   RM     56 - arrives platform, Up view, Everton, 12/2/1978, [oPJV]

   DK536   RM     56 - climb bank, curves at rear, down view/cutting, Gapstead, 12/2/1978, [oPJV]

   DK535   RM     56 - climbs bank, Gapstead, 12/2/1978, [oPJV]

   BD202   RM     56 - e1, fan trip, Telford, 18/9/1976, [oRXO]

   DJ464   RM     56 - e2p, Yarrawonga, 11/2/1978, [oPJV]

   BD201   RM     56 - fan trip, Yarrawonga, 18/9/1976, [oRXO]

   DK528   RM     56 - runs around BPL 4, Oaklands, NSW, 11/2/1978, [oPJV]

   BL762   RM     56 - s2e2, Echuca, 13/4/1980, [oPJV]

   DL403   RM     56 - s2e2c, Echuca, 11/5/1980, [oPJV]

   BL761   RM     56 - s2p, Echuca, 13/4/1980, [oPJV]

   CA923   RM     56 - s2p, Echuca, 15/4/1979, [oPJV]

   CA922   RM     56 - s2q, Echuca, 15/4/1979, [oPJV]

   DJ760   RM     56 - Up morning motor departs, St James, 24/8/1976, [oPJV]

   DK534   RM     56 - Up view, yard, arriving at station, Myrtleford, 12/2/1978, [oPJV]

   DL145   RM     56 - weekend shutdown, Echuca, 29/7/1979, [oPJV]

   DK527   RM     56 - with BPL 4, Oaklands, NSW, 11/2/1978, [oPJV]

   CT689   RM     57, Laverton, 20/2/1979, [oPJV]

   CT687   RM     57 - Dn, Laverton, 20/2/1979, [oPJV]

   DL118   RM     57 - Down Werribee motor, Laverton, 20/2/1979, [oPJV]

   AE548   RM     57 - e2 profile, South Dynon, 23/4/1979, [oPJV]

   CT675   RM     57 - ldd passengers, Up, Laverton, 20/2/1979, [oPJV]

   CT692   RM     57 - roofline, Laverton, 20/2/1979, [oPJV]

   DJ465   RM     57 - s2e2, stripped, Newport Workshops, 16/9/1981, [oPJV]

   AE627   RM     57 - s2e2c, South Dynon, 23/4/1979, [oPJV]

   BE115   RM     57 - stripped shell, barframe bogies, s2e1, Newport Workshops, 17/8/1981, [oPJV]

   BE114   RM     57 - stripped shell, barframe bogies, s2e2, Newport Workshops, 17/8/1981, [oPJV]

   BE118   RM     57 - stripped shell, engine room/cab area, Newport Workshops, 17/8/1981, [oPJV]

   BE117   RM     57 - stripped shell, interior (2), Newport Workshops, 17/8/1981, [oPJV]

   BE116   RM     57 - stripped shell, interior, DRC s outside, Newport Workshops, 17/8/1981, [oPJV]

   BQ412   RM     57 - stripped, shops bogies, Newport Workshops, 2/3/1981, [oPJV]

   CT685   RM     57 - Up, Laverton, 20/2/1979, [oPJV]

   DL122   RM     57 - Up motor, Laverton, 20/2/1979, [oPJV]

   CT690   RM     57 - Up view/yard, Laverton, 20/2/1979, [oPJV]

   BD871   RM     58 + 26MT - shunt the yard, Frankston, 7/12/1978, [oPJV]

   DO687   RM     58 + MT - Down motor, east view, North Melbourne, 29/1/1979, [oPJV]

   DO516   RM     58 + MT 26 - spot some goods wagons, Frankston, 7/12/1978, [oPJV]

   BD634   RM     58 - Dn Cranbourne motor, Dandenong, Comeng, 30/7/1981, [oPJV]

   BD203   RM     58 - s2e2, Spencer Street, c1977, [oRXO]

   DL249   RM     59 - e1p, Frankston, 5/3/1980, [oPJV]

   BX841   RM     59 - part view, Spencer Street, 29/4/1979, [oPJV]

   DJ466   RM     59 - s2e2c, Echuca, 19/3/1977, [oPJV]

   DL248   RM     59 - Stony Point motor, Frankston, 5/3/1980, [oPJV]

   DJ468   RM     60 - e1p, Frankston, 14/1/1978, [oPJV]

   BD205   RM     60 - s1e2, Spencer Street, c1977, [oRXO]

   BD204   RM     60 - s2e1, gene shows/open door, Spencer Street, c1977, [oRXO]

   DJ467   RM     60 - s2e1c, Stoney Point motor, Frankston, 14/1/1978, [oPJV]

   CF549   RM     60 - Up/dark, North Melbourne, 27/4/1978, [oPJV]

   CK537   RM     61, Taradale, 3/7/1993, [oDAB]

   BR287   RM     61 + MT, Spencer Street, 22/11/1984, [oPJV]

   AL629   RM     62 - part view, Spencer St, 9/1968, [oPJV]

   DL183   RM     62 - Up Healesville through yard, Lilydale, 3/3/1980, [oPJV]

   DL184   RM     62 - Up Healesville works down platform, Lilydale, 3/3/1980, [oPJV]

   AV714   RM     63 - e2p, Spencer Street, 18/2/1977, [oPJV]

   AV715   RM     63 - e2q, Spencer Street, 18/2/1977, [oPJV]

   DB103   RM     63 - restored, s1e1c, Daylesford, 9/1/2003, [oPJV]

   DL563   RM     63 - Up Werribee, Newport, 22/7/1980, [oPJV]

   B9972   RM     64 + C 42, Marong, 15/3/1978, [oPJV]

   B9970   RM     64 + C pass stored rake of M vans, Marong, 15/3/1978, [oPJV]

   CT703   RM     64 - Dn/Up line view, Laverton, 20/2/1979, [oPJV]

   CV826   RM     64 - e2p, South Dynon, 31/12/1978, [oPJV]

   CV825   RM     64 - e2q, South Dynon, 31/12/1978, [oPJV]

   CT678   RM     64 - Up, Laverton, 20/2/1979, [oPJV]

   CT698   RM     64 - Up, Laverton, 20/2/1979, [oPJV]

   DJ497   RM     64 - Up motor, over brick bridge/culvert, Rochester, 25/5/1976, [oPJV]

   CT695   RM     64 - Up, Dn view yard, Laverton, 20/2/1979, [oPJV]

   CT699   RM     64 - Up/part view/driver, Laverton, 20/2/1979, [oPJV]

   CV823   RM     64 - with DRC 41 and 280hp RM, South Dynon, 31/12/1978, [oPJV]

   BI231   RM     64 - with MT34, Spencer Street, 11/12/1981, [oPJV]

   CS492   RM     72 - number closeup, Heathcote, 1950s, [sPJV]

   BU403   RM     82, South Dynon, c1980, [oMUH]

   AK509   RM     82 + MT, South Dynon, 11/2/1979, [oPJV]

   BK414   RM     82 - Dn Werribee motor, Laverton, 16/7/1980, [oPJV]

   DS938   RM     82 - Down, North Melbourne, 1/5/1979, [oPJV]

   DK452   RM     82 - Down motor, Somerton, 28/10/1977, [oPJV]

   AK383   RM     82 - First/PU side, South Dynon, 11/2/1979, [oPJV]

   BX752   RM     82 - ID / power unit, North Melbourne, 1/5/1979, [oPJV]

   DB116   RM     82 - opp side/windows blanked, Daylesford, 9/1/2003, [oPJV]

   DB113   RM     82 - power unit, Daylesford, 9/1/2003, [oPJV]

   BK415   RM     82 - power unit/ID, Laverton, 16/7/1980, [oPJV]

   DL201   RM     82 - Up 280hp motor, Beveridge, 22/3/1980, [oPJV]

   DK456   RM     82 - Up motor approaches distant signal, Donnybrook, 28/10/1977, [oPJV]

   DB109   RM     82 - windows covered over, ex Huon, Daylesford, 9/1/2003, [oPJV]

   BK856   RM     84 - in scrap road, Newport Workshops, 22/7/1980, [oPJV]

   BK861   RM     84 - power unit/ID, Newport Workshops, 22/7/1980, [oPJV]

   DL047   RM     85 - Down railcar, Bendigo line, Sunshine, 25/11/1978, [oPJV]

   CU013   RM     85 - Up, Sunshine, 15/1/1979, [oPJV]

   DO468   RM     85 - Up, guard hangs out door, Sunshine, 2/12/1978, [oPJV]

   DO685   RM     85*- Up motor, North Melbourne, 29/1/1979, [oPJV]

   BL377   RM     89 - bulldozer scrap, Newport Workshops, 22/7/1980, [oPJV]

   DL553   RM     89 - bulldozer scrapping power unit, Newport Workshops, 22/7/1980, [oPJV]

   DL556   RM     89 - bulldozer scrapping power unit, Newport Workshops, 22/7/1980, [oPJV]

   DL554   RM     89 - bulldozer scrapping power unit 2, Newport Workshops, 22/7/1980, [oPJV]

   DL557   RM     89 - bulldozer scrapping power unit/flattened sides, Newport Workshops, 22/7/1980, [oPJV]

   DL549   RM     89 - bulldozer/scrapping, Newport Workshops, 22/7/1980, [oPJV]

   BK669   RM     89 - end of power unit, Newport Workshops, 22/7/1980, [oPJV]

   BK665   RM     89 - in scrap road, Newport Workshops, 22/7/1980, [oPJV]

   DL546   RM     89 - motor/trailer units, scrapping, Newport Workshops, 22/7/1980, [oPJV]

   DL550   RM     89 - partly scrapped, Newport Workshops, 22/7/1980, [oPJV]

   BX997   RM     89 - power unit being scrapped, Newport Workshops, 22/7/1980, [oPJV]

   BL381   RM     89 - power unit/bulldozer scrap, Newport Workshops, 22/7/1980, [oPJV]

   BL382   RM     89 - scrapped unit, Newport Workshops, 22/7/1980, [oPJV]

   DJ762   RM     89 - Up Stony Point-FKN motor, Langwarrin, 6/9/1976, [oPJV]

   DL004   RM     90 - Down, Broadford, 21/11/1978, [oPJV]

   DL007   RM     90 - Up, Broadford, 21/11/1978, [oPJV]

   DL053   RM     90 - Up on Bendigo line, Sunshine, 25/11/1978, [oPJV]

   CU403   RM     91 - 280hp, power unit, end comms, South Dynon, 13/1/1979, [oPJV]

   CU402   RM     91 - 280hp, trailer 2 s1p, South Dynon, 13/1/1979, [oPJV]

   CU401   RM     91 - 280hp, trailer 2 s1q, South Dynon, 13/1/1979, [oPJV]

   DL211   RM     91 - Down motor, Sunshine, 29/3/1980, [oPJV]

   DB164   RM     91 - power van/restored, Daylesford, 9/1/2003, [oPJV]

   DB163   RM     91 - restored, Daylesford, 9/1/2003, [oPJV]

   DB165   RM     91 - restored, opposite end view, Daylesford, 9/1/2003, [oPJV]

   DL527   RM     92 - Down Werribee, Laverton, 16/7/1980, [oPJV]

   CS493   RM    72*-- Down run, on Up track, Wallan, 1950s, [sLYB]

 
   No diagrams found for RM   
---
File c077m compiled by Peter J. Vincent, updated 19/4/2007