---
G - Experimental Grain Hopper
---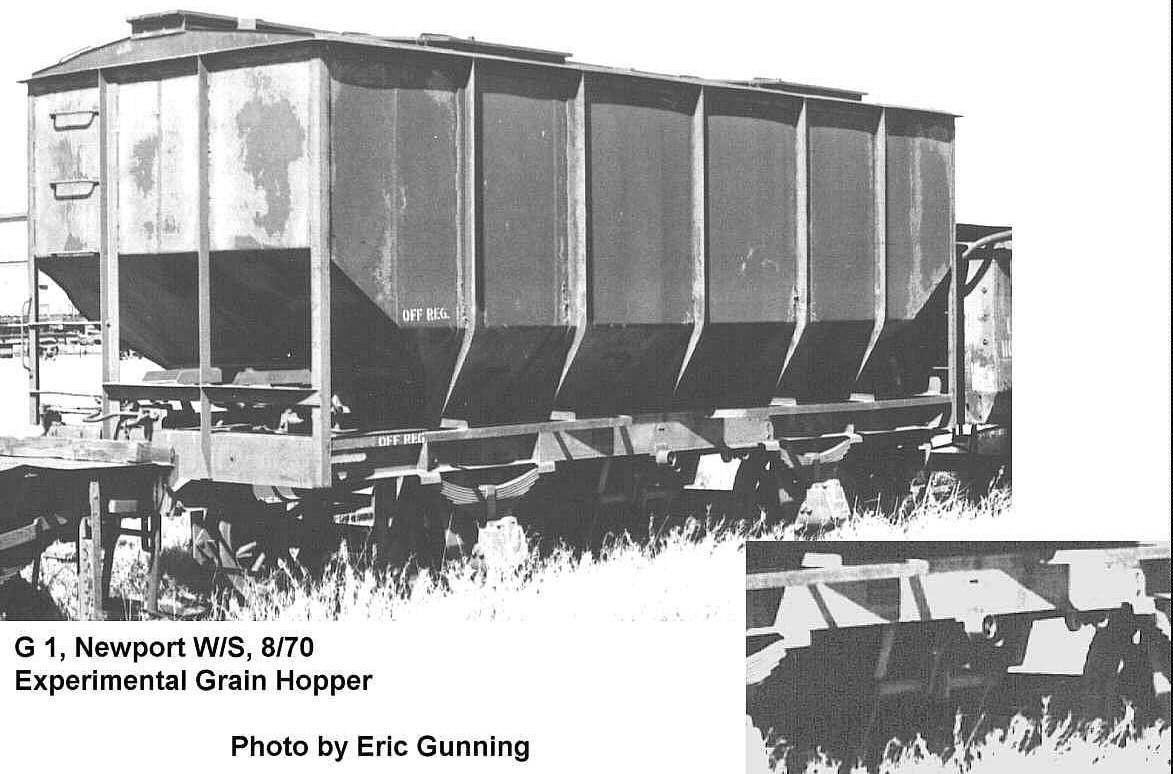 In the late 1950's an experimental hopper was designed to replace open wagons which were labour intensive and take time to discharge in comparison to a bottom discharge wagon.
The prototype G 1 was trialled with great publicity. After the tests, the vehicle sat in storage at Newport Workshops, unused for 15 years before being scrapped in the early 1970's.
One story that was passed on was that ".. it discharged too quickly, faster than the conveyor system .. ( at the test site ) ..". Perhaps the expense of building and maintaining a dedicated "grain only" fleet plus unloading facilities may have been the main factor in not proceeding.
   Photos   for  'G  '

   FileID  Description................................................



   CP926   G        -  handbrake lever detail, 1990s, [oPHD]

   AS549   G        -  rake of G/GY with SEC logo, Hazelwood, [oGRE]

   AS313   G        - 6 wheeler, ldd horse carriage, Orbost, 1920s, [sFXK]

   AD520   G        - carriage trucks, 1890, [sFXK]

   BQ671   G        - wagons on train, E 1106 loco, Flinders Street, 7/11/1984, [oPJV]

   AL191   G      1 - Grain hopper, stored, Newport Workshops, 1970, [oEXG]

   BO788   G      1 - s2e1, red, Flinders Street Yard, 23/8/1982, [oPJV]

   AF592   G      1 - stored, 1970, [oEXG]

   AF593   G      1 - undergear exposed, 1970, [oEXG]

   BV023   G      3L- s1 red, Warragul, 9/12/1984, [oPJV]

   AU534   G      5, 8/1910, [sFXK]

   BI237   G      7 - s1, hansa, East Yard, 11/12/1981, [oPJV]

   BR142   G     41 - s2 h, Tottenham Yard, 4/1/1981, [oPJV]

   BI707   G     48 - s1 hansa, Bendigo, 18/10/1981, [oPJV]

   BI542   G     49 - s2 hansa, Dandenong, 29/10/1981, [oPJV]

   AU255   G     61 - 6 wheel flat, Spencer Street, c1924, [oMDN]

   AA900   G     61 - 61 6 wheels, [oMDN]

   AW706   G     61 - flat wagon, Spencer St, 1920s, [oMDN]

   BU935   G     62 - s1e2, red, tarped, c1984, [oMUH]

   BG048   G     62 - s1e2, tarped, red, North Geelong Yard, 27/9/1981, [oPJV]

   BI708   G     66 - s1 hansa, Bendigo, 18/10/1981, [oPJV]

   BG134   G     66 - s1e2, hansa, offset lettering, Tottenham Yard, 27/9/1981, [oPJV]

   BQ912   G    120 - s1 h, North Melbourne C&W, 9/12/1980, [oPJV]

   BR136   G    123 - s2 h tarped, Tottenham Yard, 4/1/1981, [oPJV]

   BI995   G    137 - Timber Traffc/Kerang, hansa, North Melbourne C&W Shops, 18/1/1982, [oPJV]

   BD601   G    138 - s2, red, Tottenham Yard, 27/7/1981, [oPJV]

   AL190   G    142, Muckleford, 1996, [sPJV]

   AL189   G    142 - red  s2, Muckleford, c1995, [oPJV]

   BB677   G    142 - s1, stripe, Tottenham Yard, 29/3/1981, [oPJV]

   BG126   G    160 - s2e1, spokes,hansa, offset number, Tottenham Yard, 27/9/1981, [oPJV]

   BF874   G    225 - s2 hansa, Bendigo, 18/10/1981, [oPJV]

   BI561   G    225 - s2 hansa, Bendigo, 18/10/1981, [oPJV]

   BH120   G    235 - s1e2, hansa, North Melbourne C&W Shops, 4/3/1981, [oPJV]

   BR149   G    244 - s2 h, Tottenham Yard, 4/1/1981, [oPJV]

   BB928   G    247 - s1, stripe, Tottenham Yard, 5/4/1981, [oPJV]

   BG033   G    253 - s2e1, tarped, North Geelong Yard, 27/9/1981, [oPJV]

   BG083   G    254 - s2e1, tarped, hansa, North Geelong Yard, 27/9/1981, [oPJV]

   BV087   G    297 - tarped hansa, North Geelong Yard, 9/11/1980, [oPJV]

   BM680   G    312 - s1 red tarped, North Geelong Yard, 5/9/1982, [oPJV]

   BD597   G    355 - s2, red, Tottenham Yard, 27/7/1981, [oPJV]

   BR132   G    358 - s2 h tarped, Tottenham Yard, 4/1/1981, [oPJV]

   BF929   G    361 - s2e1, hansa, Newport Workshops, 1/10/1981, [oPJV]

   BD426   G    502 - s1, hansa, end chalked tare/number, Dandenong, 20/6/1981, [oPJV]

   BI713   G    502 - s2 red, Bendigo, 18/10/1981, [oPJV]

   BI564   G    512 - s2 hansa, Bendigo, 18/10/1981, [oPJV]

   BM685   G    516 - s1 hansa, North Geelong Yard, 5/9/1982, [oPJV]

   CZ173   G    522 - s1e2, red stripe, Tottenham Yard, 29/3/1981, [oPJV]

   BY007   G    535 - part view, 9/6/1985, [oPJV]

   BG131   G    535 - s2e1, hansa, Tottenham Yard, 27/9/1981, [oPJV]

   DF948   G    540 - FA, South Dynon, 18/6/2003, [oPJV]

   BI281   G    544 - s1, red, Newport Workshops, 24/11/1981, [oPJV]

   BR148   G    559 - s1 h tarped, Tottenham Yard, 4/1/1981, [oPJV]

   BG044   G    581 - s1e2, hansa, North Geelong Yard, 27/9/1981, [oPJV]

   BD600   G    600 - s1e2, red, Tottenham Yard, 27/7/1981, [oPJV]

   BG900   G    677 - s2, tarped, hansa, Tottenham Yard, 1/2/1981, [oPJV]

   BI227   G    730 - s1, hansa, East Yard, 11/12/1981, [oPJV]

   BK608   G    739 - part view, Yarragon, 4/10/1982, [oPJV]

   BQ959   G    756, Tottenham Yard, 4/1/1981, [oPJV]

   BG899   G    764 - s1, tarped, hansa, Tottenham Yard, 1/2/1981, [oPJV]

   BR145   G    775 - s2 h, Tottenham Yard, 4/1/1981, [oPJV]

   BU968   G    793, Bendigo, 23/11/1980, [oPJV]

   BB733   G    814 - s2, stripe, North Geelong, 29/3/1981, [oPJV]

   CZ160   G    814 - s2e2, red stripe, Flinders Street, 29/3/1981, [oPJV]

   AL205   G    828, Muckleford, [sPJV]

   BD429   G    897 - s2, red, Dandenong, 20/6/1981, [oPJV]

   BQ982   G    904 - lettering/stripe, Tottenham Yard, 4/1/1981, [oPJV]

   BQ981   G    904 - s2 h, Tottenham Yard, 4/1/1981, [oPJV]

   BF806   G    904 - s2e1, North Geelong Yard, 27/9/1981, [oPJV]

   BI501   G    983 - s2 hansa, condemned, Bendigo Workshops, 18/10/1981, [oPJV]

   BG045   G    988 - s1e2, hansa, North Geelong Yard, 27/9/1981, [oPJV]

   BR157   G    991 - s1 h tarped, Tottenham Yard, 4/1/1981, [oPJV]

   BI502   G    996 - s2 hansa, condemned, Bendigo Workshops, 18/10/1981, [oPJV]

   BQ273   G   1055 - s2 hansa, North Melbourne C&W, 1/2/1982, [oPJV]

   BI461   G   1123 - part view, Newport Workshops, 28/4/1983, [oPJV]

   BH176   G   2023 - s1, hansa, North Melbourne C&W Shops, 3/3/1981, [oPJV]

   BB787   G   2041 - s2, stripe, North Geelong, 29/3/1981, [oPJV]

   BB735   G   2047 - s2, stripe, North Geelong, 29/3/1981, [oPJV]

   BN946   G   2119 - s2e1 hansa, Tottenham Yard, 1/2/1981, [oPJV]

   BR133   G   2180 - s1 h tarped, Tottenham Yard, 4/1/1981, [oPJV]

   BI543   G   2181 - s2 hansa, Dandenong, 29/10/1981, [oPJV]

   BI715   G   2185 - s2 hansa, Bendigo, 18/10/1981, [oPJV]

   BI524   G   2208 - s2 red, Dandenong, 24/10/1981, [oPJV]

   BC060   G   2220 - s1, stripe, Newport Workshops, 5/1981, [oPJV]

   BP998   G   2299 - s2e1c, hansa, Oakleigh, 29/3/1982, [oPJV]

   BB738   G   2308 - s1, stripe, North Geelong, 29/3/1981, [oPJV]

   AT968   G   2383 - part view, Dandenong, 2/9/1983, [oPJV]

   BF987   G   2389 - s2e1, North Melbourne C&W Shops, 30/9/1981, [oPJV]

   BD463   G   2415 - s1, hansa, ldd briquettes, Flinders Street Yard, 7/1981, [oPJV]

   BB606   G   2508 - s2, stripe, Tottenham Yard, 29/3/1981, [oPJV]

   BQ964   G   2520 - s1 h, Tottenham Yard, 4/1/1981, [oPJV]

   BU992   G   2538 - hansa, Echuca, 23/11/1980, [oPJV]

   BG199   G   2560 - s1e1, hansa, Tottenham Yard, 13/9/1981, [oPJV]

   BR915   G   2598 - s1p h, Flinders Street Yard, 31/11/1980, [oPJV]

   BK937   G   2598 - s1q h, Flinders Street Yard, 31/11/1980, [oPJV]

   BV001   G   2598 - s2e1c hansa, Echuca, 23/11/1980, [oPJV]

   BR916   G   2598 - s2p h, Flinders Street Yard, 31/11/1980, [oPJV]

   BR917   G   2598 - s2q h, Flinders Street Yard, 31/11/1980, [oPJV]

   BO269   G   2610 - red stripe/thin painted, Lilydale, 13/1/1981, [oPJV]

   BO268   G   2610 - s2 hansa, ldd silo, Lilydale, 13/1/1981, [oPJV]

   AC605   G   2651 - s1 red, Flinders Street Yard, 16/10/1981, [oPJV]

   BR143   G   2679 - s2 h, Tottenham Yard, 4/1/1981, [oPJV]

   BD602   G   2683 - s2, hansa, Tottenham Yard, 27/7/1981, [oPJV]

   BG130   G   2696 - s2e1, hansa, Tottenham Yard, 27/9/1981, [oPJV]

   BC103   G   2741 - lettering  Steamrail Coal Traffic Only , Newport Workshops, 14/6/1981, [oPJV]

   BO016   G   2741 - s1 hansa, Newport Workshops, 16/3/1981, [oPJV]

   BC102   G   2741 - s1, stripe, Steamrail traffic, Newport Workshops, 14/6/1981, [oPJV]

   CS202   G   2741 - s2e2c, hansa, Steamrail Coal Traffic Only, 1990s, [oPHC]

   BF997   G   2777 - s2e1c, Timber Traffic ... Kerang, North Melbourne C&W Shops, 30/9/1981, [oPJV]

   BF998   G   2777 - traffic lettering  Timber traffic / Ker, North Melbourne C&W Shops, 30/9/1981, [oPJV]

   BP148   G   2835 - part view, South Dynon, 22/6/1982, [oPJV]

   BI525   G   2880 - s1 red, Dandenong, 24/10/1981, [oPJV]

   BB678   G   2880 - s2, stripe, Tottenham Yard, 29/3/1981, [oPJV]

   CN008   G   2884 - s2/hansa, 1970s, [oBAU]

   DG439   G   2884 - s2e1c, red, c1985, [oDVC]

   BP274   G   2944 - s1 hansa, North Melbourne C&W, 7/4/1982, [oPJV]

   BG196   G   2958 - s1e2, hansa, Tottenham Yard, 13/9/1981, [oPJV]

   BI526   G   3000 - s2 hansa, Dandenong, 24/10/1981, [oPJV]

   BD599   G   3003 - s2, hansa, Tottenham Yard, 27/7/1981, [oPJV]

   BB912   G   3021 - s2, tarped, red, Canal Zone, 5/4/1981, [oPJV]

   BR997   G   3069 - s2 hansa, North melbourne C&W, 7/1/1981, [oPJV]

   BB845   G   3129 - s2, stripe, Newport Workshops, 1/4/1981, [oPJV]

   BO033   G   3129 - s2e1c hansa, Newport Workshops, 17/3/1981, [oPJV]

   BO035   G   3380 - s2 hansa, Arden Street, 6/2/1981, [oPJV]

   BI226   G   3406 - s1, red, East Yard, 11/12/1981, [oPJV]

   BY408   G   3416 - s2e1, hansa tarp, Tottenham Yard, 12/10/1980, [oPJV]

   BY497   G   3416 - s2e2, hansa tarp, Tottenham Yard, 12/10/1980, [oPJV]

   BQ268   G   3456 - s1 red, North Melbourne C&W, 1/2/1982, [oPJV]

   BG894   G   3487 - s1, tarped, hansa, Tottenham Yard, 1/2/1981, [oPJV]

   BR087   G   3519 - s1 h, Newport Workshops, 9/12/1980, [oPJV]

   BR151   G   3564 - s1 h, Tottenham Yard, 4/1/1981, [oPJV]

   BB740   G   3564 - s2, stripe, North Geelong, 29/3/1981, [oPJV]

   BD428   G   3587 - s1, hansa, Dandenong, 20/6/1981, [oPJV]

   BD626   G   3587 - s2, hansa, tarped, Flinders Street Yard, 28/7/1981, [oPJV]

   BR802   G   3641 - tarped, h, s1, Shepparton, 23/11/1980, [oPJV]

   BQ983   G   3646 - part view, Tottenham Yard, 4/1/1981, [oPJV]

   AL193   G   3646 - SEC logo, Morwell, c1994, [oGRE]

   BB834   G   3673 - s2, stripe, tarped, East Yard, 31/3/1981, [oPJV]

   BO015   G   3676 - s2 hansa, Newport Workshops, 16/3/1981, [oPJV]

   BG125   G   3695 - s2e1, hansa, Tottenham Yard, 27/9/1981, [oPJV]

   BQ231   G   3777 - s1 hansa, Newport Workshops, 2/3/1981, [oPJV]

   BD598   G   3825 - s1, hansa, Tottenham Yard, 27/7/1981, [oPJV]

   BE204   G   3830 - s2, hansa, Newport Workshops, 5/8/1981, [oPJV]

   BH204   G   3830 - s2, hansa, Jolimont Workshops, 16/3/1981, [oPJV]

   BH179   G   3837 - lettering trf Timber/Kerang, North Melbourne C&W Shops, 3/3/1981, [oPJV]

   CS202   G   3837 - s1e1, red, Timber Traffic/Kerang, 1990s, [oPHC]

   BH177   G   3837 - s2, hansa, trf Timber/Kerang, North Melbourne C&W Shops, 3/3/1981, [oPJV]

   BB739   G   3839 - s2, stripe, North Geelong, 29/3/1981, [oPJV]

   BO267   G   3845 - s2 hansa, ldd silo, Lilydale, 13/1/1981, [oPJV]

   BR139   G   3913 - s1 h, Tottenham Yard, 4/1/1981, [oPJV]

   BD474   G   3928 - s2, hansa, Flinders Street Yard, 7/1981, [oPJV]

   BC113   G   3979 - s2, red, North Melbourne C&W, 6/1981, [oPJV]

   BB932   G   4001 - s2, stripe, Tottenham Yard, 5/4/1981, [oPJV]

   BQ860   G   4011 - s2 h, Tottenham Yard, 7/12/1980, [oPJV]

   BF862   G   4024 - s1e2, hansa, North Melbourne, 2/10/1981, [oPJV]

   BR155   G   4048 - s1 h tarped, Tottenham Yard, 4/1/1981, [oPJV]

   BF935   G   4060 - s1e2, hansa, North Melbourne C&W Shops, 2/10/1981, [oPJV]

   BO951   G   4081 - lettering: Timber / Kerang, Frankston, 7/7/1982, [oPJV]

   BO950   G   4081 - s1, red, Timber/Kerang, Frankston, 7/7/1982, [oPJV]

   BS029   G   4100 - s1 hansa, North Melbourne C&W, 7/1/1981, [oPJV]

   BB833   G   4100 - s2, stripe, East Yard, 31/3/1981, [oPJV]

   BB786   G   4106 - s1e2, stripe, North Geelong, 29/3/1981, [oPJV]

   BF927   G   4120 - s2e1, hansa, Newport Workshops, 1/10/1981, [oPJV]

   BQ985   G   4130, Tottenham Yard, 4/1/1981, [oPJV]

   BR152   G   4193 - s1 h, Tottenham Yard, 4/1/1981, [oPJV]

   BQ549   G   4193 - s1 h, Tottenham Yard, 7/12/1980, [oPJV]

   BC069   G   4229 - s2, stripe, ldd briquettes, Broadford, 26/5/1981, [oPJV]

   BE203   G   4256 - s2, hansa, Newport Workshops, 5/8/1981, [oPJV]

   BI880   G   4271 - s1 hansa, North Melbourne C&W Shops, 18/1/1982, [oPJV]

   BQ271   G   4271 - s1 hansa, North Melbourne C&W, 1/2/1982, [oPJV]

   BK154   G   4313 - hansa, Woodend, 23/11/1980, [oPJV]

   BU989   G   4317 - hansa tarped, Echuca, 23/11/1980, [oPJV]

   BD381   G   4317 - s1p, hansa, Newport Workshops, 14/7/1981, [oPJV]

   BB680   G   4345 - s1, Tottenham Yard, 29/3/1981, [oPJV]

   BF934   G   4366 - s2e1, hansa, North Melbourne C&W Shops, 2/10/1981, [oPJV]

   BN949   G   4416 - s1 hansa, Tottenham Yard, 1/2/1981, [oPJV]

   BB751   G   4416 - s1 stripe, North Geelong, 29/3/1981, [oPJV]

   BI706   G   4503 - s2 red, Bendigo, 18/10/1981, [oPJV]

   AW944   G   4536G- s2e1, Newport Workshops, 7/11/1983, [oPJV]

   BR150   G   4563 - s1 h, Tottenham Yard, 4/1/1981, [oPJV]

   BV088   G   4630 - tarped hansa, North Geelong Yard, 9/11/1980, [oPJV]

   BU990   G   4668 - hansa tarped, Echuca, 23/11/1980, [oPJV]

   AT615   G   4671 - part view, North Melbourne C&W, 10/6/1983, [oPJV]

   BI224   G   4679 - s2, hansa, East Yard, 11/12/1981, [oPJV]

   BR147   G   4687 - s2 h, Tottenham Yard, 4/1/1981, [oPJV]

   BM679   G   4759 - s1 hansa tarped, North Geelong Yard, 5/9/1982, [oPJV]

   BC070   G   4810 - s1, stripe, tarped, Broadford, 26/5/1981, [oPJV]

   BK738   G   4818 - body, s1, hansa, Newport Workshops, 29/10/1982, [oPJV]

   BE321   G   4821 - part view, Flinders Street Yard, 28/8/1984, [oPJV]

   DG438   G   5015 - s2e2c, red, c2000, [oDVC]

   DG437   G   5015 - s2p, red, c2000, [oDVC]

   BB687   G   5018 - s1, stripe, tarped, Tottenham Yard, 29/3/1981, [oPJV]

   BB893   G   5068 - s2, stripe, Tottenham Yard, 5/4/1981, [oPJV]

   BP596   G   5095 - red, s1e2c, Frankston, 5/6/1982, [oPJV]

   BB929   G   5166 - s2, stripe, Tottenham Yard, 5/4/1981, [oPJV]

   BG042   G   5190 - s2e1, hansa, North Geelong Yard, 27/9/1981, [oPJV]

   BG050   G   5212 - s1e2, tarped, hansa, North Geelong Yard, 27/9/1981, [oPJV]

   BM682   G   5218 - s1 hansa tarped  Patch s Tarps , North Geelong Yard, 5/9/1982, [oPJV]

   AU993   G   5232H- lettering only, Dandenong, 24/9/1983, [oPJV]

   AV016   G   5232H- s1, Dandenong, 24/9/1983, [oPJV]

   BR135   G   5273 - s1 h tarped, Tottenham Yard, 4/1/1981, [oPJV]

   BG127   G   5280 - s1e2, red, Tottenham Yard, 27/9/1981, [oPJV]

   BR138   G   5285 - s1 h, Tottenham Yard, 4/1/1981, [oPJV]

   BC114   G   5285 - s2, stripe, North Melbourne C&W, 6/1981, [oPJV]

   AX072   G   5300 - red stripe, Hansa, Flinders Street Yard, 24/8/1983, [oPJV]

   BQ861   G   5327 - s2 h, Tottenham Yard, 7/12/1980, [oPJV]

   BG047   G   5336 - s1e2, tarped, hansa, North Geelong Yard, 27/9/1981, [oPJV]

   BM681   G   5351 - s1 hansa tarped, North Geelong Yard, 5/9/1982, [oPJV]

   BG193   G   5363 - s2e2, hansa, Tottenham Yard, 13/9/1981, [oPJV]

   BE321   G   5422 - part view, Flinders Street Yard, 28/8/1984, [oPJV]

   BG122   G   5422 - s1e2, red, Tottenham Yard, 27/9/1981, [oPJV]

   BB734   G   5504 - s1, stripe, North Geelong, 29/3/1981, [oPJV]

   BE044   G   5504 - s2e1, hansa, Newport Workshops, 5/8/1981, [oPJV]

   BH198   G   5576 - s2, Shepparton, 15/3/1981, [oPJV]

   BI541   G   5600 - s2 hansa, Dandenong, 29/10/1981, [oPJV]

   BV068   G   5601 - e1p hansa, North Geelong Yard, 9/11/1980, [oPJV]

   BV067   G   5601 - e1q hansa, North Geelong Yard, 9/11/1980, [oPJV]

   BV071   G   5601 - s2p, North Geelong Yard, 9/11/1980, [oPJV]

   BV066   G   5601 - s2q hansa, North Geelong Yard, 9/11/1980, [oPJV]

   BQ983   G   5610, Tottenham Yard, 4/1/1981, [oPJV]

   BR371   G   5654R- s1 red, Jolimont Workshops, 29/11/1984, [oPJV]

   BQ986   G   5660, Tottenham Yard, 4/1/1981, [oPJV]

   BQ987   G   5660 - class/lettering squashed up, Tottenham Yard, 4/1/1981, [oPJV]

   BE206   G   5707 - s2, hansa, Newport Workshops, 5/8/1981, [oPJV]

   BB676   G   5709 - e1p, Tottenham Yard, 29/3/1981, [oPJV]

   BB674   G   5709 - s1e2, red, Tottenham Yard, 29/3/1981, [oPJV]

   BB675   G   5709 - s1p, red, Tottenham Yard, 29/3/1981, [oPJV]

   BR140   G   5751 - s2 h, Tottenham Yard, 4/1/1981, [oPJV]

   BQ858   G   5771 - s2 h, Tottenham Yard, 7/12/1980, [oPJV]

   BP999   G   5779 - s1e2 hansa, Oakleigh, 29/3/1982, [oPJV]

   BO969   G   5814 - no G, hansa,  8  upside down, 8/7/1982, [oPJV]

   BB768   G   5821 - s1, stripe, North Geelong, 29/3/1981, [oPJV]

   BG032   G   6008 - s1e2, tarped, North Geelong Yard, 27/9/1981, [oPJV]

   BO777   G   6114 - s1 red, North Geelong Yard, 5/9/1982, [oPJV]

   BD603   G   6116 - s2, hansa, Tottenham Yard, 27/7/1981, [oPJV]

   BG195   G  15878 - s2e1, red, Tottenham Yard, 13/9/1981, [oPJV]

   BI832   G  15915 - s2 hansa, Dandenong, 27/1/1982, [oPJV]

   BB781   G  15952 - s1e2c, stripe, North Geelong, 29/3/1981, [oPJV]

   BU988   G  15958 - hansa tarped, Echuca, 23/11/1980, [oPJV]

   BD437   G  15958 - s1, hansa, Dandenong, 20/6/1981, [oPJV]

   BR999   G  15967 - part view, North melbourne C&W, 7/1/1981, [oPJV]

   BG058   G  15969 - s1e2, hansa, North Geelong Yard, 27/9/1981, [oPJV]

   BI228   G  15977 - s1, hansa, East Yard, 11/12/1981, [oPJV]

   BG096   G  16044 - s2e1, hansa, North Geelong Yard, 27/9/1981, [oPJV]

   BB749   G  16048 - s1e2c, red, North Geelong, 29/3/1981, [oPJV]

   BB750   G  16048 - s1p, red, North Geelong, 29/3/1981, [oPJV]

   BR137   G  16049 - s1 h tarped, Tottenham Yard, 4/1/1981, [oPJV]

   BB610   G  16054 - s2, stripe, Tottenham Yard, 29/3/1981, [oPJV]

   BI540   G  16074 - s2 hansa, Dandenong, 29/10/1981, [oPJV]

   BR134   G  16078 - s2 h tarped, Tottenham Yard, 4/1/1981, [oPJV]

   BB811   G  16083 - s2, stripe, Newport Workshops, 30/3/1981, [oPJV]

   BR370   G  16086G- s2 red, Jolimont Workshops, 29/11/1984, [oPJV]

   BI096   G  16094S- number, 4 , North Melbourne C&W Shops, 8/8/1983, [oPJV]

   BI095   G  16094S- s1, hansa, North Melbourne C&W Shops, 8/8/1983, [oPJV]

   BR141   G  16106 - s2 h, Tottenham Yard, 4/1/1981, [oPJV]

   BG123   G  16113 - s2e1, hansa, Tottenham Yard, 27/9/1981, [oPJV]

   BG128   G  16140 - s2e1, Tottenham Yard, 27/9/1981, [oPJV]

   BU991   G  16176 - hansa, Echuca, 23/11/1980, [oPJV]

   BB686   G  16188 - s1, stripe, Tottenham Yard, 29/3/1981, [oPJV]

   BH178   G  16213 - s1, hansa trf Timber/Kerang/Promply, North Melbourne C&W Shops, 3/3/1981, [oPJV]

   BO917   G  16225 - s1e2, red, timber/Kerang, North Melbourne C&W, 23/7/1982, [oPJV]

   BD608   G  16274 - s2, hansa, ldd briquettes, Tottenham Yard, 27/7/1981, [oPJV]

   BJ015   G  16378 - tarped, hansa, Canal Zone, 18/1/1982, [oPJV]

   BE067   G  16381 - s2, hansa, Flinders Street Yard, 10/8/1981, [oPJV]

   BQ872   G  16387 - h, Tottenham Yard, 7/12/1980, [oPJV]

   BQ873   G  16387 - with GY 2278 painted with stripe, Tottenham Yard, 7/12/1980, [oPJV]

   BG198   G  16400 - s2e1, hansa, Tottenham Yard, 13/9/1981, [oPJV]

   BC071   G  16424 - s1, stripe, tarped, Broadford, 26/5/1981, [oPJV]

   BD430   G  16431 - s1, hansa, Dandenong, 20/6/1981, [oPJV]

   BG043   G  16443 - s2e1, hansa, North Geelong Yard, 27/9/1981, [oPJV]

   BI225   G  16447 - s1, hansa, East Yard, 11/12/1981, [oPJV]

   BH196   G  16462 - s2, Shepparton, 15/3/1981, [oPJV]

   BO818   G  16468 -  1  added later, North Geelong Yard, 5/9/1982, [oPJV]

   BO818   G  16468 -  1  added later, was  6468 ?, North Geelong Yard, 5/9/1982, [oPJV]

   BV202   G  16485 - hansa tarped, Tottenham Yard, 9/11/1980, [oPJV]

   BR146   G  16540 - s1 h tarped, Tottenham Yard, 4/1/1981, [oPJV]

   BG230   G  16551 - s1e2, small hi-lo, Berwick, 17/9/1981, [oPJV]

   BR144   G  16551 - s2 h, Tottenham Yard, 4/1/1981, [oPJV]

   BL712   G  16554 - damaged body, ldd on VFKX, Bendigo, 13/4/1980, [oPJV]

   BB808   G  16595 - s2, stripe, Newport Workshops, 30/3/1981, [oPJV]

   BF861   G  16596 - s1e2, hansa, North Melbourne, 2/10/1981, [oPJV]

   BI539   G  16622 - s2 red, Dandenong, 29/10/1981, [oPJV]

   BC068   G  16672 - s1, stripe, ldd briquettes, Broadford, 26/5/1981, [oPJV]

   BI230   G  16686 - s1e1, hansa, East Yard, 11/12/1981, [oPJV]

   BI229   G  16686 - s1e2, hansa, East Yard, 11/12/1981, [oPJV]

   BO968   G  16686 - s2, red, 8/7/1982, [oPJV]

   BB679   G  16745 - s2, stripe, Tottenham Yard, 29/3/1981, [oPJV]

   BR999   G  16767 - s1 hansa, North melbourne C&W, 7/1/1981, [oPJV]

   BQ902   G  16773 - s2 h, Newport Workshops, 8/12/1980, [oPJV]

   BR889   G  16773 - s2 hansa, Tottenham Yard, 7/12/1980, [oPJV]

   BQ866   G  16806 - s2 h tarped, Tottenham Yard, 7/12/1980, [oPJV]

   BG049   G  16842 - s1e2, tarped, hansa, North Geelong Yard, 27/9/1981, [oPJV]

   CS202   G  16947 - s1e1, hansa, Timber Traffic/Kerang/Promply, 1990s, [oPHC]

   BF847   G  16969 - s2e1, tarped, hansa, North Geelong Yard, 27/9/1981, [oPJV]

   BG041   G  17003 - s1e2, tarped, hansa, North Geelong Yard, 27/9/1981, [oPJV]

   BC105   G  17027 - s1, stripe, Newport Workshops, 14/6/1981, [oPJV]

 
   Diagrams   for  'G  '

   FileID  Description................................................



   AU680   G        -  Bulk wheat hopper, c1959, [oD26]

 
---
File c065m compiled by Peter J. Vincent, updated 13/4/2007