---
WT - Water Tanks
---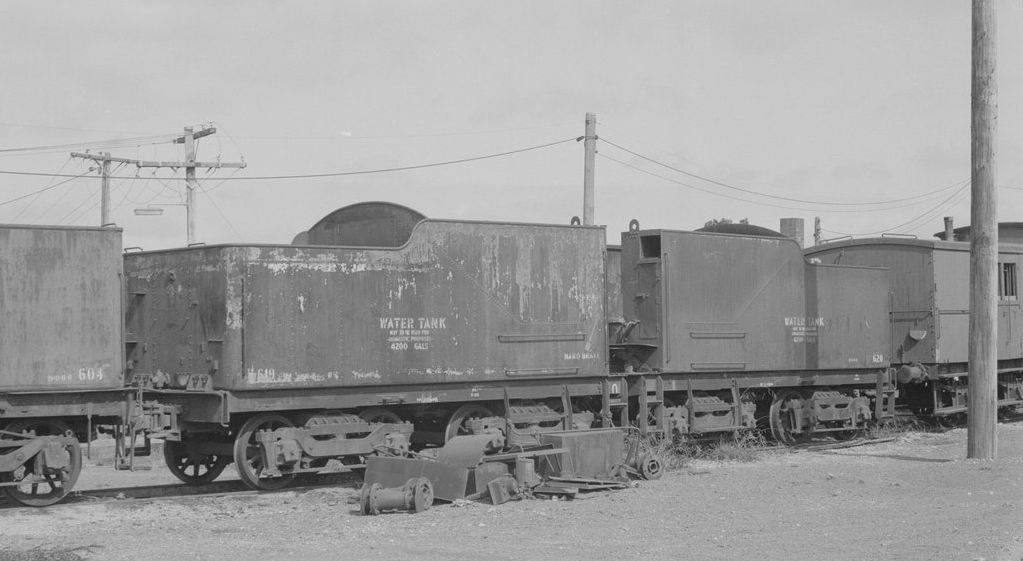 This group of vehicles were variously lettered 'W TANK' or 'WATER TANK'. There is some confusion because the wagons are placed in oil tank number group.
Steam engine tenders were placed into oil tank service for some years. The tenders were generally coupled in pairs. Later, these units were placed into water tank service. They were used as standby water for fighting trackside fires. Most main country loco depots had one or two pair.
The only other type of 'W TANK' in use was a four wheel wagon with cylindrical tank. These were easily identified with numbers higher than 236. The number group was scattered as they were introduced simultaneously with fuel tank wagons.
Some numbers recorded by the author were: 460, 462, 463, 466, 467, 474 - 482, 497 - 501, 531, 532, 597 - 601, 606 - 615, 617 - 624.
The other group of _WT_ are for 'Water Trucks' numbered 1 - 236.
   Photos   for  'WT  '

   FileID  Description................................................



   AC100   WT        - part view, rake of tenders, North Melbourne C&W Shops, 23/4/1979, [oPJV]

   BA420   WT        - rake of stored trucks, Rangelea, 13/11/1976, [oRXO]

   BC762   WT     10 - s1, DW, Bendigo, 1/11/1976, [oRXO]

   BC763   WT     17 - s1e2, DW, North Melbourne C&W Shops, 17/10/1976, [oRXO]

   BG327   WT     22 - auto/top view smashed buffer, Bairnsdale, 22/9/1975, [oPJV]

   BG390   WT     22 - hatch from fastener end, Bairnsdale, 22/9/1975, [oPJV]

   BG403   WT     22 - hatch from hinge end, Bairnsdale, 22/9/1975, [oPJV]

   BG318   WT     22 - part end, smashed buffer, Bairnsdale, 22/9/1975, [oPJV]

   BG317   WT     22 - s1e2, DW, L7, Bairnsdale, 22/9/1975, [oPJV]

   CN342   WT     28 - 2000g, s2, 1970s, [oBAU]

   BC764   WT     28 - s1e2, DW, Bendigo, 1/11/1976, [oRXO]

   CN343   WT     32 - 200g, s2e1c, 1970s, [oBAU]

   BC765   WT     32 - s1e2, DW, Bendigo, 1/11/1976, [oRXO]

   BC766   WT     33 - s2p,  South Dynon Loco Depot , South Dynon, 13/12/1976, [oRXO]

   BK980   WT     41 - DW, L4, s1, Bendigo, 29/6/1975, [oPJV]

   BK984   WT     44 - s1 L7 DW, Bendigo, 29/6/1975, [oPJV]

   BC767   WT     49 - s2e1, DW, Bendigo, 1/11/1976, [oRXO]

   CN344   WT     52 - 2000g, s1e2, 1970s, [oBAU]

   BK996   WT     56 - e2p, Bendigo, 29/6/1975, [oPJV]

   BK995   WT     56 - e2q, Bendigo, 29/6/1975, [oPJV]

   BC768   WT     56 - part view, DW, Rangelea, 13/11/1976, [oRXO]

   BA420   WT     56 - part view, stored WT trucks, Rangelea, 13/11/1976, [oRXO]

   BK997   WT     56 - rake of water tank wagons, Bendigo, 29/6/1975, [oPJV]

   BK993   WT     56 - s2 DW, Bendigo, 29/6/1975, [oPJV]

   AT598   WT    115, North Geelong, c1978, [oPHD]

   BG712   WT    115 - DW, Hamilton, 11/8/1976, [oPJV]

   CN345   WT    115 - s2, 2000g, 1970s, [oBAU]

   CN346   WT    120 - 2000g, s1, 1970s, [oBAU]

   CN347   WT    121 - 2000g, 1970s, [oBAU]

   CN348   WT    124 - 2000g, s1e2, pipe attached to next WT, 1970s, [oBAU]

   CU497   WT    124 - e1h, end support/pump/pipes, North Geelong Yard, 12/3/1979, [oPJV]

   CU496   WT    124 - s1e1, end support for pump, North Geelong Yard, 12/3/1979, [oPJV]

   BL013   WT    127 - s2e2 L4, Bendigo, 29/6/1975, [oPJV]

   BC171   WT    128 - part view, DW, Rangelea, 13/11/1976, [oRXO]

   BC770   WT    128 - s1e1, DW, Rangelea, 13/11/1976, [oRXO]

   BC771   WT    148 - s1e2, North Melbourne C&W Shops, 17/10/1976, [oRXO]

   11132   WT    151 - part view, Ararat, 29/4/1978, [oPJV]

   CN349   WT    167 - s1e2, track spray pipe at e2, 1970s, [oBAU]

   CN351   WT    168 - e1p, Williamstown Pier, 1970s, [oBAU]

   CN350   WT    168 - s1p, Off Reg, DW, Williamstown Pier, 1970s, [oBAU]

   BL006   WT    168 - s2e1, Bendigo, 29/6/1975, [oPJV]

   BL703   WT    170 - 1912 builders plate, Bendigo, 29/6/1975, [oPJV]

   BL702   WT    170 - DW, e1q, Bendigo, 29/6/1975, [oPJV]

   BL701   WT    170 - DW, s1e2, Bendigo, 29/6/1975, [oPJV]

   BL699   WT    170 - DW, s1p, Bendigo, 29/6/1975, [oPJV]

   BL700   WT    170 - DW, s2q, Bendigo, 29/6/1975, [oPJV]

   BL005   WT    172 - s2e1, Bendigo, 29/6/1975, [oPJV]

   BK982   WT    174 - s1 DW, Bendigo, 29/6/1975, [oPJV]

   BC772   WT    181 - s2e1c, L4, Seymour, 23/9/1976, [oRXO]

   CN352   WT    188 - 2000g, s2e1, track spray pipe at e2, 1970s, [oBAU]

   CU495   WT    188 - detail: tank outlet, North Geelong Yard, 12/3/1979, [oPJV]

   CU493   WT    188 - s1@e2, spray pipe/profile, North Geelong Yard, 12/3/1979, [oPJV]

   CU494   WT    188 - s1e2, North Geelong Yard, 12/3/1979, [oPJV]

   BC773   WT    192 - s2e1, DW, Bendigo, 1/11/1976, [oRXO]

   AW705   WT    200 -  Loco Branch , 1920s, [sMDN]

   BK989   WT    202 - s2 DW, Bendigo, 29/6/1975, [oPJV]

   BK990   WT    202 - s2p, Bendigo, 29/6/1975, [oPJV]

   BC774   WT    204 - s1e2, DW, Bendigo, 1/11/1976, [oRXO]

   DE961   WT    211 - red/tender/Off Reg, 1980s, [oPHD]

   CN353   WT    221 - 2000g tank on long uf, s1e2c, 1970s, [oBAU]

   CN354   WT    221 - e2p, 1970s, [oBAU]

   BC775   WT    222 - s1e1, tank on long I u/frame, part view, Rangelea, 13/11/1976, [oRXO]

   BK991   WT    222 - s1e2 DW, I underframe, Bendigo, 29/6/1975, [oPJV]

   BK992   WT    222 - s1p DW, Bendigo, 29/6/1975, [oPJV]

   BK998   WT    222 - s2e1, Bendigo, 29/6/1975, [oPJV]

   BK999   WT    222 - s2p, Bendigo, 29/6/1975, [oPJV]

   BK146   WT    226 - part view, Woodend, 23/11/1980, [oPJV]

   DE962   WT    226 - s2p, 1980s, [oPHD]

   BL002   WT    236 - e1q, Bendigo, 29/6/1975, [oPJV]

   BK985   WT    236 - e2q, Bendigo, 29/6/1975, [oPJV]

   BK988   WT    236 - s1e1, Bendigo, 29/6/1975, [oPJV]

   BK986   WT    236 - s1e2, Bendigo, 29/6/1975, [oPJV]

   BK987   WT    236 - s1p, Bendigo, 29/6/1975, [oPJV]

   BL000   WT    236 - s2e1, Bendigo, 29/6/1975, [oPJV]

   BL001   WT    236 - s2p, Bendigo, 29/6/1975, [oPJV]

   BG711   WT    459, Hamilton, 11/8/1976, [oPJV]

   CN355   WT    460 - 2300g, Rangelea, 1970s, [oBAU]

   BH628   WT    460 - as TANK 460 - part view, lift pin secured with fence, Marong, 27/7/1980, [oPJV]

   BC776   WT    460 - s1e2, Bendigo, 13/11/1976, [oRXO]

   BK731   WT    460 - underframe, as TANK 460, Freezers, 27/7/1980, [oPJV]

   CN356   WT    463 - s1e2, DW, pipe attached to next WT, 1970s, [oBAU]

   CU498   WT    463 - s2, North Geelong Yard, 12/3/1979, [oPJV]

   BC777   WT    466 - s1e2, DW, Yea, 5/9/1975, [oRXO]

   CN357   WT    478 - 2300g, s2, 1970s, [oBAU]

   AT598   WT    478 - TANK, with end face painted on, North Geelong, c1978, [oPHD]

   BG409   WT    498 - s2e1c, Bairnsdale, 22/9/1975, [oPJV]

   CB532   WT    500 - OR, Rangelea, 8/4/1979, [oPJV]

   CN358   WT    500 - s1e2, DW, 2300g, Off Reg, CONDEMNED, Rangelea, 1970s, [oBAU]

   BC778   WT    600 - loco tender, not for DW, c1977, [oRXO]

   AR411   WT    601 + WT 602, Bairnsdale, 12/1968, [oPJV]

   AR411   WT    602 + WT 601, Bairnsdale, 12/1968, [oPJV]

   BC779   WT    603 - loco tender, not for DW, Seymour, 23/9/1976, [oRXO]

   BC781   WT    604 - loco tender, not for DW, Seymour, 23/9/1976, [oRXO]

   AV732   WT    606 + 615 - Off Reg, Newport Workshops, 19/2/1977, [oPJV]

   AT376   WT    609 + WT 610, Bairnsdale, 11/1968, [oPJV]

   BK547   WT    609 - part view, rake of 2 tender sets, North Melbourne C&W Shops, 21/7/1980, [oPJV]

   AT374   WT    610 + WT 609, Bairnsdale, 11/1968, [oPJV]

   AV733   WT    615 + 606 - Off Reg, Newport Workshops, 19/2/1977, [oPJV]

   DN454   WT    618 - in row of Water Tanks, North Melbourne C&W Shops, 11/8/1981, [oPJV]

   BH202   WT    619, Shepparton, 15/3/1981, [oPJV]

   BC782   WT    619 - loco tender, not for DW, Seymour, 23/9/1976, [oRXO]

   BH203   WT    619 - metal stamp in underframe, Shepparton, 15/3/1981, [oPJV]

   BH201   WT    620, Shepparton, 15/3/1981, [oPJV]

   BH200   WT    620 - + WT 619, Shepparton, 15/3/1981, [oPJV]

   CB991   WT    623 + WT 624 - with track spray pipe, Wodonga, 6/4/1979, [oPJV]

   CB993   WT    623 - spray eXp, Wodonga, 6/4/1979, [oPJV]

   CB992   WT    623 - spray eXq, Wodonga, 6/4/1979, [oPJV]

   CB994   WT    623 - spray, profile of pipe, Wodonga, 6/4/1979, [oPJV]
   No diagrams found for WT   
---
File c045m compiled by Peter J. Vincent, updated 31/3/2007