---
Biography
---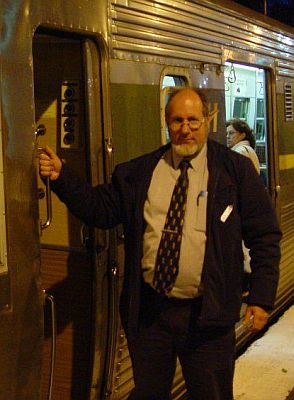 I was born at Yallourn and grew up in Moe, attending the Albert Street State School much like my father and his brother and sisters. Dad was born in Moe and grew up on the outskirts of Moe where my nephew now runs a cattle transport enterprise. My grandmother purchased a house for Dad and we lived at 18 Albert Street, on the site of the current Council buildings. The house was relocated to the south of Moe where it still stands near the highway bypass.
Dad worked for the SEC (State Electricity Commission) and when the housing expansion started became a construction foreman erecting new houses for the influx of SEC workers. Always ready to try something new, Dad purchased a truck and began a taxi truck business after seeing a successful operation at work in NSW. His efforts resulted in the first taxi country truck business in Victoria. He spent the next few years moving people, with plenty of stories of relocation by 'stealth' due to marriage breakdowns.
Early 1950s in Moe I remember steam at Moe and the turntable there. Also memorable were runs behind electric locos on trips to Melbourne with a particular fascination with the red three position signals at stations with unusual purple signals on the ground.
The Herald and Sun were expanding into Latrobe Valley and Dad was sourced as a cartage contractor from Melbourne. At the time (c1958) the Herald was flown to Bairnsdale (DC3 or Dehavilland Dragon) with other major towns serviced by train and the obvious next day delivery. Initial run was Warragul to Sale, this being extended later from Melbourne to Bairnsdale. As this run would see Dad leaving home mid morning for a late night return, a monumentous decision was made to transplant to Bairnsdale thereby making the run suit a 7am - 5pm time slot. Two trucks were maintained to run the six day a week schedule. Years later the run was extended to Orbost necessitating an extra driver for the Bairnsdale - Orbost section. As the years passed, drivers were employed to run through the week with Dad only occasionally doing the trip, preferring to either maintain the trucks or travel throughout Gippsland fishing and photographing wildlife.
This contract run allowed an international flavour to come home. As well as avidly reading the daily paper for news ( TV was in the house as Moe from 1956 to 1959 and once again in 1969 when the moon walk and TV reception finally caught up to Bairnsdale ) and the irregular travelling guests: hitchhikers from around the world sharing their experiences.
My school holidays consisted of trips to Melbourne and staying with my Grandma at Balaclava. From there, I embarked on daily jaunts to the city, i.e. CBD and train trips to the favoured spots of Broadmeadows, Sunshine (SG action), Newport and the ARHS Museum. On one memorable occasion I planned and executed a walking trip that started at Albion and ended at Ringwood, some 9 hours later. The next trip Frankston to Broadmeadows is still waiting to be done.
We had a dual track Triang train set in the rumpus room at home, designed so that my brother and I would not come to blows. The large flat board folded up against the wall when not in use. Most memorable maintenance works on the line was the 'welding' of all trackjoints ( well VR did it!), achieved by solder filling the joints. Parallel hobbies were microscopy with the 1963 purchase of an expensive Olympus machine, bought from money raised pumping sand worm in the lakes. Also organised were a coin collection and the usual Scouts group activities along with some weekend tennis, archery, bike riding and canoeing. The family had a 2 ton wooden carvel built boat (DG 69) used for motoring the Gippsland Lakes, with nights spend on the surf beaches south of Paynesville. Even the family cat came!. Car trips included runs to the back of Buchan in the Gelantipy/Tubbut area for bush walking and bird photography. Early trips had us kids sleeping in the car boot.
At about 16 I decided to run away from home. Saving my lunch I started walking west after school and got about 5 mile down the road before reality set in. I then returned to the sawmill ( near Bosworths Siding ), toasted the sandwiches on the log fire at the local sawmill and returned home late at a night. With no clear goals about life I gradually reduced my professional career from Astronomer to Civil Engineer to railways. Being extremely bored with school and not motivated I left school. The only job I was vaguely interested in was as Train Driver. Job interview was as simple as walking up to the counter. I started at Traralgon in 1970. Junior men were sent to Orbost to relieve as jobs there were hard to fill. Suited me just fine. So I stayed on another 5 months before applying for a vacancy. Orbost was day and afternoon shift, country lifestyle, streets empty at 6pm. At night, one could hear the surf from the beaches about 8 mile away.
After three years of idyllic life, the driver exam was fast approaching. At the time there was a five year gap between joining a loco crew and the call for driving. Attrition in the five years was high and only about 15%-20% of starters made it through. Generally this was because many people used the work as a 'filler' waiting for something better to come along. At relatively low pay but good benefits and retirement funding only a few stuck at the job. Prospects of passing the drivers exam at Orbost were extremely bleak. As I had already started at Traralgon and gone back yearly for the Christmas break, I decided to jump ship and transfer to Wodonga. This would provide me with VRI (Victorian Railways Institute) classes as well as the glorious thrill of crewing the status trains: Spirit of Progress and Southern Aurora. Standard Gauge running was also of interest.
Was I in for a shock.
It took me six months to 'skill up'. Suddenly I was confronted with shunting big time, tail discs, run arounds, trip trains, signals everywhere, early starts, night shift and rest jobs. But it was all good fun. There were the broad gauge pilots (shunting 'turns') for Wodonga, Albury, Wodonga Coal Siding and Bandianna. The broad gauge trains were Passenger runs to Benalla/Seymour/Melbourne and goods trains to Cudgewa and and far south as Seymour. Though I cannot recall any further than Benalla. Standard gauge running was goods and pass(enger) between Albury and Melbourne with light engine runs between Albury and Wodonga and the occasional loco transfer to Melbourne.
From the pedestrian life at Orbost I had moved on to a push bike for transport between Albury lodgings and the Wodonga Loco. Many times I was able to sign on by phone and walk out of the house and across the street to the waiting train for another southbound trip to Melbourne. Such is the hardship of life. The extra cash and fast living saw a lifestyle cramped by the 'treddly' so a car was purchased. The new mode had the unforeseen ability to chase trains for photography and even motorcade the expresses heading south on 'the gauge'.
Since starting 'the job' I had kept a train diary that recorded loco, load, journey distance and interesting events. Orbost running had accrued some 63,000 miles in about three and a half years. The same mileage was achieved at Wodonga in 22 months!
The dreaded day finally rolled around when I received my 'notice': the formal correspondence that was issued some three months before requiring to sit the 'Drivers Exam'. Having done little to this point in study it was time to gear up. Out came the books, VRI school attended and a transfer from the 'big wheel' to an instructor driver. Many days were spent beside the Albury swimming pool studying, swimming, studying and tanning nicely in the process. Endless arguments and nit picking ensued on most train journeys as the finer points of the rules and regulations were discussed. In all, the entire driving exam 'courseware' was run through three complete times before the judgement day.
Via correspondence I was informed that my Drivers Exam would be conducted at Seymour with the District Superindentant Doug Pollard. Like a man eating a condemned meal, I cooked a hearty steak and eggs breakfast before travelling to Seymour in the morning. With a couple of hours to spare I decided not to waste good daylight and proceeded to walk the Seymour Yard photographing rolling stock. After lunch the exam started and proceeded for some three and a half hours. The first three hours were theory, all oral based questioning. The last part was a loco depot walk around where various equipment was identified and discussed. In all some 163 questions were asked and from memory I stumbled on only one or two. I was advised I had passed and much joy ensued. On the return journey to Wodonga on the evening pass I remember writing down all the questions that had been posed to me. This document was passed to the VRI at Wodonga where it was of assistance to those that followed. Unfortunately I never kept a copy and the VRI copy was ultimately lost.
Then followed the train handling and running assessment which I passed OK. Rather interesting because technically no one was allowed to drive until qualified. Yet to pass the train handling and drive the diesel you had to be proficient. Sort of like the chicken and egg conundrum. Then followed diesel class and signals and route knowledge class. As I had elected to do a stint of 12 months suburban driving I then had to wait two weeks for a class. This was padded out by duty at South Dynon Fuel Point, hostling, fueling, sanding and setting up multiple units, stabling locos, turning them on the turntable and moving locos in and out of the maintenance area. I was a green as they come yet it never ceased to amaze me about those junior crew members who took great pains to try and drive and show how smart they were.
Into 'spark' class to lose another seven weeks of life in instruction. Memorable for two things: (1) Lectures were in the original Lecture Hall in use since the 1920s, complete with blackboard, Lecture hall Model and the 1920s printed board diagrams and (2) Midway through there was the smash at Frankston where an out of control destroyed a silver train motor. More exams, more passes and bingo, out we go.
Driving driving driving.
By 1987 I was getting bored and so took an offer of secondment at Head Office for a computer train simulation project called 'Mtrain'. Not many drivers were computer literate and not many drivers were willing to take a pay cut, 10% initially and the gap just kept growing. I was lucky enough to have been programming since 1984 so whilst I did not have knowledge of the mainframe system, the basics were quickly scooped up. After many years of shift work is was pure heaven to do all 'day shift'. As time passed I made efforts to stay but it was the era of cutbacks. With provision to return to train driving avaialable, I opted to stay as having once done driving and the inherent problems with fatalities, I did not wish to return. I 'floated' around Head Office and did a clerical job until I walked out never to return, driven by stress and the situation. Despite a meeting where I gained a standing ovation for work done, there far greater forces at work. With a change in government, I had several months to plan my future. Finally I was terminated out.
As the home environment had significantly changed, I felt this was a better move as other alternatives appeared daunting.
Away from the PTC(Vline Freight), I performed many odd jobs whilst on the dole. Pizza deliveries were great though the hours were long and the weekends a killer. Finally I scored a job in factory picking customer orders. I then worked my way to the conveyor belt, became permanent within 4 months and ended up in the distribution area with a forklift and order picker license. Spreading my wings I jumped that department and went to work in the dye house which coloured the knitted product to the specification required. This job involved packing/unpacking the dye tanks, mixing up the chemical recipes, colour matching and correction of the product. On average this involved moving about 800Kg-1000Kg of bags per day. At that location I became a union representative and was part of a successful strike action to assist with the EBA negotiations then in progress. This was followed up with regular OHS concerns aided by my trusty notebook and eye for detail.
In 2000 I was contacted by Connex and asked if I was still interested in driving. Without more ado, I was in the training class 3 weeks later. Indeed, after faxing my resignation I received a call from the General manager requesting my return!.
At 2013 still driving after changes from Connex to Metro and the amalgamation. Planning to retire in the next few years.
---
Peter J. Vincent May 2013
---